The 5 Best Ad Spy Tools for Affiliates
Your mission should you choose to accept it: spy on your competitors and steal their best working ideas to perfect your own marketing campaigns!
As a media buyer, do you wish you could eavesdrop on your competitors? Maybe know the keywords they're betting on? Or maybe you'd just like to take a look at their ads for some inspiration and a little fine-tuning on your end? 😉
All of this is possible with ad spy tools. You might even feel like it's cheating once you get the hang of them!
Competitive analysis is a crucial part of any marketing plan. As they say, knowledge is power.
You need to understand the strengths and weaknesses of other players in your industry. Otherwise, you're bound to make easily avoidable mistakes if you rely too much on trial and error.
And you don't want that … right?
Forget long nights doing time-consuming research in front of your computer. This is your ticket to a fast and reliable technique you can start using today.  
Below you'll find 5 of the very best ad spy tools you can use to earn a valuable competitive edge in the market — each serving a specific purpose.
Adplexity Adult
Adplexity is a superb ad spy tool that is sure to become one of your favorites if you ever wish to see which display ads and landing pages work best.
There are multiple versions of the platform, each catering to different types of traffic: mobile, desktop, native and ecommerce. There's also an API available if you're looking to access competitive intelligence programmatically
For now, we'll look at Adplexity Adult because, well, that's what we do here at CrakRevenue!  
Once inside the platform, you'll be able to filter searches by keywords (on the landing page or ad itself), ad type (popunder and mobile web), device, size, country, language and more.
There's a lot of options available if you're looking for something specific.  
We suggest you filter results from the last 14 days so you can see what's hot right now. Some campaigns have been running for months if not years, though you'll be better off concentrating your efforts on fresh ideas.
Then, order results by the "received most traffic" option from the dropdown menu at the top right of your screen.
You'll be able to browse global stats from the most popular banners at a glance: number of hits, devices targeted, countries, networks and so on.
Here's a sample taken from the results page using the following search criteria:
Keyword:

G

ame

Days running: 14

Ad type:

M

obile

W

eb

Size: 300×250

Country: Canada

Language: English
It's a goldmine of information for affiliates.
Sometimes you just want to run an A/B test but can't find a great call-to-action (CTA). This ad spy tool gives you such data on a silver platter — and much more!
Ever want to run an A/B test but struggle to find the perfect call-to-action? Well, this spy tool serves you more data on a silver platter than you can shake a stick at! … and then some.
SemRush
We've already talked in the past about how brilliant SemRush is for your competitive intelligence needs.
It's an all-in-one ad spy tool that can give you plenty of valuable data in record time.
It's perfect for:
Backlinks analysis

Keywords analysis + difficulty

Topic research
And here's an example of the Keyword Gap feature, allowing you to see how your competitors stack up against each other for specific keywords:

SemRush really hits it out of the park in both the number of powerful features available and ease of use — especially for beginners!
Follow.net
Follow.net is another ad spy tool you can start using today.
Their plans range from $37 to $297 a month, but there's also a free option with 50 monthly lookups included.
While only 50% of the data will be shown to you using the free plan, it's still quite a lot to get you started.
Follow.net uses KeywordSpy to deliver the top keywords your competitors are paying for on search engines with average cost per click (CPC) & search volume. Here's an example from adult cam website Chaturbate:
You also get to see the top text ads (excluding the top 5 if you're using the free version) and top banner ads. Below you'll see an example of the display banners used by popular short-term lodging service Airbnb:
Follow.net is great competitive intelligence software that will help you better understand your market — and how competitors are making money.
Moat
Moat is another great option for spying on your competition.
The online tool helps you discover desktop and mobile banners. To do so, simply use the search engine, type a brand and voila!
Here's an example searching for AdultFriendFinder:
These are all creatives used right now by the popular dating network.
It's a nice starting point if you're curious to know about their own media buying techniques.
From the above, you can see that the color red is used frequently to convey a sense of urgency.
There's a whole psychology behind the use of colors.
Red is also very noticeable with other dating offers like Ashley Madison:
Similarweb Pro
We didn't feel like including Similarweb in the Top 5 simply because it overlaps a lot with SemRush.
However, both can be used as amazing ad spy tools to gain a competitive edge in affiliate marketing.
The popular service allows you to get valuable insights about any website. To tell you the truth, the amount of available data is staggering.
Below you will find some crucial data about Newgrounds.com, all part of the in-depth domain analysis from Similarweb Pro: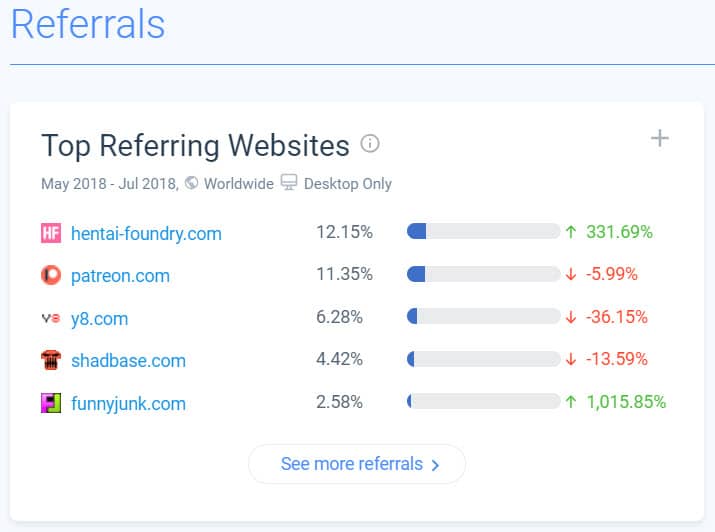 As you can see, the bulk of that website's traffic comes from two sources, one of them being a crowdfunding platform. And yes, Newgrounds seems to have quite a few hentai fans!
Using Similarweb Pro you can rip wide open all the secrets of any given website. It's that cool.
As if that wasn't enough, you can even see trending websites, apps and keywords to follow — all according to your own preferences. In our case, we set it to "worldwide – adult" so we don't miss a beat of our industry.
Bonus: Hootsuite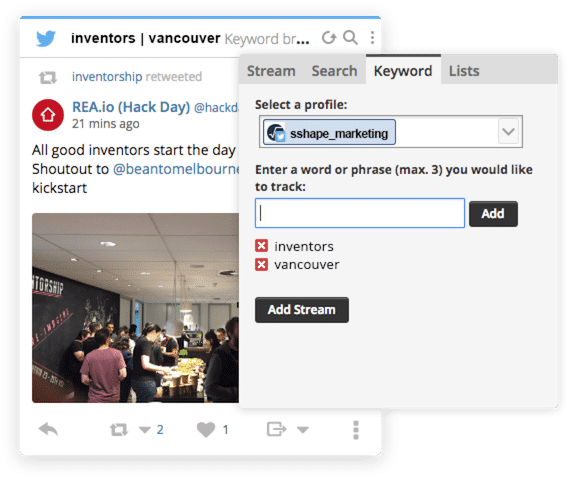 If you manage multiple social media accounts, Hootsuite is the #1 solution for you.
Although it might not be considered an ad spy tool right out of the box, Hootsuite allows you to monitor & track online conversations easily.
Having access to on-demand business intelligence is extremely useful. By adding multiple streams to your dashboard, you'll be able to listen to what people have to say — including your competitors and their followers!
Hootsuite is your radar for everything social media. It's a great platform and there are lots of neat features for advanced users like a sweepstakes builder, in-depth analytics for your posts and more.
Be sure to give it a try, it's well worth your time.
Bonus: Rank Signals
Survey time!
What's one of the best ways to boost your SEO score that's both accessible to everyone AND is a powerful indicator that your website is of the utmost quality?!
3…2…1…
Backlinks, of course!
Rank Signals lets you browse where your competitors get their backlinks — and traffic — from.
Guys, this totally free spy tool is the icing on the cake right here.
Simply enter a domain you to uncover details from and you'll be greeted with a neat results page filled with precious data.
Simply enter a domain name you'd like to uncover all the details about and you'll then be greeted with a rather neat results page filled with precious data.
First, the overview:
However, that's not really what matters. The detailed backlinks info is where this tool shines.
It includes URLs, link anchor text, number of internal/external links and more.
Here's an example of the backlink analysis from NeilPatel.com:
You can then use this data to your advantage and get links where your competitors are already ranking.
Become an affiliate marketing spy
guru
We hope that you have a better understanding of how ad spy tools can help with your campaigns.
You'll be using the best methods from your competitors and find new ways to optimize your sales funnels in no time.
We'd like to hear if you ever used such tools in the past and how useful they were. There's tons of valid choices out there so feel free to share your favorites so we can discover them together!