Our 5 Favorite Online Logo Makers
You've built a team, drafted a business plan, found a name for your business, and maybe your product is already in production. Now it's time to get a logo done.
An apple, a shell or a panda … many iconic logos immediately inform the client and there is no doubt about the identity of the associated brand. And when you learn that creating a globally recognizable logo has only cost Nike $35, the exercise seems relatively benign. So, the creation of a brand is an essential step in the construction of the your company's or your product's visual identity. This element is as essential as your website and your Facebook page; moreover, it is an integral part of all major branding.
As should be obvious, creating the company's brand must be one of your priorities, since: your logo gives the course of action in establishing the graphic chart for all of your other communication tools as branding your company's pages in social networks, letters, commercial offers, advertising banners, etc.
It's also a powerful marketing weapon which can help you increase the recognition of the company.
Anyway! We've selected the best of the best online logo makers, and here's our top 5. Don't miss your chance to make a difference for your business!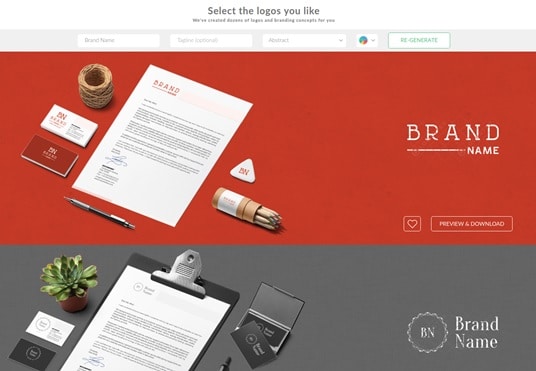 Logaster is an online logo maker that allows you to create a professional logo rather effortlessly.
One great plus for this tool is its translation into more than 30 languages which greatly simplifies the amount of work for native language users. This service provides dozens of logo concepts to choose from, everything from abstract, animals, music, photography… etc!
You can of course customize font style and color with Logaster. Logaster also lets you create favicons, business cards, envelopes and cards. In addition, it's always possible to preview your new logotype or have the ability to share it with friends, even allowing room for some advice on how it turned out before you pay for it.
As for the pricing, it's not all that bad. In fact, for users seeking smaller sized logos, the download is free. If users want a larger one, the price is $9.99.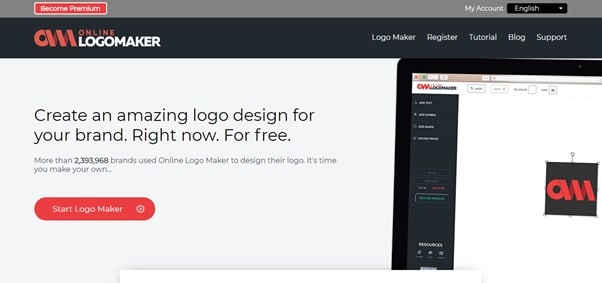 This platform allows you to create a logo for your business. Its motto is "It's frustrating to be limited," that's why Online Logo Maker is as simple as it is complete. Once the application is launched, you can create any type of logo, including as many symbols, text and images as you want, without restriction.
Another advantage of the maker is " time for break " which means if you need to have a break – take it. Just create a free account with the help of which you will be able to continue creating your company's logo at any time.
Finally, this online logo editor is free – providing that you download a 300px logo or under; if you want a logo 2000px or beyond, you'd need the Premium Pack which will cost you $38.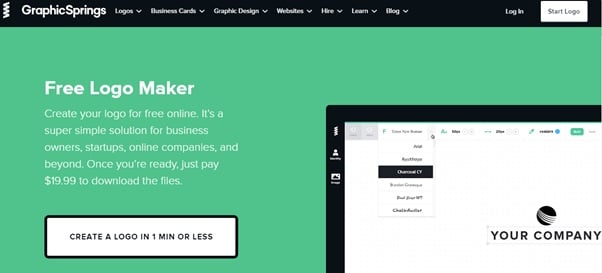 Graphic Springs is a free online tool that offers design in multiple spheres: professional logos, websites, business cards, letterheads, posters, brochures and other stuff without any help of a designer.
This logo maker allows you to design your logo according to the type of activity. Of course, you can change the color, fonts, and other customizations that are typically offered by logo generators.
Once your logo is finalized, it will cost you only $19.99 to download it and start using it on all your media. If you lack inspiration or need help, Graphic Springs also offers a premium service. In fact, if the online solution does not meet your needs, you can always call on a Graphic Springs team designer to help you create a personalized logo.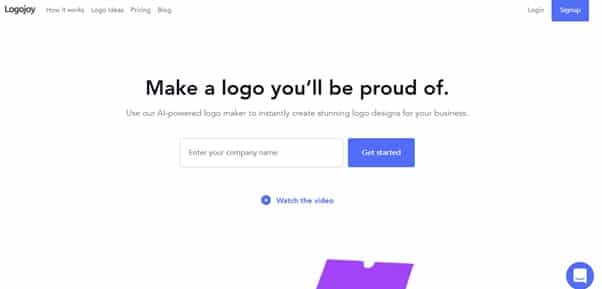 Logojoy is an easy to use DIY logo tool for non-designers. The simple  service wizard helps you choose the perfect colors, images and other elements to describe your business.
The big plus of this online logo maker is the AI technology which is constantly learning which elements of the design go well together – so you can get new ideas nearly instantly. There is also a preview function to see how logo options look. After that, it generates professionally designed and professionally drawn drawings.
Their price points start at $20 for a low-resolution logo. More expensive price plans offer you high-resolution files, phone support, a color palette, branding guidelines and more.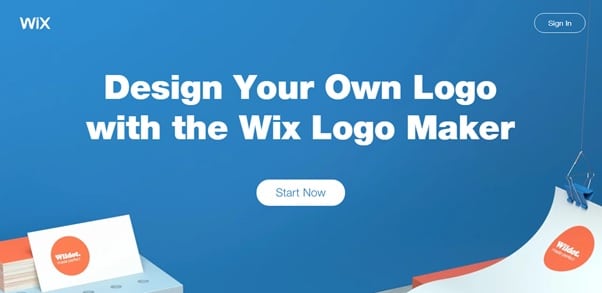 Wix is above all a website creation interface, it allows you to design your own logo for free with many convenient features and numerous graphical resources available. The interesting point of this tool is that right at the beginning you answer a few questions and after that you'll get a design that's right for you. Of course, you can vary colors, dimensions and effects. Thanks to its Clips Art which have aesthetic forms, you can materialize all your imaginations. Making a logo using this service is free, but when you love your free logo design, you can go to Premium Plan and purchase and download the high-resolution files for just $12.50.
As you understand, you just have to create a logo for your company or your products. Now it's up to you to decide how to make it: whether you want to hire a freelance graphic designer or a commissioning agency for a close relationship and a unique view of your company or just make your company's logo on your own using an online logo creation tool. But remember: "Create your effective and relevant logo now is a first step towards success!"
This article was submitted by Logaster. Learn how you, too, can see your content on this blog by reading our guest blogging guidelines.