Jobs at Crak – We're Hiring!
This October, we're offering up a whole host of exciting career opportunities to Webmasters & Marketers everywhere. Join 1 of Canada's fastest growing companies.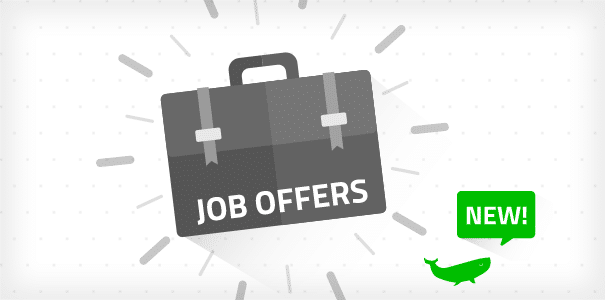 Soon, CrakRevenue will have a Jobs section!
Starting this October, we're offering up a whole host of exciting career opportunities to enthusiastic, skilled marketers like yourself.
Since 2010, CrakRevenue's premium-performance CPA platform has been a staple for Webmasters, affiliates, and adult publishers alike looking to monetize their web traffic.
Our office, located in the heart of Quebec City, provides a rewarding and fun work atmosphere.
Something truly special can be felt when you first walk into our custom-built, teched-up office.
With two lounges, a game room, and two massive aquariums, our office serves not only as a dynamic place to work, but as a cozy work environment for all our hardworking employees.
And the best part is, we're currently looking to expand our team!
When you work for Crak, you become family.
We're seeking talented, creative, web-driven individuals to join the Crak family.
So if you've ever had interest in pursuing this field of work full time — or if you're someone who lives and breathes all aspects of web marketing — head on over to our new Jobs section to see if there's a Crak Job for you!
Here are some positions currently available:
WEBMASTER
Efficient at building websites?

Well versed in HTML & CSS?

Natural-traffic-obtaining guru?
If you've built and developed websites all your life, know your way around a file editor, and you're proficient in traffic generation—we have a role for you at Crak!
AFFILIATE MANAGER
Results-oriented?

Motivated?

Good knowledge of affiliate marketing?
If you're proficient at web marketing and have excellent analytical and communication skills with a knack for developing and maintaining new business—we want you to join Crak's Affiliate Management team!
These guys work closely with you to make you the most money!
PRODUCT MANAGER
Are you a leader?

An awesome project coordinator?

Have an advanced understanding of the mobile industry & everything associated?
If you like coordinating activities and being at the center of a product's evolution from start to finish & enjoy the marketing process that follows, you'll thrive at Crak!
These guys work to develop the new Web & Mobile Offers that you promote!
MEDIA BUYER
Great with numbers?  

Analytical mind?  

Expert negotiator?  
If you have a passion for Advertising and experience in the buying and reselling of online ad space, look no further, we want you on our Media Buy team!
These guys tirelessly test the offers we develop across all the major ad networks & tubes—and of course, through our own in-house advertising network!
Still not sure a Job at Crak is for you?
We're quickly becoming one of Canada's fastest growing IT companies — so c'mon, follow that Whale, get that resume ready, and join our team!
Note: These jobs are available at our Quebec office.
However, we encourage all qualified applicants to apply and send us their resume regardless of location.
Once again, complete job listings here!