How to Reach Your Adult Audience During the Holidays
As people are preparing to celebrate Christmas all around the globe, you'll need to get the creative juices flowing if you want to reach your adult audience.
Did you know that Christmas is considered the most important holiday of the year by a wide margin? Take the United States for example: in a 2017 survey, 89% of respondents said they planned to celebrate Christmas. Interestingly enough, an increasing number of non-Christians participate in the festivities.
For affiliate marketers, online traffic during this busy time of the year is a real rollercoaster. Generally speaking, adult traffic takes a hit while we're busy unwrapping gifts and taking some time off from our busy schedules. That's not to say there's no way to keep the conversions coming, though.
Today you'll find useful tips to ensure you reach your adult audience this holiday season — and all the rest to come — based on the various promotion methods supported at CrakRevenue.
So, grab a seat by the fireplace, kick back, and let's talk maximum reach!
Media Buy
Based on the traffic we've analyzed over the past 5 years, the weekend leading up to Christmas tends to be the most profitable one. This is when most people are preparing and settling into their vacation time and time off work for the holidays, and aren't yet with their families.
Which makes for some perfect timing for some naughty action in front of the computer!
It's especially true for Christmas Eve in 2018.  
Christmas Eve falls on a Monday this year. You can expect a drop on the big days, i.e. the 24th and 25th of December. Traffic then kicks right back up until New Year's Eve on the 31st of December.
One golden rule for media buyers over the holidays is to not overbid. Stay calm, focused and don't forget to run plenty of A/B tests. Because yes, the traffic drop is real. According to Pornhub Insights in 2016, traffic was at -11% on December 24th for the popular adult tube. Between 6PM and Midnight, it was even worse with a -38% nosedive in traffic. And on Christmas day, traffic plummeted at -16%.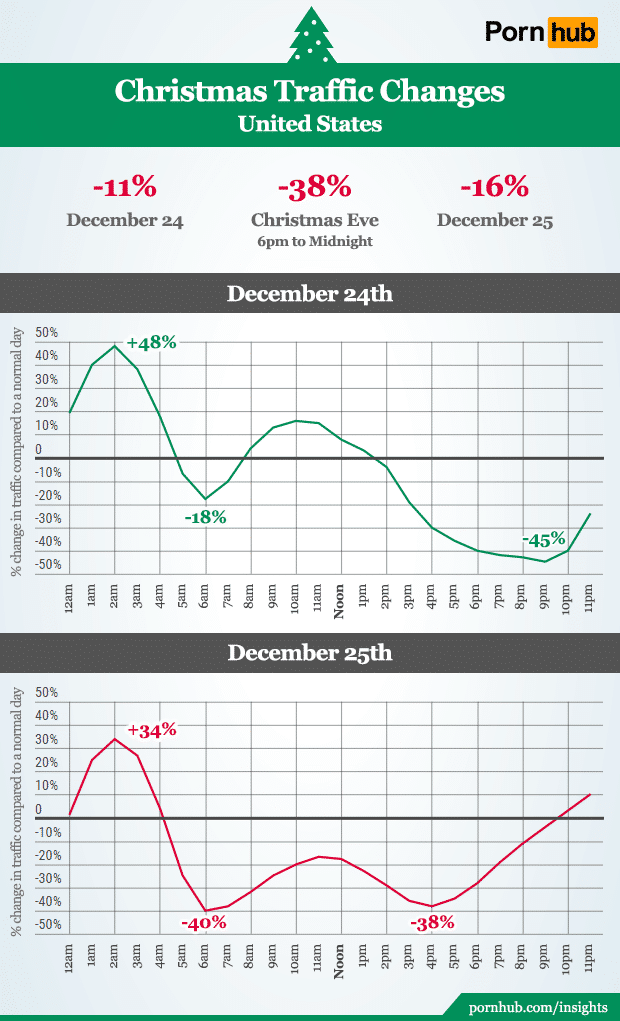 This is a worldwide phenomenon. The biggest 2-day change in 2016 for the Christmas traffic changes could be seen in Portugal with a whoppin' -24% on December 25th. Other notable differences include Argentina (-22%), Australia (-19%) and United Kingdom (-19%).
You can see the full list below:
Email Marketing
Ever have the feeling that Christmas-mania begins way too early? You know how it goes; one holiday's barely over and the stores are already stocking the shelves with Christmas trees!
Email marketing is no different. Marketing kicks off earlier to engage end users before they make critical purchases. If you want to push a great adult offer, you should use the same tactic. Here's a few tips to run successful campaigns and they all start with proper planning:
December 22nd is a great target date because it's right before the big holiday rush.

Avoid sending emails on holidays.

Clean your listings

as to avoid a higher bounce rate.

Don't forget to use

list segmentation

to avoid unsubscribes.

Make sure to

make the most of special events

like Boxing Day on December 26th with a Flash Sale for instance!
Tip: if you need help organizing your email campaigns and boost your results with direct marketing, be sure to give WhalesHub a try.
If you're into ecommerce, most customers are already primed to buy for the Christmas season. All you need to do is convince them with a neat deal. No matter how you're doing business, the key here is to start early. There should be a before Christmas (ex: wishlists), during Christmas (ex: gift) and after Christmas (ex: discount).
The holidays are also a nice opportunity to reach out to your subscribers and wish them the best. Personalization goes a long way in getting people to actually open your emails, read them and click on your links. The open rate for emails with a personalized message was 18.8%, as compared to 13.1% without any personalization in 2016.
Push Notifications
With push notifications, the best approach is to make the most of the mobile leads you've gathered.
Indeed, mobile traffic increases a lot around the holidays while people are away. More shoppers are using apps and smartphones to make purchases. In the adult industry, giants like Pornhub have also stated mobile devices became the primary medium to browse the site.
As for when you should actually send push notifications, well, you can basically follow the same media buy schedule (see above). One thing you don't have to worry about is sending your message on Christmas day. Most push notification services allow for "Intelligent Delivery," meaning the push notification will be sent when the user most frequently opens notifications.
As always, push notifications need to pique curiosity and incite a click. Here's more food for thought regarding this unique transmission of data:
Make them

relevant
Personalize

the content so your push truly talks to the user

Precision

: you have 10 words to make an impact

Have a strategy
Social Media
Incredible and engaging content is nothing if you don't take the time to promote on social media.
Maybe you don't want to deal with a sharp drop in traffic and still reach your adult audience. Good news: you can turn on a featured called Autofeed to free up your time while keeping your community engaged.
What Autofeed does is simple: it's an auto-posting tool that works on a schedule. Here at CrakRevenue we use HootSuite, which allows us to plan content well in advance. You can post to Facebook (well, not adult content!), Twitter, Linkedin, etc. The user interface (UI) is very clean and simple to use.
Using social media for your adult traffic during the holidays should be more about gaining exposure rather than sales. To that end, you'll be working on shoutouts, buying promos, etc. You want to get the word out there so people can notice you.  
Content marketing
Instead of writing some brand new pieces of content for the holidays, you should take a break.
As traffic declines during the holidays, it's time to look back and analyze what worked—and what didn't or could use a boost.
Maybe you've posted about cats 10 times in 2018 because hey, you love them kitties. However, if your data shows that such posts don't get anywhere as much traffic than your guides on how to grow a garden (pretty all over the place website here), you might want to refocus.
Also, because the holidays are synonymous with less traffic, your content has a real risk of just zapping by without anyone noticing. Use what worked best and share it again. Use this time to schedule your posts—you can prepare 52 headlines to use in the next year so you'll never be in trouble down the road.
For adult content marketers, always try to ride trends. For example, Pornhub just released its 2018 Year in Review with its usual fair share of gold nuggets. This can give you plenty of ideas for content:
The searches that defined porn in 2018

Most searched terms on Pornhub in 2018

Most searched for pornstars
And so on.
Final thoughts
If you want to reach a greater adult  audience around the holidays, the best way to do so is plan ahead and start creating tailored messages for your users.
Use this time to reflect on your year and how you're going to tackle the next one. You can't keep doing the same thing and expect different results.