CPA Marketing: Complete Guide
Have you ever wondered how people are making money online? Additional income is always welcome indeed, but what if an online side hustle could potentially become a long-term thriving business? Search no more, for CPA Marketing is the best way to earn extra bucks in the comfort of your home, especially with CrakRevenue.
This guide will tell you all you need to know to make your first steps in the world of traffic monetization and become a skillful affiliate marketer.
You'll learn how to make money online with CPA Marketing and how to promote the best affiliate offers and achieve success with CrakRevenue's pro tips and cutting-edge ad tools.
First, let's explain what exactly is CPA Marketing for the rookies.
You may want to jump to the next section if you already know the very basics.
Ready?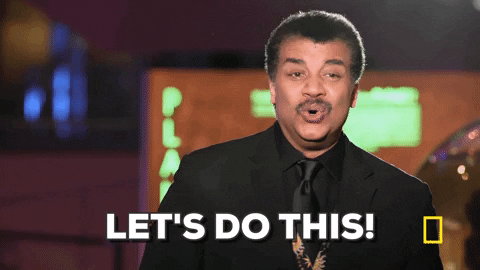 What is CPA Marketing?
CPA stands for Cost Per Action. CPA Marketing is a business model where an Affiliate receives a commission when a specific action is completed by his/her traffic (web users). The action can take several forms, such as a click, a request for a quote, a purchase, a form, or a video view.
For example, you could be running a blog about food supplements and promote a company's dietary supplement products on your website. Your audience gets to discover those products as you send them to the company's website, and you earn a commission each time a user coming from your blog lands on the Advertiser's offer and makes a purchase. 
There are multiple ways to monetize your traffic successfully and convert users into cash.
Having a strategic vision and looking for innovative tactics are essential to lead your audience through your affiliate marketing campaign's purchase funnel. 
Don't worry; we'll cover this topic later in this guide.
For now, let's take a quick look at some of the most important terms of CPA Marketing.
Affiliates, Advertisers, and CPA Networks
Advertisers are merchants or companies looking to promote their product(s) / offer(s) and wishing to pay only for the results. They work mostly with CPA Networks regrouping worldwide affiliates looking for high-paying affiliate programs and top-converting offers to promote.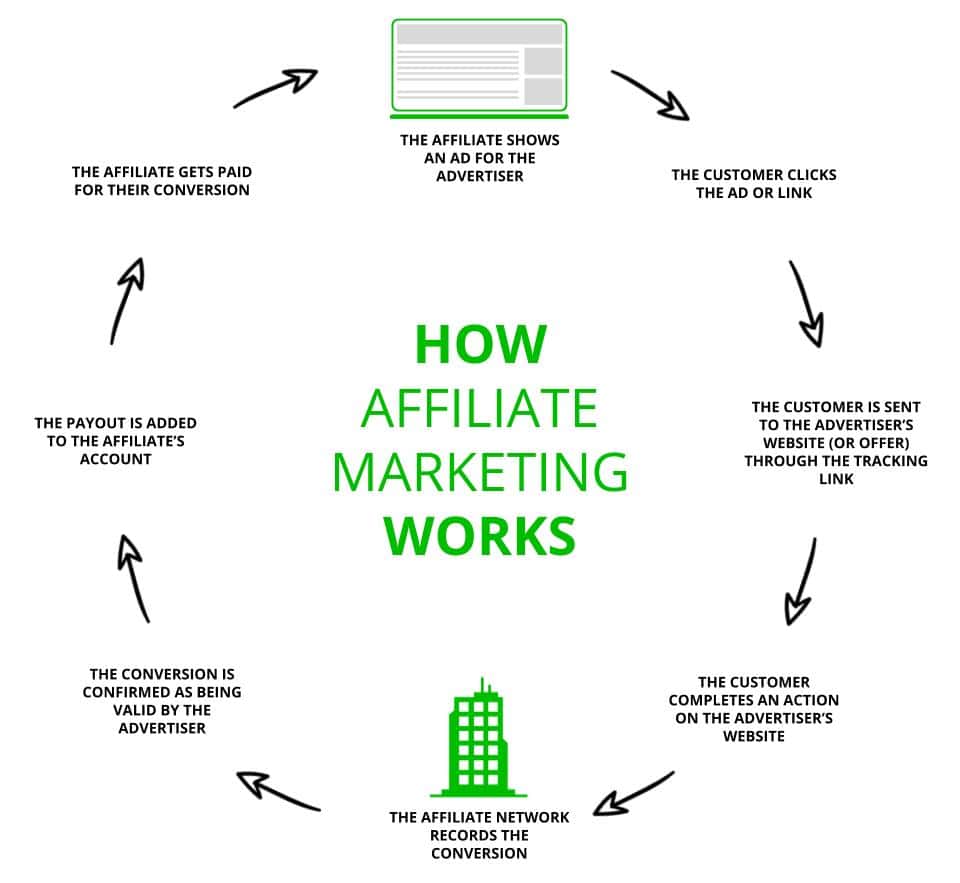 A CPA Network is the bridge between who tracks conversions and makes sure you (Affiliate) get paid for their work.
It is also a great source of support for affiliates, helping you find the most compatible offers according to your traffic and providing insightful advice for your campaign optimization. 
They regroup affiliate programs and offers to promote and help you optimize your efforts with data-driven insights and real-time reporting.
Note: There are many CPA networks out there.
Here's a non-exhaustive list of other top CPA networks you may want to consider:
MaxBounty: a leader in the industry for more than a decade.
Perform[cb]: an innovative and experienced network (formerly Clickbooth).
Clickdealer has a diverse portfolio of offers, a nice loyalty program, and cool contests.
Mobidea: specialized in mobile offers and driven by technology and innovation.
Advidi: a Dutch network with an emphasis on brand safety, analytics, and design.
With that being said, CPA Networks are your best asset to build a successful affiliate marketing business and make as much money online as possible! 
This brings us to our $1,000 question: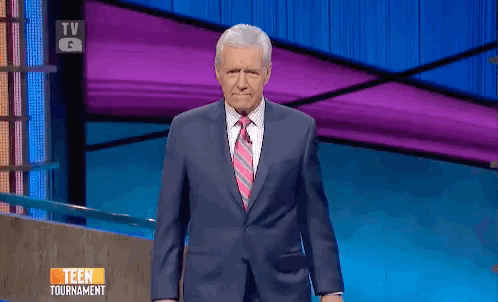 How can I make money online with CPA Marketing? (GUIDE)
You can monetize web traffic through CPA marketing in several ways, depending on which vertical(s) you choose to work with and the traffic type(s) you have.
Promoting one or several offers listed in your CrakRevenue dashboard will allow you to earn money as long as you respect and follow the set of rules and details included in the affiliate program.
Making money online with CPA Marketing takes time, dedication, planning, and effort.
If you are willing to learn and build on your experience, the rewards will be worthwhile.
This detailed 5-step guide will help you set sail for success.
Let's get started!
1- Acquire knowledge
One key to success is mastering the basics of CPA Marketing and getting ready for your first campaign.
Taking our Affiliate Masterclass is the best way to avoid false starts and set your first campaign successfully. It will help you set your goals, learn some good practices and get familiar with the affiliate marketer's language.
Affiliate Forums are also a great way to stay up to date and benefit from pro affiliates' experience and expertise even when you get started.
You may already be familiar with the multiple ways to earn commissions and get paid with CrakRevenue.
If not, give this blog post a quick read before jumping to step 2!
2- Become a CrakRevenue affiliate
Signing up and getting approved on CrakRevenue is simple and easy.
First, create your account and read our Terms of Service and Privacy Policy.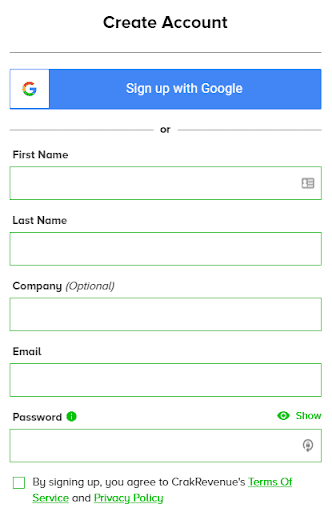 Next, you will need to provide information about your traffic, website URLs and marketing strategies you plan to use.
To ensure fast review and approval, include as many details as possible regarding how you plan to generate traffic and promote our offers.
Our team will review your application and contact you within the following 7 business days.
Once approved, you will be granted full access to our all-in-one affiliate platform.
3- Choose your affiliate programs and offers
To find the best offers to promote, log into your CrakRevenue dashboard.
In the sidebar menu, click on the Offers tab.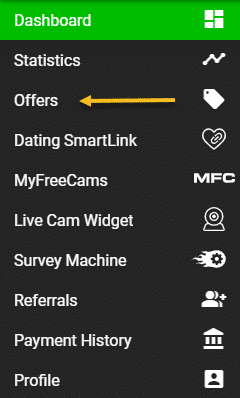 There you'll find helpful information and campaign settings to promote our offers.
We continuously update your dashboard with current promotions, top-converting and recently added offers. You can also browse and narrow the list down by adding filters, such as:
Vertical / Niche
Payout type
Accepted promotion methods/countries
Approval required

Each offer has a page providing specific information about the product or service itself, payout type, EPC, accepted countries and advertising restrictions.
You will also be able to generate and customize your tracking link and choose among our in-house landing pages, banners, and more!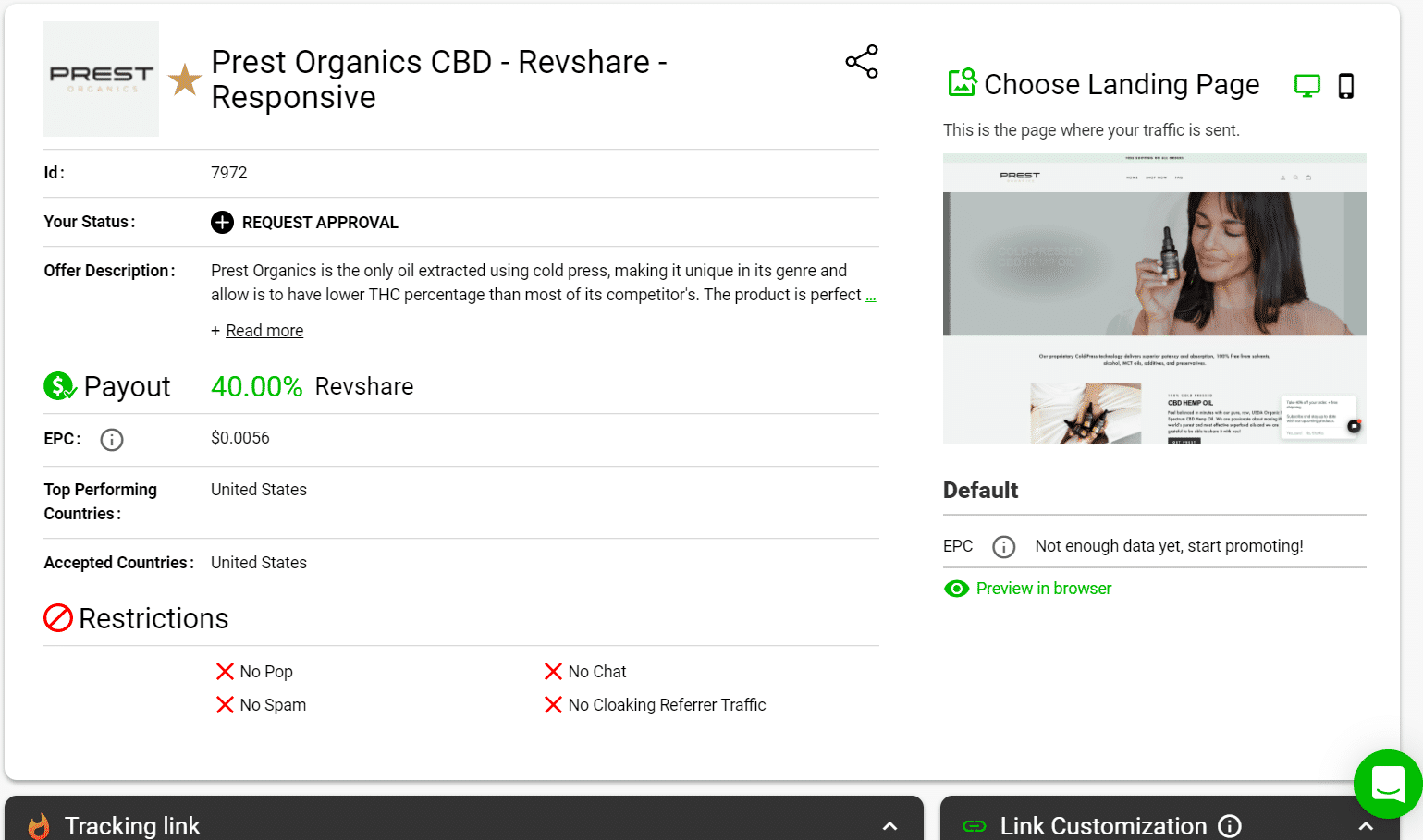 Pro tip: If you're new to CPA marketing, you may struggle with finding the right offer to promote according to your traffic's location.
We recommend using our powerful and exclusive Dating Smartlink and Live Cam Widget to overcome this challenge and ensure maximum conversions.
These ad tools are the perfect turnkey solution to convert traffic from anywhere in the world with responsive landing pages and top-converting offers.
All you need to do is work on traffic acquisition and let our business intelligence do the conversion work!
4- Drive traffic to your affiliate offers
Depending on the vertical(s) and offer(s) you wish to promote, you will see some allowed and forbidden traffic types.
There are 6 types of traffic (or channels) you can acquire and use to make money with CPA Marketing:
Direct (type-in): users type your domain in their address bar to access your website.
Organic: users find your website on a search engine by typing relevant keywords.
Paid: users click on a paid link or ad leading to your website/offer.
Referral (backlinks): users click on a link from another website that leads to yours.
Mailing: users click on a link inside an email leading to your website/offer.
Social: users click on a link from any social media leading to your website/offer.
5- Test and optimize your funnel
You are now all set to generate your first conversions on your affiliate offers. Congrats!
Now, to ensure maximum sales and revenue on your end, you'll need to A/B Test everything.
Why? Because even the slightest changes on your funnel can lead to a significant click-through rate (and conversion) boost!
Also called split testing, A/B testing enables you to compare variants and see which banner or campaign performs better for maximum return on investment (ROI).
Bonus tip: You don't always need to spend hours testing new creatives and figuring out which one will best convert your traffic. After all, time is money!
As a CrakRevenue affiliate, you can let us do the work and take advantage of our thoroughly tested in-house creatives and ad tools!
Simply choose an offer and browse through the available designs and landing pages to pick the perfect match for your funnel!
You can even use our performance data to identify the best converting landing page in seconds!
You now have the knowledge and power to make money online with CPA Marketing!
If you haven't already, now is the time to join CrakRevenue and gain access to 700+ exclusive and high-converting offers!
Our dedicated team of experts is here to guide you and make sure you get the most out of your campaigns.
Don't hesitate to get in touch through our Live Chat!