What is Offervault?
Getting started with affiliate marketing can be tricky when you're unsure where to look or which site to trust for accurate data. Every CPA network can claim to be the best, and every advertising offer can sound like a good deal when you're not sure what to look out for. And heading to Google to look up networks and offers is easier said than done when there are thousands of web results out there!
But with the proper reference tool, you can find exactly which offers you should promote, how to get started, and which CPA network fits your affiliate marketing goals and targets. That's precisely what Offervault has to offer! 
In its simplest form, Offervault is a web research tool that allows you to easily navigate through offers, networks, and even traffic sources to find the best matches for your affiliate advertising needs. Offervault gets you connected with your network of choice and lets you promote their offers without having to leave the site. You can get easy access to your affiliate links in just a few clicks!
How does Offervault work?
To start using Offervault, you can either explore the web site as a guest or create a free account to gain full access to the tool's features and data. Once you sign up, you can browse through offers and see what their payout, accepted countries, and network are in one simple search result. The site also allows you to add a tag in order to display offers by networks, verticals, and countries. Like we said, it's ten times better than Google!
Once you've found the right offer to add to your roster, simply join the CPA network listed to get your affiliate link and start promoting.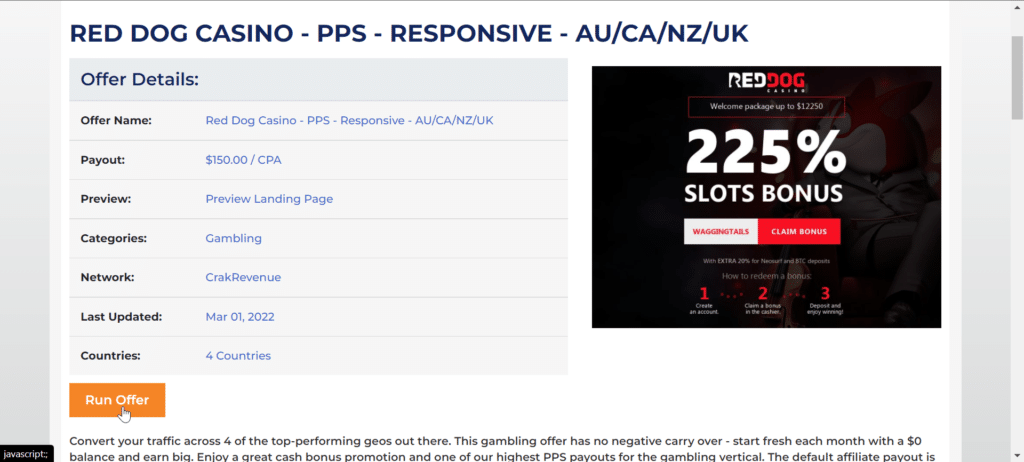 If you're looking for a network to join without looking for specific offers, you can also do an affiliate network search. Other search options include pay-per-call offers, mobile offers, and traffic sources. No matter what resources you have at hand, Offervault can help you find the right offer to maximize your conversions. 
As a site member, you can also access features such as saving your searches, viewing landing pages for specific countries, and setting up email alerts to keep you updated on new offers. It's a real data gold mine you won't want to miss out on.
How to use Offervault to find the best offers?
Offervault is an excellent tool to browse an incredible amount of offers from different affiliate networks all in one place. You can search through offers using a name, payout, country, network, or vertical tag. Tags can also be combined in order to display the most specific results possible.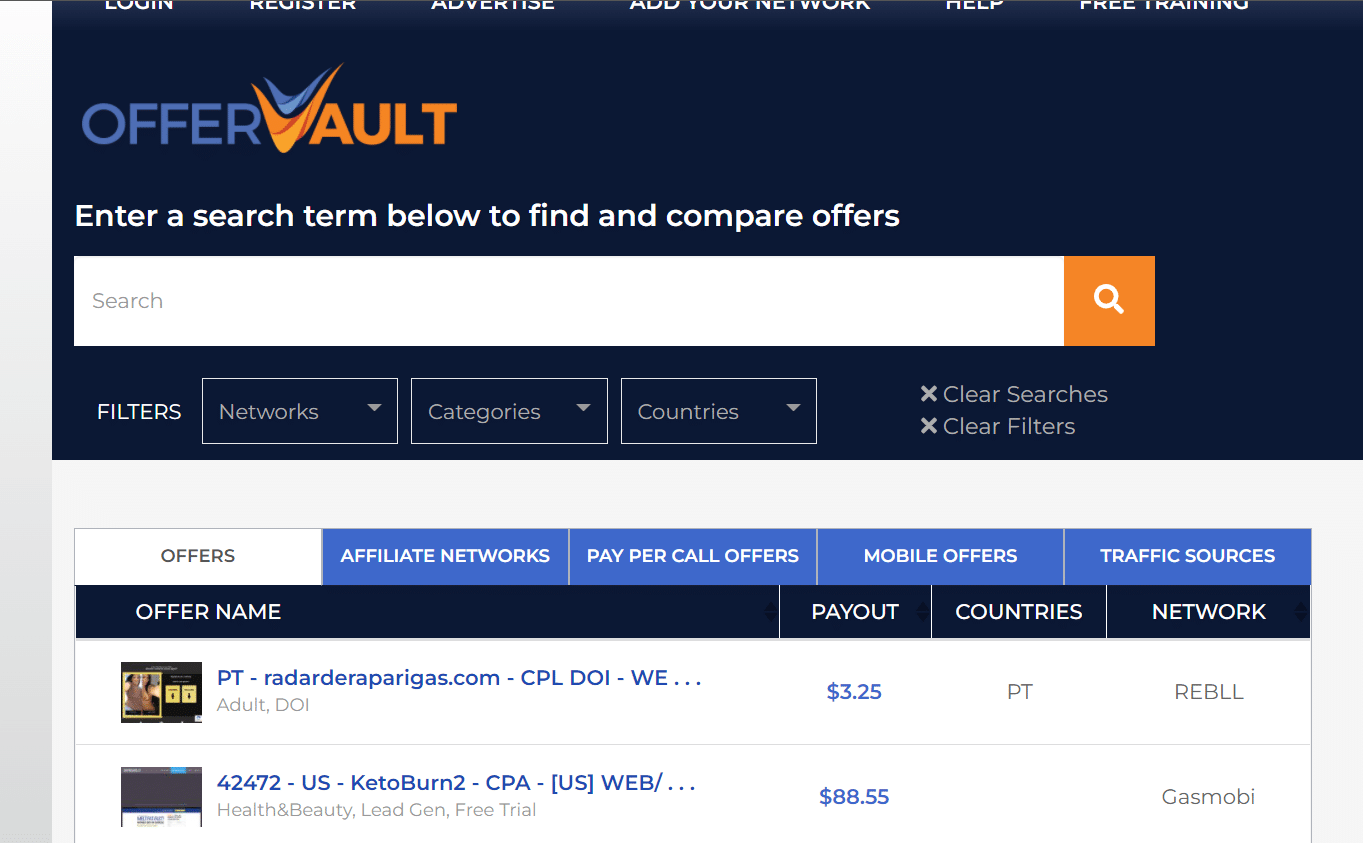 When browsing through offers, you can display search results by countries, network name, or highest to lowest payout (and vice versa). 
Once you've found an advertising offer you're interested in, you can view the offer page directly from the site and find information including the offer name, payout, landing page preview, vertical, network, last update date, and countries included. 
The offer page also includes an offer description with additional features, procedures, and network guidelines. You can learn more about the CPA network and discover similar offers, along with their payout, countries, and network. 
When searching through traffic sources, you can also find out the traffic types as well as whether they allow mobile, retargeting, and self serve for each featured traffic source.
How to use Offervault to find the best networks?
When it comes to finding the best affiliate marketing networks using Offervault, the search options are more limited, but the data results are just as interesting. 
You can browse through their "Affiliate networks" web section and quickly find out the network's name, description, and offer selection in one quick view. With over 15 result pages, you're sure to find a CPA network that suits your needs!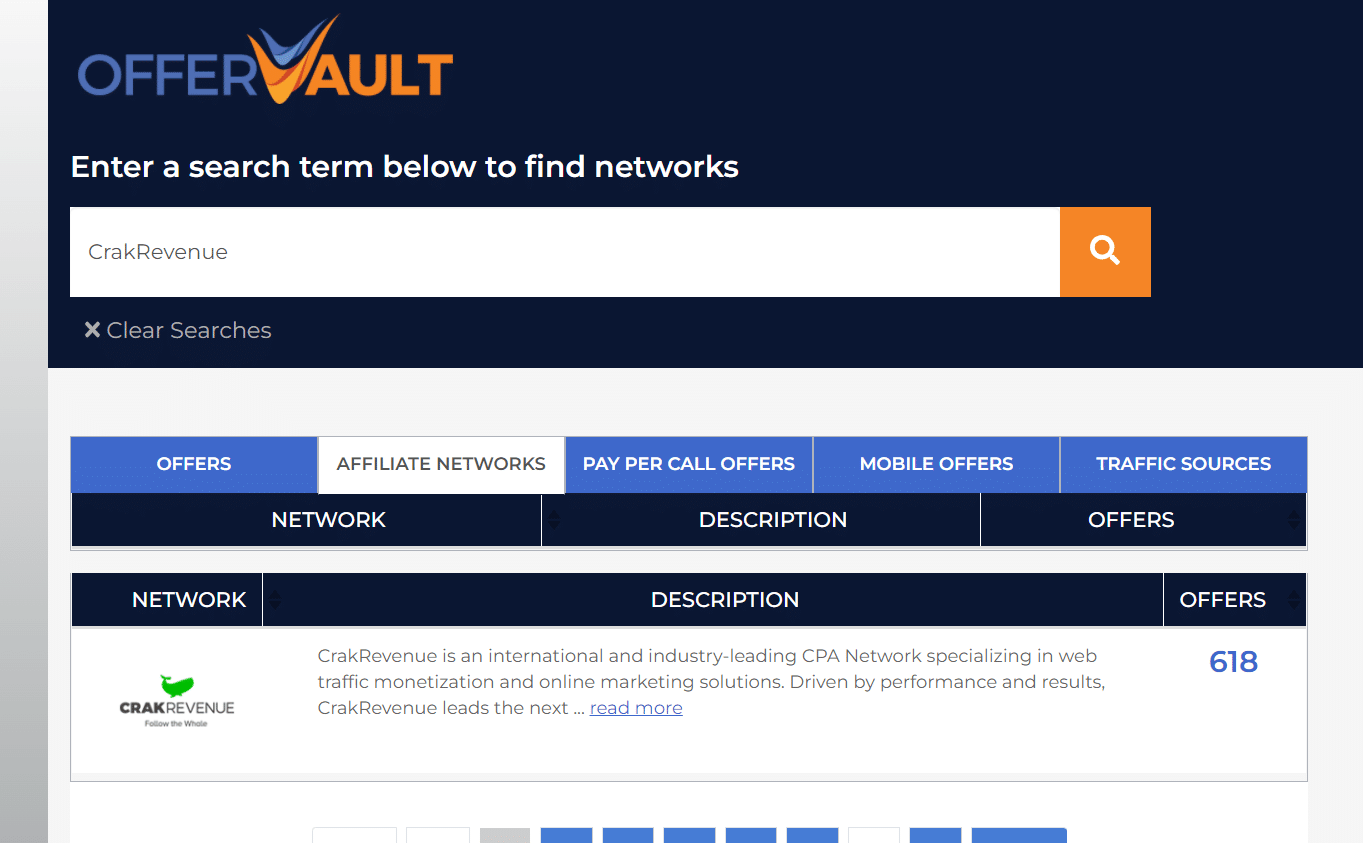 Once you've found a network that piques your interest, you can visit the affiliate network page to find out how many offers they have, their minimum payout, commission type, frequency, payment method, and contact information. This includes their network web site, email, phone number, and sign-up form. 
On the network page, you'll also find a brief description of their services, as well as a selection of their best offers. Starred offers, located at the top of the list, give you an insight into which offers are most popular. 
Offervault is the best tool to find all the information you need in one convenient place, without the hassle of visiting countless websites to figure out which CPA networks and offers could work for you.
Alternatives to Offervault
A few similar web research tools are available for marketing affiliates looking to discover new offers or networks without turning to thousands of head-spinning Google results. 
oDigger is a similar site that introduces top affiliate marketing networks and an offer directory you can browse to find the best match for your traffic. Their search features include a payout, network, and date added tag, but their only search filter available is the network name. However, they offer CPA network reviews to guide affiliates in their decision. 
Affpaying.com is a review platform where affiliates can share their experiences with others. It includes a "premium networks" section where you can organize networks either by newest or top-rated. In one quick preview, you can display the CPA network's rating, number of offers, payment type and frequency, and verticals. 
To browse offers, however, the web site redirects you to affplus.com, where you can browse offers by vertical and get a preview of the offer's payout and countries. On the offer page, you can find out whether the offer is active, when it was last updated, which vertical it's in, and what the payout and geos are. The "You may like" section also suggests similar offers. 
Are you ready to find your best-converting offer yet?