They say that to spot the best business opportunities, you have to know the right people. In this digital age, we strongly disagree. To find the top offers, you just gotta find the right search engine online. The internet is full of marketing opportunities for affiliates eager to leverage their traffic in exchange for a sweet commission. With the right search engine, you'll come across the best programs to make the most of your traffic in minutes.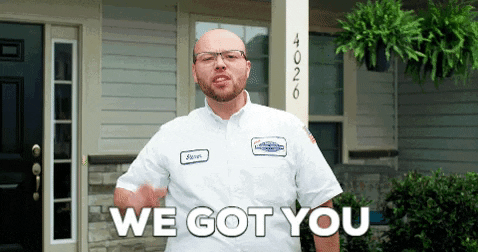 Let us tell you about Affplus, one of the greatest search engine websites for CPA offers. We'll help you navigate this tool to find the best affiliate programs for your site and for your pockets.
What is Affplus?
Affplus is a website that groups the best affiliate programs and CPA offers in the world. Its filters and comparing features allow you to find the best results based on your top criteria. You can look up offers based on the following:
country, 

CPA network, 

payout type, 

vertical or category, or

all of the above.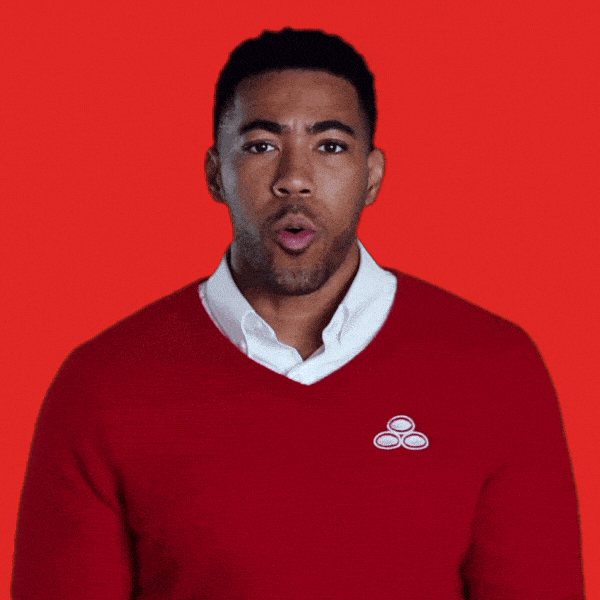 The greatest thing about Affplus is its accessibility. The website is free. No membership or account is needed to browse through the offers. Anybody can use the site, stumble on an interesting offer, and share its content via social media with an affiliate. 
Affplus also has a wide variety of offers across diverse industries. You'll find offers and CPA programs in verticals such as
gambling,

adult gaming, 

dating,

astrology,

learning languages, 

cryptocurrency, 

CBD products, 

supplements,

etc.
How does Affplus work?
Using the search bar, type in the kind of offers you would be interested in. A few keywords should be plenty to give you enough results to browse through. Too many results? Use the filters below the search bar to refine your search. You might want to find offers in your country or with double opt-in only for instance.
Once you click on an appealing offer, read the details carefully. The description will include the brand and the products to advertise, the vertical, the payout type, the eligible countries, and the payout amount.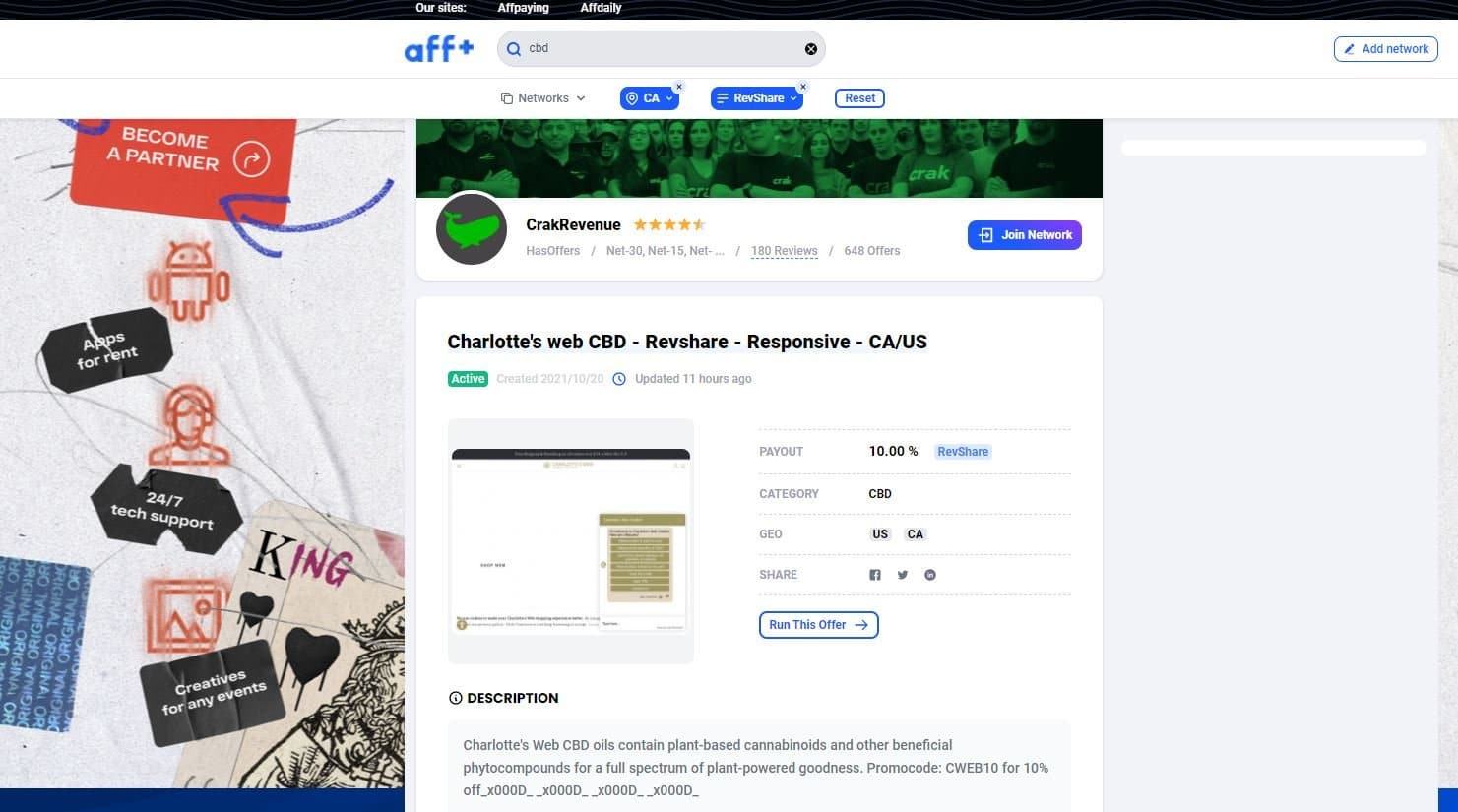 Click on "Run this offer" and you'll be redirected to the CPA network's website. You must join that network as an affiliate to start promoting its offers. For example, this Crakrevenue offer below is targeting US and Canadian affiliates interested in promoting CBD products on their sites. With a REvShare payout of 10%, affiliates will earn a steady commission on all purchases derived from their promo code for as long as it is used by end users.
How to use Affplus to find the best offers?
Unlike Google–a very broad search engine will a gazillion results per search–Affplus allows you to not only filter but also sort your results by criteria you deem most relevant. Instead of adding keywords in the search bar to find exactly what you need, you can filter your results first, and sort second.
For instance, if you want to weed out offers with a low payout, you can rank your results by ascending or descending price. Offers with the highest payout will appear on top of the page, and those with the lowest, on the very last page.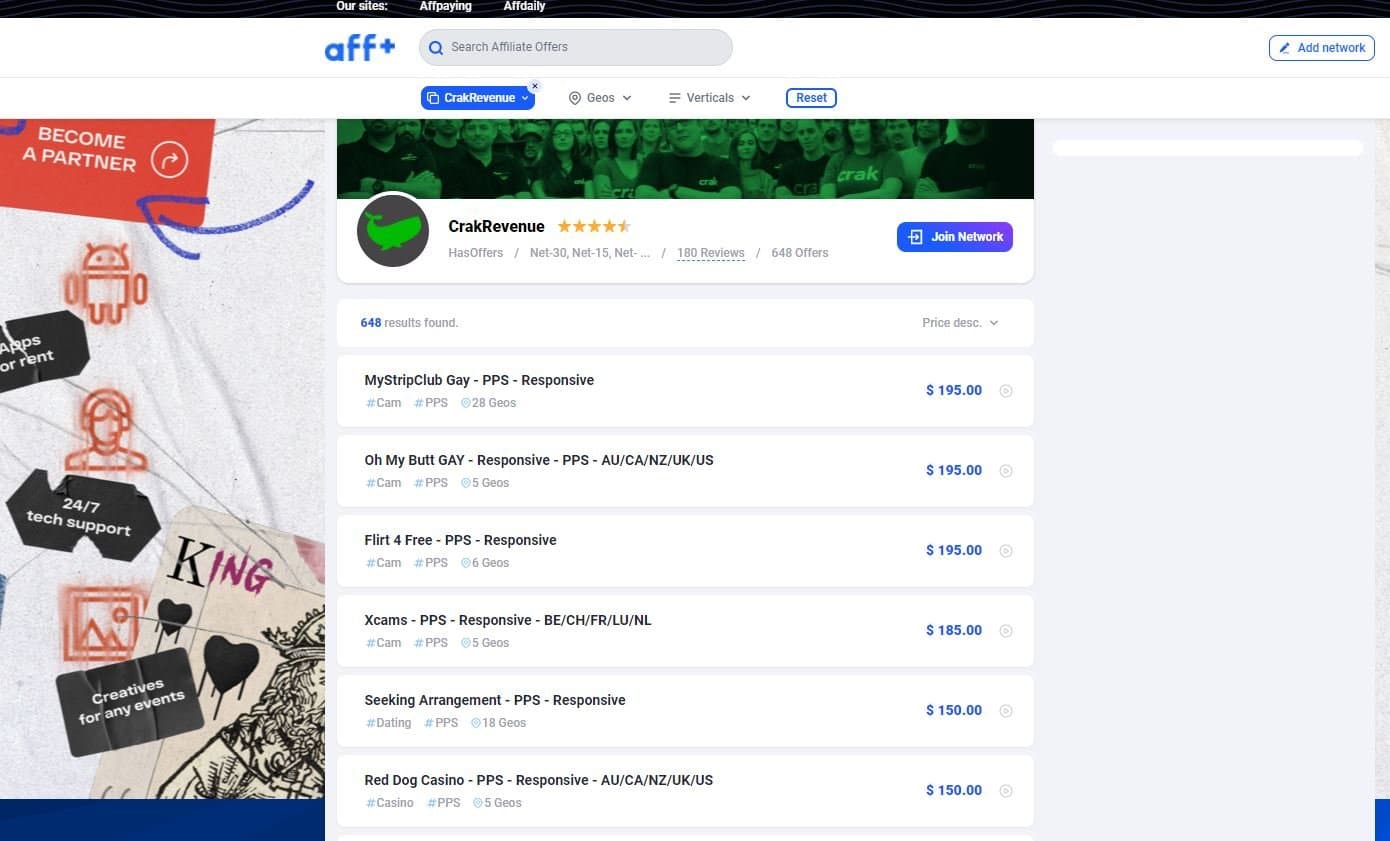 Other search engines for CPA offers
Not enough relevant results for you on Affplus? No worries! There are other search engine websites for CPA offers out there that do the same job. We looked them up and listed them in this article to provide you with even more results to leverage your traffic.
Don't be fooled by the website's "librarian" look. Affiliatesseeking.com is a search engine, but it is also an online directory and a webmaster forum. You can search for offers using the search bar at the top right corner of the home page, but if you have time on your hands, you can also browse through the various program types.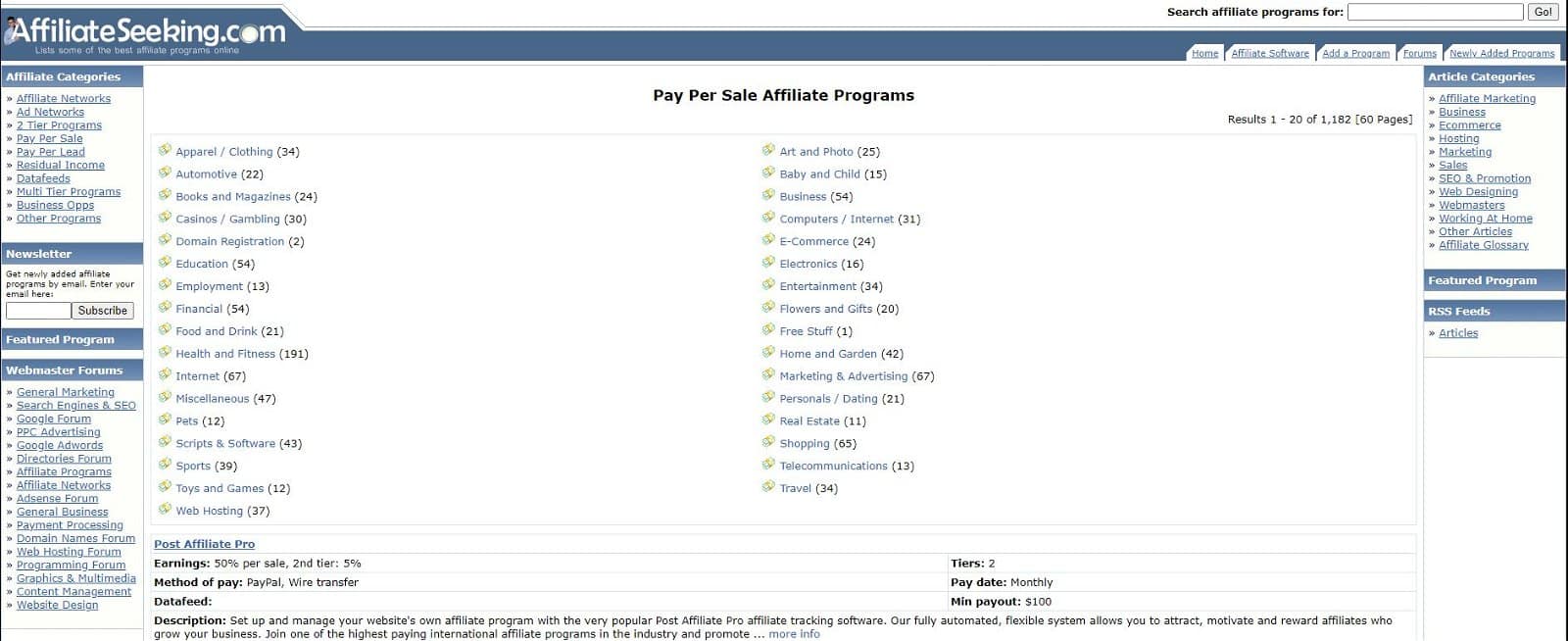 OfferVault has all the great features of a search engine for CPA offers, but its descriptions have got to be the most detailed, and well-presented ones of all the search engines. Each offer includes a table with the crucial information and a preview of the landing page to promote. And once you view an offer, you can see similar offers at the bottom of the page. Great, isn't it? Plus, you can restrict your results to offers that can only be promoted on mobile, simply using the Mobile offers tab.

With its original look, you could easily mistake Affbank for a financial institution. But don't be too hasty to misjudge it for another service provider with monthly fees. Affplus is indeed a well-crafted search engine filled with advertising offers. What makes it unique? A detailed profile for each affiliate network featured on the website, including its verticals and minimum payout amounts. Another great thing is its Affiliate events page. All past and future conferences in the industry of affiliate marketing are displayed in chronological order, making it easy to learn about future events in the field.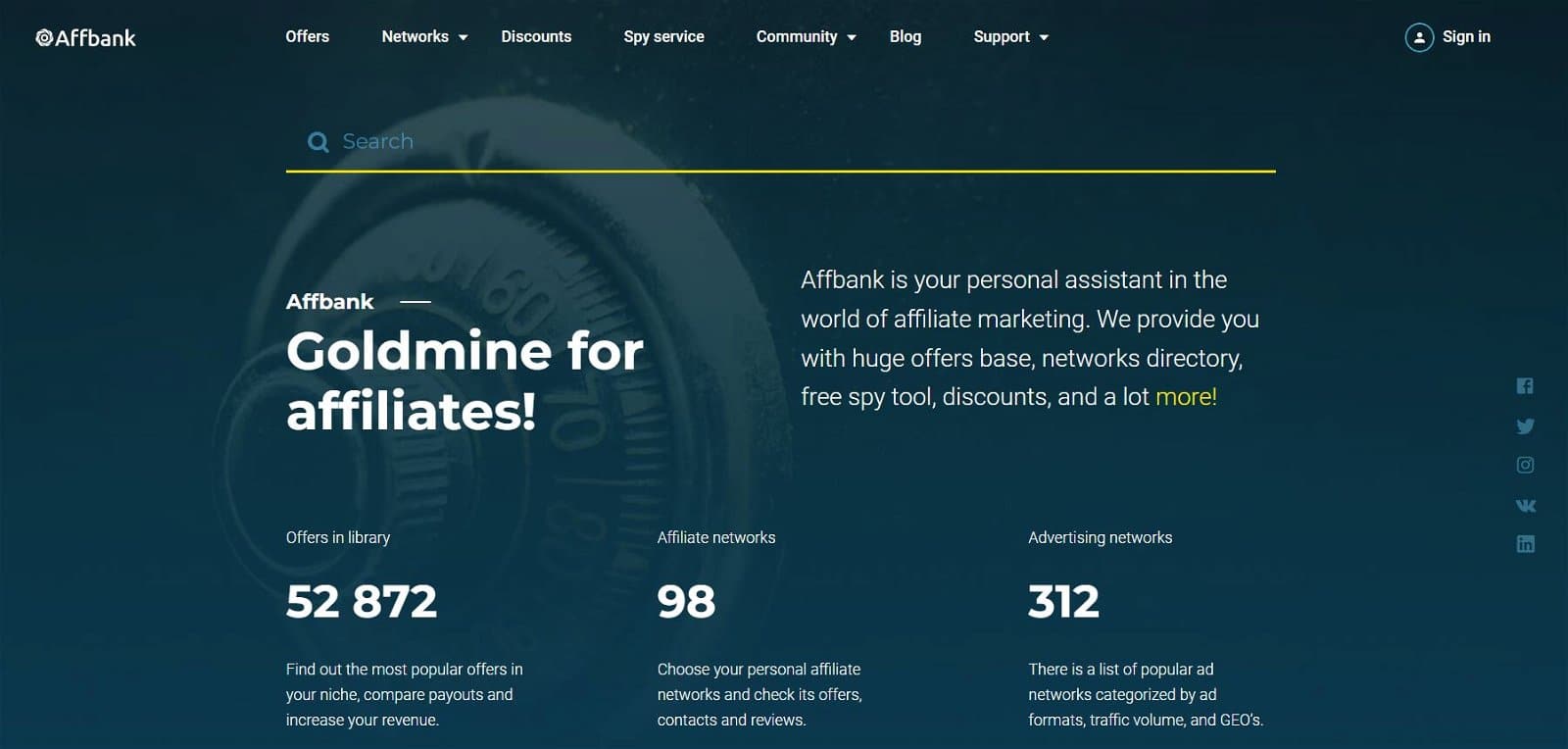 Maybe the most pleasing to the eye, Best-affiliate-programs.net looks as efficient as it is. All the CPA networks are clearly identified with their logos, and each offer, with an inviting orange "Join" button. The website has all the major filters Affplus has, but with something more: the ability to preview the offer description in the search results and save some precious time on your search.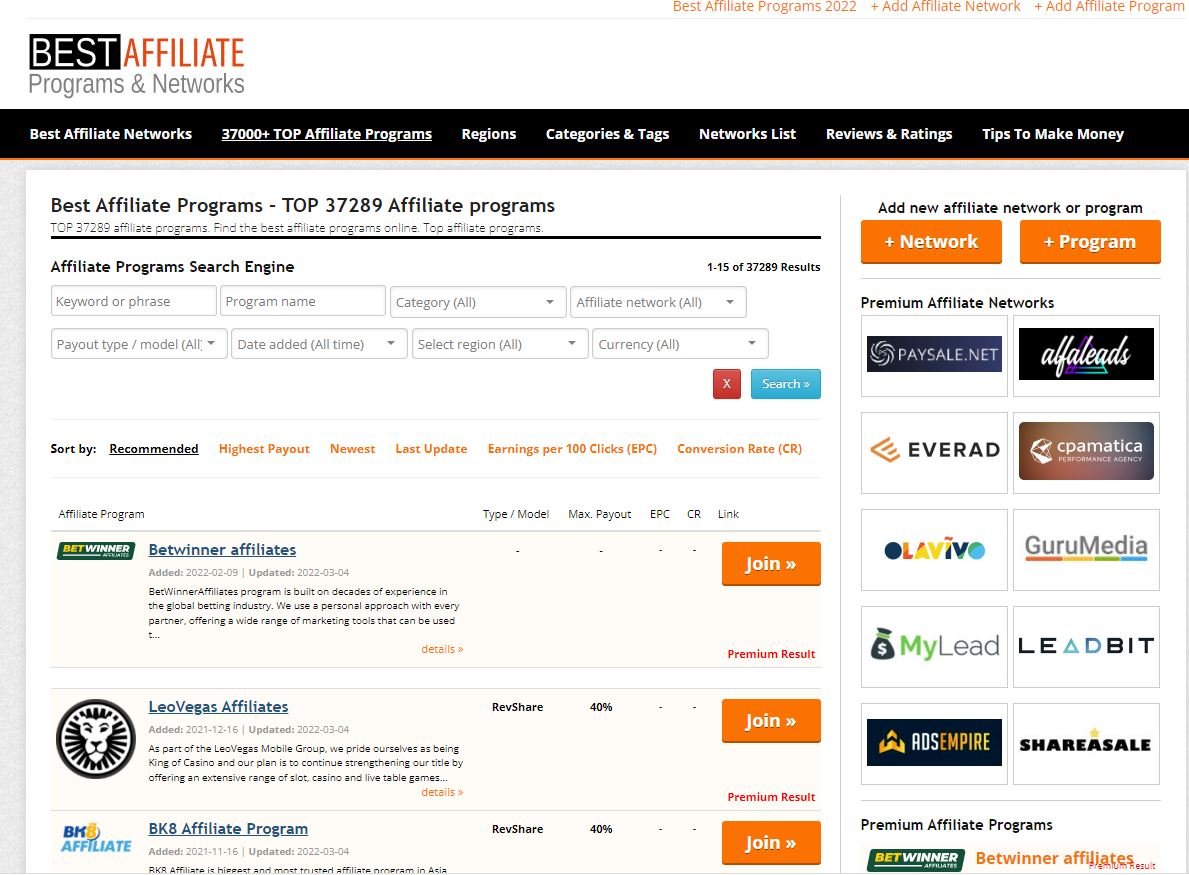 You're all set. Now, no affiliate program or offer should remain a secret to you! All the tools are at your disposal to take down your competition and bring in that extra money on your site.
Wanna know more about CPA offers best suited for your traffic? Get in touch with our CrakRevenue team. Our affiliate marketing experts might just have the answer!