What is Traffic Junky?
Traffic Junky is a respected web advertising platform and one of the most experienced adult advertising networks.
Founded in 2008 in Montreal, Traffic Junky is here to help you improve your advertising campaign's performance and guide you with insightful reporting.
Combining your Crakrevenue affiliate business with Traffic Junky enables you, as a Media Buyer, to ensure you're reaching the right audience with the best-performing creatives and make well-informed and data-driven strategic decisions.
What makes Traffic Junky stand out from other adult ad networks is the fact that they offer a massive amount of quality traffic on several of the industry's largest websites and ad spots.
Traffic Junky is also one of the few ad networks that allow you to target user demographics for improved results. They are responsible for over 4.6B daily impressions from more than 150M daily visitors.
How Can I Make Money Online With Traffic Junky?
As a CrakRevenue affiliate, you can earn extra income by promoting high-converting offers through media buying on Traffic Junky.
Their platform allows you to perform multiple ad tests and find your best demographic for optimal conversion rates.
Their low costs per conversion allow you to reap maximum affiliate commissions in exchange for your advertising efforts.
Keep scrolling to read our Traffic Junky review and step-by-step tutorial!
Traffic Junky Review (2021)
Spoiler alert: Traffic Junky is one of the best ad networks out there. Why?
Because they improve themselves constantly, making their self-serve platform more intuitive and easy-to-use and providing media buyers with game-changing optimization tools.
Here are our top picks of Traffic Junky's most notable features:
Traffic Junky's best features
Security & stability of services
Optimization for mobile ads
Frequency capping
Campaign schedule
Audience targeting
Retargeting
Auto-bid optimizer
Every good business deserves to be well-protected. Traffic Junky provides users with two-factor authentication and a stable hosting architecture to ensure high account security and optimal uptime to prevent harmful breaches and unwanted downtime.
Traffic Junky offers multiple display options for mobile ads (header, footer, underplayer, etc.), all of which also include an auto-optimization feature for maximum conversions.
You can set a limit to the number of times your ads are displayed to each user and prevent banner blindness. Avoiding overexposure through frequency capping will preserve your campaign's performance.
It is also possible to schedule your campaigns on preset periods of time (i.e., the month of July only) to ensure you respect your budget.
You can apply multiple audience filters to target with deep precision according to your needs: gender, language, device, browser, country, ZIP code, IP address, OS targeting, and more!
Retargeting is one of Traffic Junky's strengths, enabling you to add a pixel on your landing page and retarget users on any website of their network.
Last bus not least, their auto-bid optimizer allows you to import your banners into the platform and test variants automatically while respecting your budget. Traffic Junky will add weight ($) on the best-converting banners and optimize your campaign without additional efforts!
Traffic Junky's limitations
So we can confidently state that adult media buyers love Traffic Junky for many reasons. But since there's no such thing as perfection, we thought it proper to expose the few low points of Traffic Junky's services:
Some popular keywords are expensive.
Largely focused on adult Tube sites.
In other words, targeting high-converting keywords can be tricky if you don't have a big bidding budget. You should also be aware of the potential damages for the brands or services (and your business) when you advertise on adult tube sites.
It is also interesting to note that you can see your rank vs. competitors and what percentage of the traffic you will acquire with your bid. Nevertheless, this information isn't perfectly accurate, while monitoring your results daily will give you the exact picture.
Finally, one of Traffic Junky's most important limitations is that you can't use SmartCPM bidding (available with ExoClick), which allows you to adjust your bid just over your competitors automatically and maintain your position.
How Traffic Junky compares to ExoClick
Traffic Junky is a huge player, but ExoClick is certainly the largest adult ad network in the arena.
Both platforms have great optimization tools to help you get the most of their traffic.
But what differentiates them?
As of mid-2021, Traffic Junky claims to serve more than 4.6B daily ad impressions, while ExoClick serves up to 8.5B geo-targeted ads a day.
But there's a downside to that: traffic quality.
ExoClick can serve your ads on lower-end websites while Traffic Junky benefits from Pornhub's massive network with comparable costs.
On the other hand, Traffic Junky is a CPM-only bidding platform, while Exoclick provides three bidding models: CPS, CPM and CPV. Exoclick also provides media buyers with 20+ high-converting ad formats, slightly more than what's available with Traffic Junky.
Now you know what makes Traffic Junky a great option to start adult media buying.
Before we jump to our step-by-step tutorial, let's wrap up our Traffic Junky review:
Pros
Massive volume of quality traffic.
Easy-to-use self-serve platform.
Targeting & optimization tools.
Insightful data & reports.
Cons
Some ad spots are costly.
100% CPM ads.
How to start media buying with Traffic Junky
Affiliates willing to scale up can opt to do so in various ways. Spending money is never hard, but investing wisely to achieve great returns on investment (ROI) and becoming the next Whale is another story.
Some of the wealthiest, most experienced affiliates in our industry are, in fact, media buyers.
If you've been wondering how to hit the major leagues, this is for you!
Follow our step-by-step guide to successfully start your media buying journey by combining Traffic Junky and CrakRevenue.
Step 1: Plan your campaign & create an effective strategy
As you're going to invest money going forward, it's really important to leave nothing to chance.
Before even thinking about creating an account on Traffic Junky, be sure you have the basics covered.
You should be asking yourself the following:
Do you want to focus on Tier 1 countries? (wealthiest countries, most competitively targeted)
Do you want to focus on Tier 2 countries? (less competitive, moderate spending)
Do you want to focus on Tier 3 countries? (even less competition, but extremely low spending)

Which

device

do I want to target?




(Traffic Junky supports PC, mobile and tablet)

Which

language

will you choose for your campaign?

Which

vertical

are you going to promote and, more importantly, which

offer(s)

?

What

payout type

did you have in mind

? (

PPL, PPS or Revshare?

)
For example, you could choose pay per lead (PPL) with Royal Cams if you were to focus on Russian and Eastern Europe GEOs.
As such, you'd get up to $3.50 for each successful lead to the adult cam site which is a safe bet for any first attempt at media buying.  
Once your goals are set and you've chosen the right CrakRevenue offer for your desired campaign, now's the perfect time to move on to the next step.
Step 2: Set up your funnel
Now that you've got a clearer picture of who you're going to target and how, it's time to set up your sales funnel.
Basically, end-users will first see your banners and, upon clicking on them, will be led to a landing page.
Once logged in to your CrakRevenue account it's easy to choose the creatives you want to use. On each offer page, scroll down to see most* available creatives: banners, HTML ads, pop codes, etc.
Though for the sake of this guide, all you really need are banners (either animated or not).
We've got plenty more creatives that don't appear on the platform. Simply ask your Affiliate Manager for more or if you need something specific.
As a quick example, we recently had an affiliate ask for banners and landing pages translated in Russian. Although they were not available in the dashboard, we had these believe it or not.
It pays to ask!
Step  3: Create a new campaign on Traffic Junky
The next step is actually creating your very first campaign on Traffic Junky.
If you don't already have an account, you'll need to sign-up first.
Once logged in, go to the campaign section and click New Campaign.
The first thing you need to do is to set the basic settings of your campaign according to your campaign strategy.
Start by choosing a name, then the device type, target group, and so on.
Step 4: Secure your investment
Now that you've created a campaign, you want to limit any potential damage.
Beware: this is where most media buyers fail!
You simply cannot afford not to have a safety valve or two in place. Unless hemorrhaging money's your preferred goal—there doesn't have to be any hiccups along the way if you play things smart.
Daily Assigned Budget
Overspending on a campaign is no fun at all..
Although Traffic Junky has a clever algorithm in place that will lower your daily budget to match your funds, you ought to set a limit yourself.
You'll need to set your daily budget in the "basic settings" of your campaign (see screenshot in Step 3: Create a new campaign on Traffic Junky)
Duration
Define the timeframe of your campaign in the "Capping" section. Without start and end dates, your campaign will last indefinitely.
Campaign Schedule
Choose the days of the week and time-of day you want to display your ads. This way, you can optimize your campaigns according to your audience's behavior. You can also serve ads indefinitely or for a set amount of time (i.e. X hours or days).
Frequency Capping
Sets a limit to the number of times you ad is displayed to the same visitor in order to avoid overexposure and lowered clicks.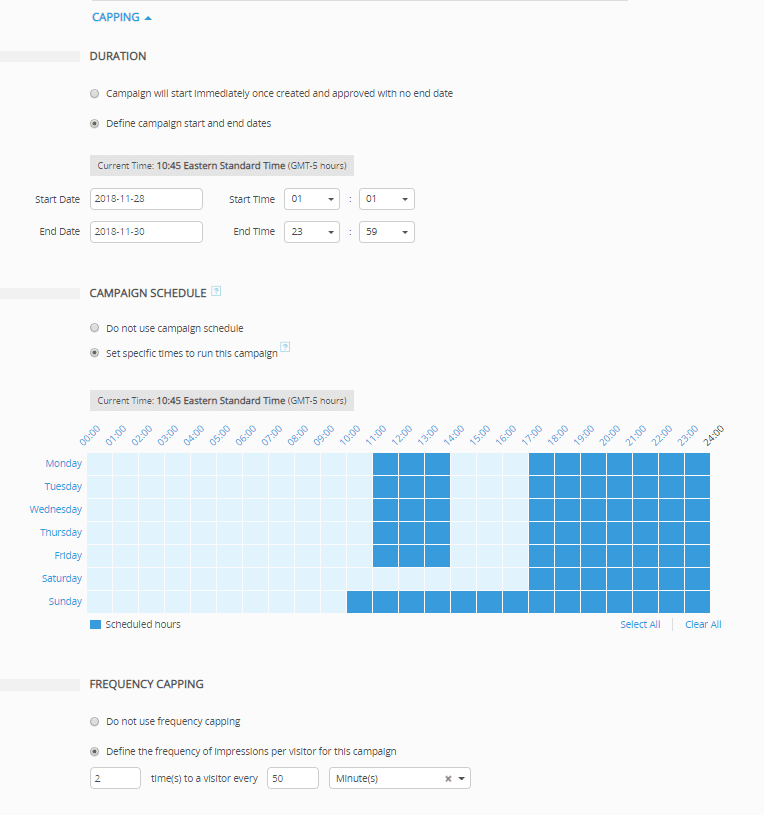 Step 5: Prepare your creatives for A/B testing
Choose your banner size and upload your banners and landings to set the A/B test.
Step 6: Choose the Publishers and Ad Zones
Choose the Ad Zone (publishers) according to the banner size you've chosen.
Available zone formats on Traffic Junky are:
468×60

300×250

315×300

950×250
Step 7: Choose your bid
This is one of the trickiest parts of media buying.
You want to be competitive amongst all existing bids on the Ad Zone you've chosen. This will set the volume and the share of traffic you'll receive from the spot vs the competitors (all other bidders).
On the other hand, don't be too aggressive. We do not to say you should be too passive, either. You need a fair volume to adequately A/B test your funnels, but still without spending your entire budget on one single campaign. A fair volume will allow you to have some good impressions and better chances to find something that will make you profitable.
Keep in mind that most of the time, any given spot will have more than two bidders at once. It's a cutthroat world out there! But competition is good, so fear not.
Step 8: Submit your campaign for validation on Traffic Junky
When you're done filling in all the details, including targeting options,  and after you've uploaded your banners, it's time to submit your ad campaign.
Once it's been reviewed and approved, you'll receive your first impressions and clicks.
Step 9: Check your stats and optimize!
This is where the real media buying game begins. The bigger your budget and bid, the more you should watch your stats like a hawk.
Based on the results you'll be compiling with your A/B testing, you should be able to modify your campaign and adjust the weight of the different funnels you've tested.
This step is crucial to the success of your campaigns, and the experience you'll gain by doing it properly is what will help you become a professional media buyer in the end.
Step 10: Don't give up!
Media Buying is hard!
Don't hesitate to try other campaigns. Usually, you'll find your sweet spot—lucrative campaigns—after a while.
Once you get the recipe right, that's when you hit the volume button and really start making money.
Until then, continue learning about media buying here by taking a look at these useful tips for new media buyers.
Trust us, it's worth it!