A Guide on How to Run Dating Campaigns with Zeropark in 3 Easy Steps
You've got great traffic, but you wish your dating ads resulted in more conversions? Might be time to give Zeropark a shot! 
Zeropark is an ad network designed to provide webmasters with exclusive traffic sources for the most promising offers.
As the top supplier of dating offers in the world of affiliate marketing, CrakRevenue has helped many webmasters to successfully promote in this vertical. But did you know that Zeropark has plenty of quality dating traffic?
Intrigued? Keep on reading! 
Here's a step-by-step process to launch and optimize your dating campaigns in Zeropark.
Quick Access
1. Pick an ad format and geo group
Take your dating campaigns to the next level
1. Pick an ad format and geo group
Assuming you've already selected a recommended offer on the CrakRevenue platform, now it's time to pair it with a geo and ad format that will maximize its earning potential. If you haven't found a dating offer yet, check out our article on finding and promoting dating offers.
Top geos
While trends change on a daily basis, there are four main geo groups that pair especially well with dating offers:
English-speaking countries like the

US, CA, UK,

and

AU.

LATAM countries like

MX, BR, AR, CO

but also

SE

and

PT.

European countries such as

DE, FR, IT, SE, PT, NT.

APAC region with countries like

CN, TW, IN, TH, PH, ID.
Top ad formats
Dating is universal enough to produce satisfying results with all kinds of ad formats. However,   we recommend starting with a specific format based on your level of experience and budget. Let's take a look at the 3 available ad formats in Zeropark.
Pop Traffic
Affordable

Best with high volumes of traffic

Perfect for beginners

Ideal for scaling 
Domain Redirect Traffic
Best for advanced affiliates

Higher prices for increased quality 

More accurate keyword targeting
Push Traffic
Greatest quality 

Pricier, but high-converting possibilities

Native ad format 

Highest engagement rate

In-page push targeting iOS users
Desktop vs. mobile
While this might vary from one offer to the next, your ads should generally target mobile devices. If you're running an offer for the first time, you might want to test it on both mobile and desktop. However, if you'd rather focus on one, picking mobile for dating offers is a safe bet.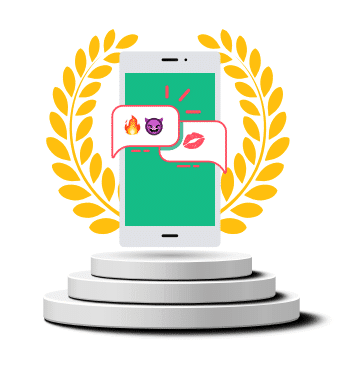 2. Spy on creatives 
Picked an offer, ad format, and geo? Good! Now it's time to think about whether you want creatives (i.e., images, videos, or audio content). If the answer is yes, it's time to open a spy tool of your choice and filter creatives by duration (up to 30 days) and geo. 
You can use various angles to search for creatives. While choosing the 'dating' or 'adult' category is usually a good first step, you can also search by specific keywords relating to the angle of your offer. 
Make sure to filter by traffic volumes – as this is usually a good indication of how often affiliates choose that creative (i.e., there is a high probability that it works).
Once you've found and saved your top picks, you can either choose to run them as they are or simply use the appropriate software to customize the creatives for A/B testing purposes.

3. Set up your campaign
When it comes to setting up your campaign, you first need to provide general information which includes Status after approval – always remember to set it to "Paused" in case the campaign gets approved while you're away from your computer.

Then you need to fill in the Destination URL which you can take from the CrakRevenue platform. For beginners, we highly recommend our Smarlink tool. The conversion payout should remain at the default "Auto" setting, and if your offer has a conversion cap, you can switch on that setting as well. 
The next step is choosing geo-targeting country(ies) and setting the adult and device filters. We recommend selecting mobile-only and setting adult filters according to the type of your offer.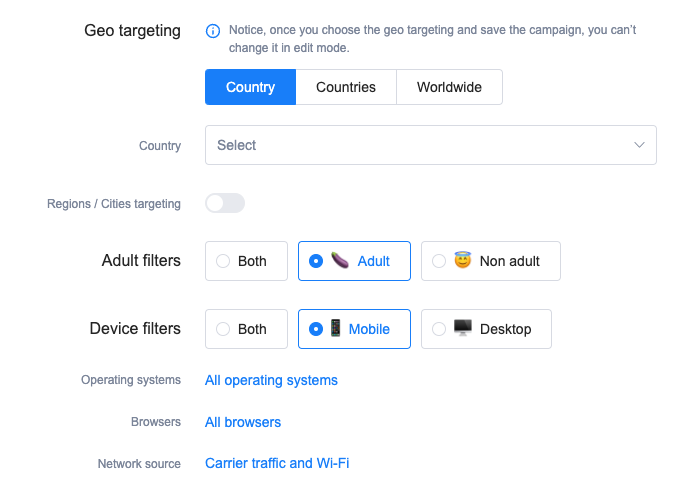 As for frequency filters, it's best to start with 12h or 24h and adjust according to your needs. Sending out impressions more often works wonders if you need a higher volume. 

Moving on to Campaign Type, you can either choose RON to try all of the Zeropark traffic or go for the source campaign using a whitelist (you can get one tailored to your campaigns if you reach out to our support team at support@zeropark.com). If you're using pop or domain redirect traffic, select the Keyword campaign type for the most precise targeting at slightly higher bid prices.
We recommend choosing the premium traffic. However, if you're trying to make things work on a tighter budget, the standard traffic should do just fine.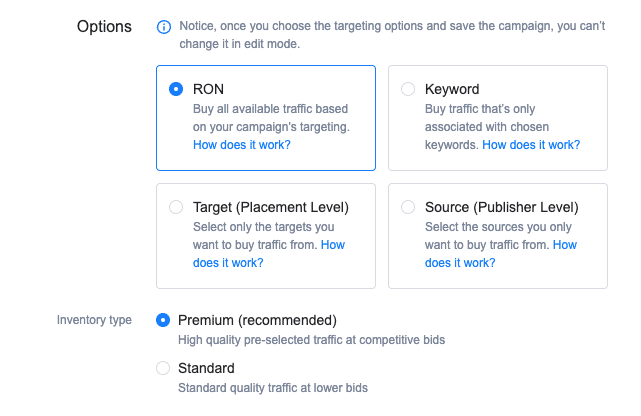 It's best to bid slightly above the average bid for the selected country, so that you'll drive enough traffic to your offers to test all kinds of placements.
If you're using a mid-payout offer, set your budgets:
Daily budget $100

Source budget $20

Target budget $5
These numbers should be adjusted accordingly for both low and high payout offers. 
You can select the 'buying type' to either drive high volumes of traffic to your offers as soon as possible or buy more slowly, which allows you to see if some hours of the day are better than others. The choice depends on your goals for the campaign.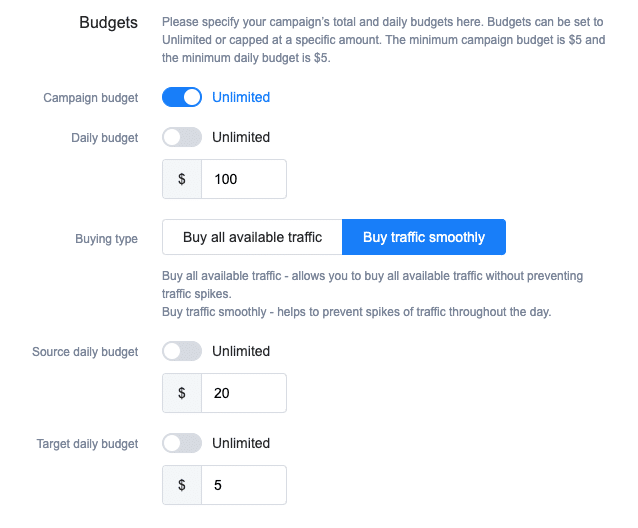 If you're using a tracking solution, copy the URL and paste it into the tracker. For step-by-step instructions, visit the Integration Guides section in the Zeropark documentation.

A Few Extra Optimization Tips
Optimizing the campaigns is all about cutting out parameters that don't work and focusing on those that do. Optimizing dating offers works just like any other vertical. 
You should start with broad targeting (RON) and then narrow down the traffic to sources that show potential. It's best to let the campaign run for 3 days uninterrupted (with preset daily, source, and target budgets) and then start cutting down chunks of traffic that are not rising above -70% ROI.
Don't touch the day-parting setting until your data clearly shows that limiting your campaigns to certain hours would be beneficial to your earning potential without harming the volume of traffic.
It's preferable to gradually increase your bidding to drive more traffic to well-performing sources. If a source is close to profitability, increase the bid by a fraction of a dollar (e.g., 0.004 -> 0.0045) to slowly increase the volume. 
If some sources are negative but show some potential, you might want to try bidding down incrementally to limit excessive spending.
Make use of Zeropark's auto-optimization algorithm. Rule-Based Optimization is a great way to ensure your campaigns run smoothly and without unexpected hiccups. Traffic can be volatile, and setting up simple IF-THEN rules helps you control the traffic flow even when you're away.
Lastly, always be on the lookout for top converting sources and targets. Once you find enough to build your own whitelist, you can launch a fresh source or target campaign. 

Do's and don'ts of running dating campaigns
Do
✅ Use landing pages – it brings better results in 90% of cases.
✅ Make landers informative and reassure users about their safety and anonymity.
✅ Check landers and creatives for typos and correct the grammar mistakes.
✅ Add a sense of urgency: "Offer expires in 12 hours!" 
✅ Daypart only after backing up your theories with data – dayparting can be a useful tool for optimizing dating campaigns. 
✅ Use interactive elements on the landing pages – they increase engagement and conversion rates.
✅ Set up rule-based optimization and make sure your campaigns don't overspend while you're away from your computer.
✅ Familiarize yourself with network guidelines before launching dating campaigns.
✅ Use icons imitating unread messages – they're excellent for catching user attention.
Don't
❎ Don't pick high-payout offers at the start – Test more traffic with a lower payout, and then move on to similar higher-payout campaigns.
❎ Don't introduce too many variables Focus on simple A/B comparisons first.
❎ Don't cut parameters based on a few conversions. Wait until your data shows clear trends.
❎ Don't use cartoon-like visuals. Stick to images of people.
Take your dating campaigns to the next level
Remember that the success of your campaign depends on many factors. Your offer needs to not only be original but spot on. You need to pair it with suitable traffic and optimize it based on user data. 
When in doubt, ask for help. The Zeropark support team (support@zeropark.com) is there to guide you in the right direction.
Use the code CRAKREV_10 to get a 10% bonus added to your first top-up.