Wanna make money online with affiliate marketing but have absolutely no clue on how to run a website?
We hear you.
Indeed, despite the rise of CMS, a lot of people still feel that they are not skilled enough to build a website from scratch.
Hopefully, owning a website is not an absolute prerequisite to make money online.
Today, we'll show you how you can become a successful affiliate marketer… without a website.
What is affiliate marketing?
If ya think making money via online advertising is right up your alley, one first needs to understand how affiliate marketing really works.
Web affiliate marketing consists of promotion and exposure: promoting a product or service aimed at influencing your traffic.
Everything is based on conversion performance…
In other words, it means that you only get paid when a visitor completes a desired action (i.e., registers on a site, pays for something, etc.) and that's what is called a conversion.
Desired goals may vary, but the most common is to convert traffic into paying customers.
The entity paying the affiliate for each conversion is the provider of an offer (also known as the sponsor). It's a company that has something to sell and needs someone to promote it. Sponsors typically deal with affiliates through an aff program which allows would-be affiliates to advertise their offers for a commission in return. This commission may be paid per click, per action (lead), per sale, or even revshare – which is a percentage of revenue paid.
Therefore, affiliates are professional web marketers who promote sponsor's offers on the web through ads or links and get paid for each achieved goal (conversion).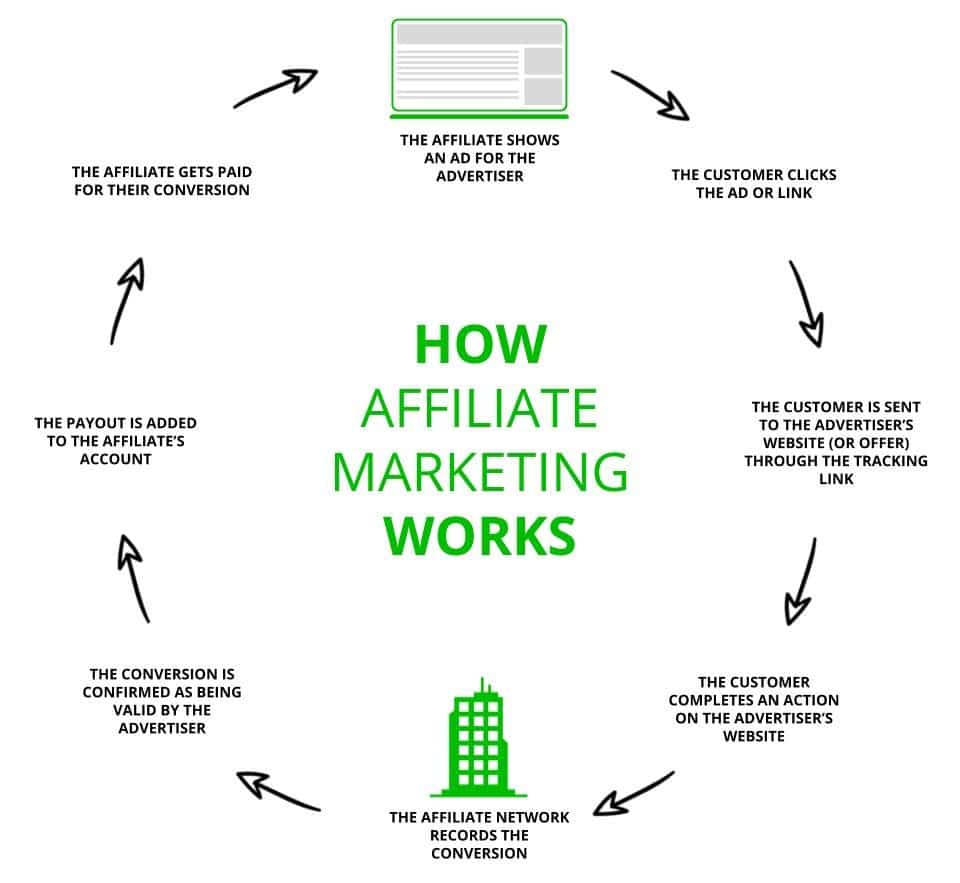 Go ahead and take a closer look at this infographic…
You see?
You DON'T absolutely need — or necessarily have to have — a website to actually make money.
The secret is to find ways to share your affiliate link to the right audience and send this traffic to the advertiser website.
In other words, you need to find other traffic sources than the ones you would have on your website.
Here are the most common ways to achieve that:  
1 – Start a Lucrative Media Buying Career
➝  Media Buying is by far the most popular way to make money online without owning a website.
Indeed, some of the best affiliates out there are media buyers.
Some of them even made headlines by scaling up their media buying successes enough to create business worth millions and millions of dollars.
Media buying is not easy, but it's totally worth the effort you put in it once you master the art and finally have your first winning campaign.
But first, let's start with the basics…
What is media buying?
Media Buying refers to the act of buying advertising spots, links or any other kind of exposure, on a website or network owned by someone else.
In the web marketing world, this practice is often referred to buying traffic.
Here are the different strategies you can adopt while buying your traffic…  
Best Traffic Types to Buy When You Start Media Buying
Buy CPC traffic
Cost-per-Click (CPC) traffic is always a smart play.
CPC traffic is great for those with small budgets because cap handling can be easily managed. In this sense, CPC traffic can in some ways already be viewed as qualified traffic, since visitors have hopefully clicked on your creatives intentionally.
Buy CPM traffic
Cost-per-thousand (CPM) traffic can usually be bought at a flat rate.
It can be thought of as 1,000 advertisement impressions; therefore, if an ad network were to sell traffic at $2.00 CPM, it means you'd be paying $2.00 for every 1,000 impressions.
For this reason, CPM traffic is especially common among the biggest players in adult, allowing the heaviest hitters of the industry to reach a larger volume of traffic and, consequently, more valuable data and information on the traffic they're buying.
Once they have the data, their campaign managers start to optimize the funnel accordingly and only then, start making money.
Which in this case, you should only buy traffic at a CPM rate if you have tremendous insight.
So, we recommend buying a small segment of this traffic and making the most out of any good opportunities you may come across.  For example: maybe a GEO on the rise that converts well with one offer on a certain device (like Mobile, for instance).
But, even with segmentation, you still need to control your expenses if you don't want to implode your budget!
To help, we recommend you add some parameters to your CPM purchase:
Frequency Capping: Frequency capping allows you to control the frequency of impressions on the spot. For example, you can ask for your banner to be displayed once per 24h per visitor (1:24). This allows you to manage your spending better.
Daily Budget: You can ask to cap your spendings on a daily basis. For example, you can cap your expenses to $50/per day on the spot.
Time Target: You can ask that your banner be shown in specified timeframe. For example, between 6PM and 11PM each night. This also allows you to have a better control over your expenses.
Buy a RON
RON traffic stands for Run of Network.
With RON campaigns, pricing is more affordable because it includes many sources of traffic.
Run of network (RON) traffic is priced at attractive price points due to advertisers giving up control (like where an ad can be placed) in exchange for lower rates with greater reach.
Your ads rotate on a network of sites… some good, some not so good.
Advantage: you pay less than what you would've had to pay for other sources of traffic.
Disadvantage: more optimization may be required and it's possible you'll need to discard poor sources of traffic.
All in all, RON traffic is great for beginners that don't know where to start.  You can always cherry pick the best sources later and toss the others! It also helps you figure out which source of traffic works best for you.
2 – Get Traffic Through Social Media   
We won't lie.
This is probably the most difficult way to succeed as an affiliate marketer without a website – especially in regards to adult web marketing campaigns.
Social platforms and adult just don't mix.
Indeed, all of them have strict terms & conditions regarding posting and linking to adult and/ or pharmaceutical content.
Consequently, we don't recommend it — especially if you are fairly new to the digital advertising field.
Still…
➝  Even if it's the hardest and trickiest way to get traffic as an adult affiliate, some adult web marketers are really successful with social media.
Here are important things to know about these traffic sources if you want to build your adult affiliate career around social media traffic:
The Big Players: Twitter and Facebook
Using these 2 specific social networks for adult promotion is tricky to say the least.
Therefore, you need to be warned:
If you choose to go in that direction, be prepared to see your account banned and all your efforts gone in an instant.
Most adult affiliates that succeed on these social platforms are usually growing multiple accounts at the same time to minimize the risks of losing everything in a single day.
Nonetheless, some will argue that the risk is worth the while….
Let's not forget that both Twitter and Facebook can drive HUGE volumes of traffic.  
If you are interested in learning more about social media strategies for adult content, please head to these tutorials: Social Media Marketing.
The Savvy Opportunities: Snapchat & Instagram
These are the social platforms where our affiliates are the most successful with adult content today.
However, we have to warn you again that they have strict rules regarding adult content. Indeed, opening an account on these social media is as easy as losing it.
So be careful…
Build a Strong Snapchat Account
If you are looking for a tech-savvy young audience, Snapchat is a really good option.
The engagement levels on Snapchat can be pretty amazing. Indeed, we strongly believe that you should watch this metric before focusing all your efforts on your number of followers.
If driving traffic through Snapchat is something you want to explore more, we invite you to take this Snapchat Adult Marketing Crash Course.
It will certainly put you on the right track to getting started.
Create a Lucrative Instagram Following
Instagram is another good way to gain traffic without a website.
Yep, you don't need one for Instagram, either!
The popularity of selfies and the rising volume of traffic on this social media makes this platform a really interesting one for web marketers.
If you're a hashtag wizard and possess real talent at finding images that enhance engagement, you should definitely check out this tutorial on how to create a lucrative Instagram following.
Take a look at this infographic on how to promote with Instagram … like a Whale.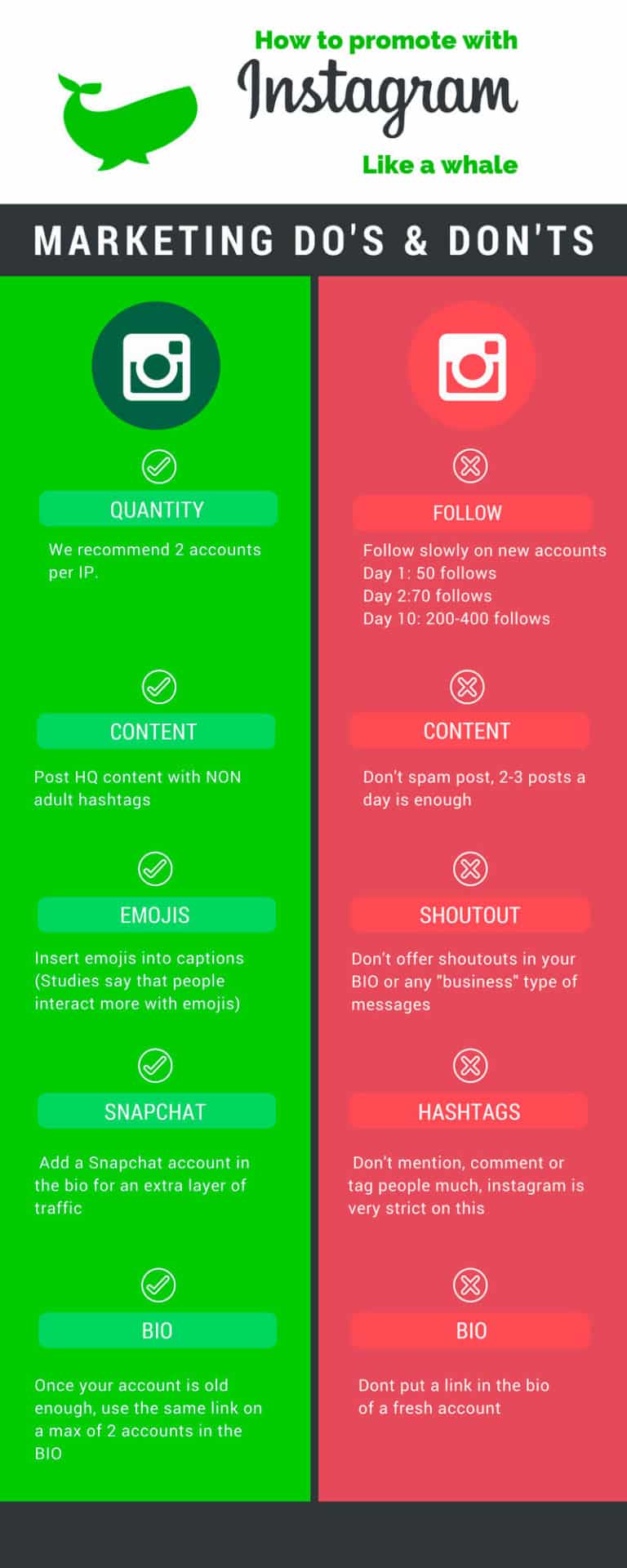 3 – Make Money Online from Email Marketing Campaigns
OK, we admit, email marketing campaigns always do better when you own a site — since you a URL is usually required to build a legitimate mailing list.
Now that we said that, and mailing lists aside … The very first step of a good email marketing strategy consists of getting those emails through a double opt-in process.
Once you have built your mailing list, you won't need a website to promote your affiliate links: you can simply send them by email.
➝ Email marketing is actually one of the most sustainable and lucrative ways to do affiliate marketing.
Why?
Well simply because – with the right mailing list – you can generate multiple conversions through different campaigns with the exact same traffic.
Interested? Bet you are!
However, you have to be aware that email marketing is not as simple as it sounds… especially if you plan on promoting adult products.
Fortunately for you, we have one of the most extensive collections of articles and tutorials on how to become a professional email marketer.
Take a look: you won't be disappointed.
In a Nutshell: Whatever You Do, Quality Traffic Sources Are Key
As you can see, you don't have to run a website and build a whole brand to have success online.
The very first key to success in affiliate marketing is finding the right traffic sources that convert.
Once this step is achieved, all one needs to do next is work on routine optimization! Never stop optimizing those campaigns. Do your best to ramp up the traffic, and keep at it.
Rinse and repeat.
Rinse and repeat.
If you ever need some help on any of these steps, don't hesitate to ask our team: we'll be glad to help.
Remember: our job is to make YOU earn more money and reach financial independence through affiliate marketing… even if you don't have a website!