If you'd rather skip the history lesson and jump right to the actual marketing tips, click here.

Snapchat
:
The Rise of a Social Media Monster
Originally created by Evan Spiegel, Bobby Murphy, and Reggie Brown in 2011, Snapchat is a mobile application used to share photos, messages and videos. Even though on paper that might not sound too exciting, one core feature helped it stand on its own: the short-lived nature of content. Indeed, contrary to other popular apps, Snapchat automatically deletes the shared content after the recipient sees it (up to 10 seconds) or closes it.
Snapchat quickly became a worldwide hit. One year after its initial release, users had already shared over one billion pictures on the iOS application — 20 million photos per day. At the end of Q1 2016, Snapchat had 158 million daily users and reached $404M in revenue.
Number of daily active Snapchat users from 1st quarter 2014 to 4th quarter 2017 (in millions)
The social app is especially popular with millenials, as shown by this graph: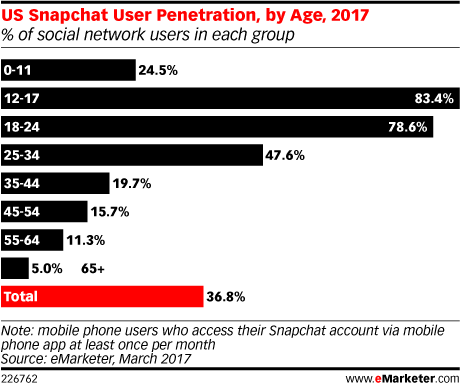 US Snapchat User Penetration by Age (2017)
Snapchat: The Fall of a Giant?
Recent statistics about Snapchat paint a "grim" picture for the social app. After years of incredible growth, it seems to have plateaued and — in some areas — even nosedived. It's hard telling otherwise when you look at graphs like this one:
Global annual net loss of Snap from 2015 to 2017 (in million U.S. dollars)
In March of 2018, Snap Inc. laid off 120 engineers. "We want to unleash speed and productivity in our organization, while keeping a high technical bar," Snap's head of engineering, Jerry Hunter, wrote. "That required us to think carefully about the shape of the organization, and where each member of our team fits."
Instagram Stories also stole some of Snapchat's thunder. Since the launch of the feature in 2016, a lot of users jumped ship.
Instagram Stories Vs. Snapchat daily active users
Part of the explanation comes from Instagram's quick development updates enabling new features on the app. There's also the possibility to include external links in your stories — something Snapchat only included through its Paperclip function in 2017.  And let's not forget that Instagram is owned by none other than Facebook.
Snapchat: Riding out the Storm
Even though Snapchat lost some ground to rivals such as Instagram, it's still pretty damn close in some regions like the UK.
The Top 10 Android Apps in the UK
In the United States, Snapchat is still on top of Instagram. Also, Americans seem to really love them some sausages!
The Top 10 Android Apps in the U.S.
About the recent layoffs that hit Snap Inc., let's put things into perspective: they only represent a tiny fraction of the total workforce — 3,000 employees worldwide. So no, investors aren't shaking in their boots (yet).
In other words, Snapchat remains one of the most popular social apps in the world. It's best years might be behind as far as overall growth is concerned, but there's still a lot of opportunities for an affiliate like you.
How Camgirls Make Money with Snapchat
It's time to stop beating around the bush and learn how to earn money using Snapchat as an affiliate.
Download Snapchat from Google Play or the App Store if you haven't already.
Sign up for an account (it's free). It doesn't really matter if you take the same username as the one you use in your cam room, as long as it's obvious you're a girl. Check your inbox to verify your account once the registration process is complete.  
Start posting! You want to gain followers, so only tease for now. Take some selfies without giving too much away. A word of advice: don't buy fake followers. Engagement is a much more powerful metric than the total number of users following you.
It also helps to follow popular accounts and see what the top girls are doing. As they say, imitation is the sincerest form of flattery!
Once you have enough of a following, you can start being more risqué. Prior to that though, you'll want to buy a domain name. The reason is, you'll be redirecting fans to your cam room using a short & sweet domain. Any registrar will work, but GoDaddy is probably your best bet with $0.99 domains. Try to have a short domain that is on point, preferably a .com.
You'll also need to add a 301 redirect to your cam room. This is a bit more on the technical side, but GoDaddy has a step-by-step guide should you go with them. It'll take about 5 minutes of your time to add this rule to your domain.
With your own domain and Snapchat account, you're ready to make some sales through increased visibility and engagement.
At this point, you might have noticed that the social app doesn't allow to post external links unless you use the (pretty worthless) Paperclip feature. So what you'll want to do is write a Call-to-Action (CTA), something like "I'm horny join me now!" and type your recently purchased domain underneath.
People will see your pics and start typing the domain in their browsers. They'll be led to your cam room where — hopefully — they'll turn into customers ($$$). But simply posting pics randomly isn't the best way around Snapchat adult marketing.
Snapchat Stories are the Real Deal
If you don't want your shared content to self-destruct within seconds, Snapchat Stories are a great way to generate hype. They last 24 hours and are entirely customizable.
Take a picture (Snap) and tap the add symbol at the bottom of your screen to add it to your Story. What you'll want to do is plan ahead and think of about 10 Snaps that will entice people to see your show. Don't put your CTA until the very last two pics — you don't want to be flagged as a spammer.
Make sure your Snapchat Story is set to public. You can change the privacy settings by tapping the gear icon and scrolling down to "Who can view my Story?" By default, privacy settings are set to friends only!
You'll want to give the Snapchat stories some personality. Choosing the default font is lazy. Something like the Brush font can give some oomph to your posts. Adding one or two emojis as attention grabbers can be a good idea, just don't overdo it.
On Building Your Account's Notoriety
But how do you gain followers in the first place? This is a very good question, one that is reminiscent of building traffic for your websites. Like we've mentioned, follow & engage with fellow cam girls on Snapchat. Post interesting stuff about you. Remember that variety is the spice of life!
Unfortunately, there's no blueprint for a successful account, only guidelines. What we DO know is that once you've built your following enough, you can do a social account takeover.
If you want your cam business to be more than a simple blip on the radar, give social media account takeovers a shot. Akin to guest blogging, this option will give you a great boost in visibility and engagement. You'll have to shop around, and big names in the industry will turn you down unless you already have a significant, engaged following. So it can really feel like a vicious circle … but don't give up!
Buying shoutouts on smaller accounts might be just as profitable to you. Unlike a takeover, you're not in control, but it's still a great way to build your account's notoriety.  Just be careful though as many social networks don't allow adult content. In our testing, Twitter is one of the most profitable options you can use.
How Can Studios Make Money with Snapchat?
Most of the time, if you have your own studio, you'll be in charge of multiple camgirl accounts at once.
You might be tempted to use professional photos and videos — don't! You have to make it look like it's that girl next door. People will be more inclined to type in that domain name if it looks like an amateur is in charge. Forget the ultimate setup: go for simplicity.  
Studios make money with Snapchat and everywhere else by splitting their earnings with the models. This is not ideal for models since they'll have lower income, though it can be seen as a stepping stone.
A Quick Note About Studios and Camgirls. . .
The studios provide a working environment.
Here's why working for a studio might still be worth it for some camgirls:
Professional grade equipment

Networking possibilities with fellow camgirls

Peace of mind (no need to deal with financial and/or technical things)
Snapchat: A Great Marketing Opportunity
We hope the tips we've just shared help you boost your online sales, because it's all about selling yourself or promoting something you believe in.
We've covered the cam industry here today … but you can use Snapchat to sell just about anything. Brands like Gatorade used the social app successfully with #GatoradeDunk.
You know what they say … there really is a market for everything.
We're interested to know if you've ever used Snapchat or any other social app for your marketing efforts. Maybe you're a camgirl or a studio? Comment below & share your story!