What's better than buying something online with a crazy discount and getting your order the next day?
Definitely winning it online! That's why sweepstakes offers are so big with affiliate marketers. 
Sweepstakes attract people. On one side, everyone wants a chance to get products of high value for free with a minimum amount of effort. We all want a prize, no matter the odds. On the other, marketers want a chance to collect leads without spending thousands on marketing research! That's a win-win!
Sweepstakes campaigns are so commonly used in digital marketing that most CPA networks have many of these offers in their repertoire. In fact, sweepstakes are such an effective marketing tool that they have their own vertical.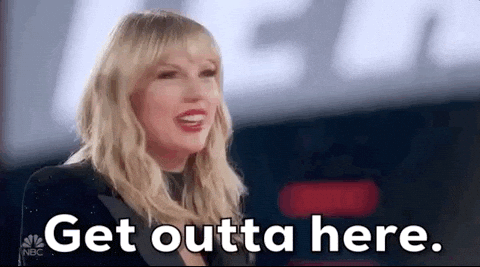 But what makes affiliates use sweepstakes offers so much? Are they even generating noticeable income? Is an entry automatically a conversion? Most importantly, how should a sweepstakes offer be promoted to be successful?
Find all the details in this article.
What are sweepstakes offers?
Seen something like "Enter to win" or "Contest ends on…"? And if you believe in luck yourself, you've probably signed up for a few of these contests or giveaways—without reading the rules—to get products for free! 
Don't worry, you're not alone!
Sweepstakes give people the chance to win prizes in exchange for their contact information on an advertiser's landing page. That sounds like a good bargain, doesn't it?
But the true beauty of sweepstakes campaigns is in increasing a brand's visibility and automatically eliminating the need to conduct online surveys to know your audience. Two birds, one stone!
In sweepstakes, every entry, whether on mobile or desktop, becomes a conversion, more precisely a lead that automatically generates a payout to the website owner–that's you! 
The more entries or conversions you get, the more successful your campaign is. In other words, affiliates and advertisers are the true winners in sweepstakes.
Sweepstakes are the fastest and smartest way to collect end-user data in seconds. So every word, every image, even the gift or the prize itself must be attractive enough to bring the most entries.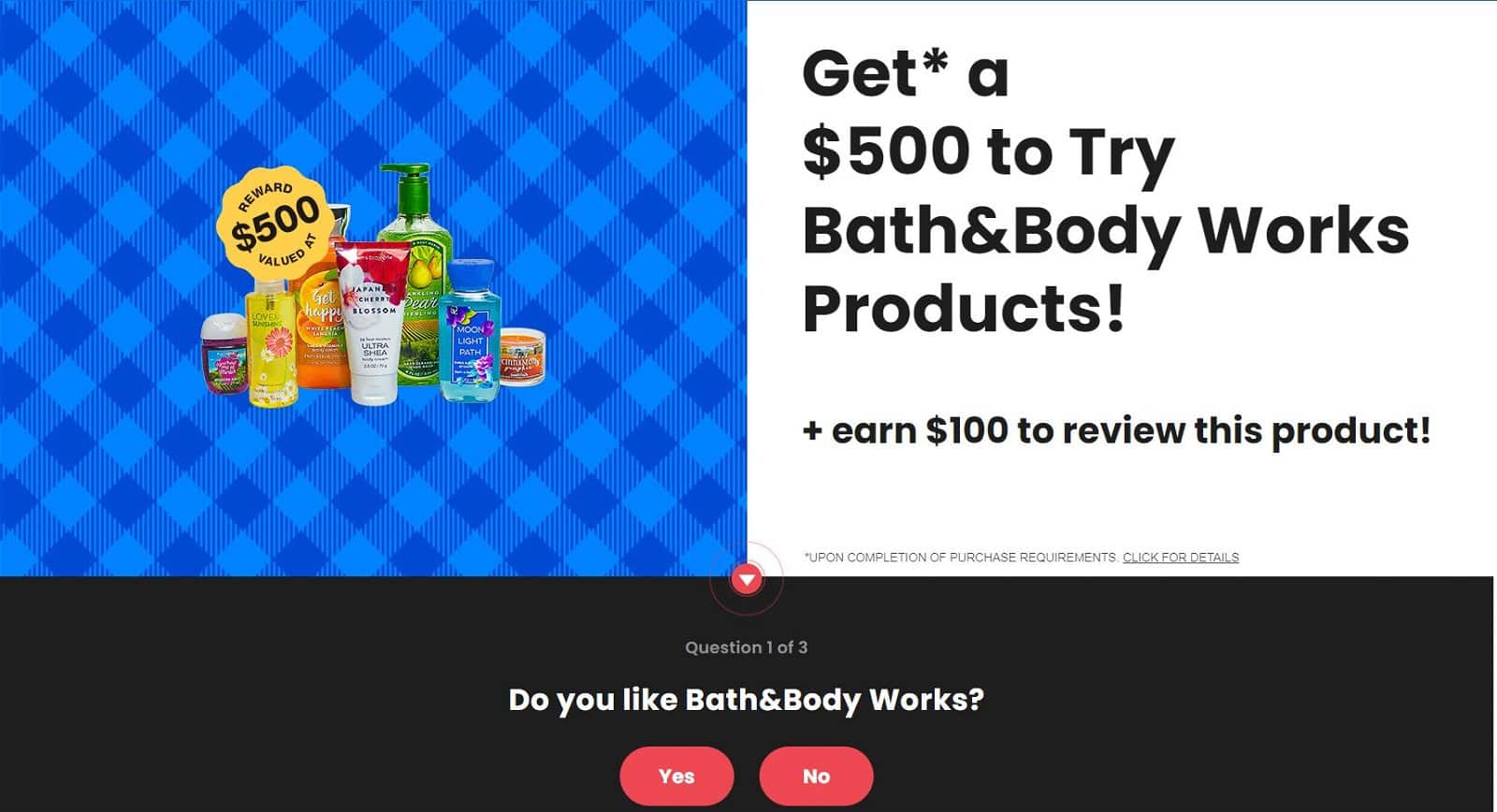 What makes sweepstakes offers so appealing?
Sweepstakes work because they advertise without advertising. 
In seconds on a landing page or a pop ad, users can picture themselves owning something they did not buy–usually a prize of value like the latest smartphone, a year's worth of groceries, or a trip to Cancun. It beats a promotion on the advertiser's site right on the spot–including black Friday!
But Sweepstakes are also irresistible to affiliates because of the interesting ROI. When browsing sweepstakes on a search engine for CPA offers or on your CPA network, you might first be discouraged by the low payout amount. However, after setting up the offer you'll soon find out that it pays off way more than you imagined.
Once your campaign is all up and running, you leave the details to the advertisers, including rewarding the winner and getting an emailing list for newsletters out of sweepstakes. Your payouts will add up automatically on the CPA platform, and you'll just have to collect.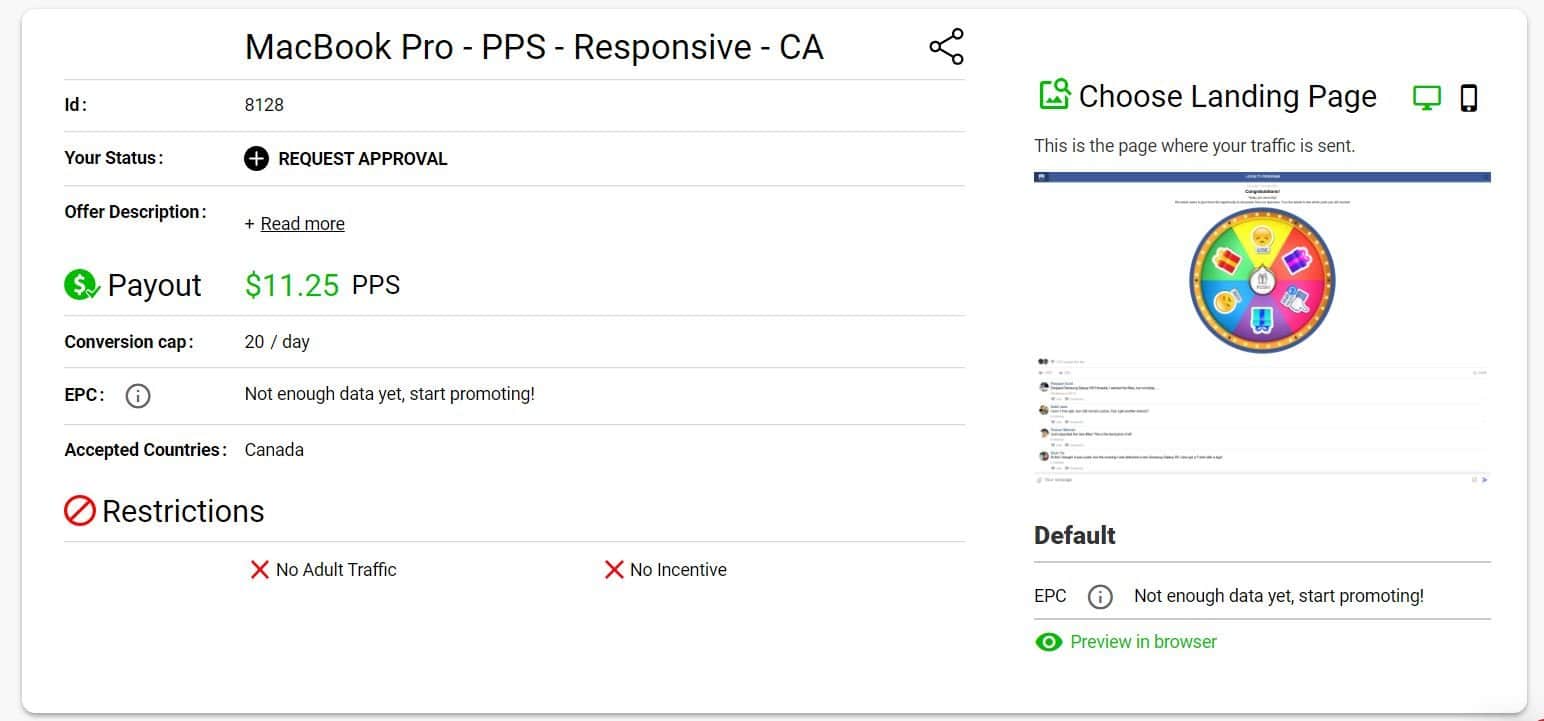 What are the types of payouts available with sweepstakes offers?
Two types of payouts are possible with sweepstakes offers:
Pay per Lead (PPL):

The affiliate marketer gets an amount every time a user completes a form with their contact information. 

With this

Amazon gift card offer

, for example, the user only has to answer 3 questions and provide an email address to enter the sweepstakes.

Pay per Sale (PPS):

The affiliate gets a given amount every time a visitor purchases a ticket to enter the sweepstakes. The conversion is complete when the user's credit card information is collected. 

For instance, this

iPhone 13 offer

requires the user to pay $3 to enter the sweepstakes.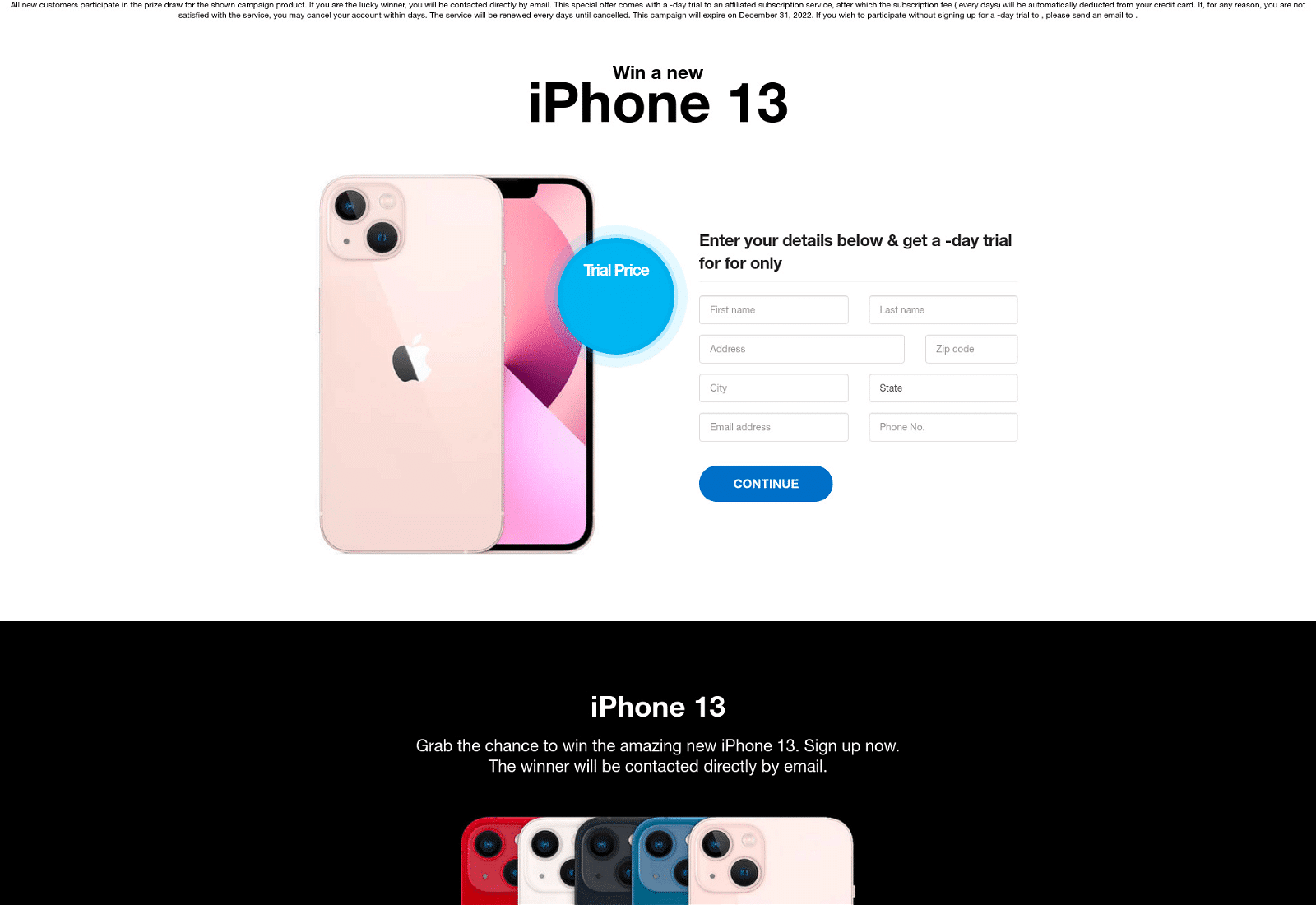 What type of offers can we promote using sweepstakes?
Let's get affiliate-marketing technical!
By type of offers we mean the type of conversion expected. In other words, what action do you want the user to take when seeing your offer. Here are the three types of offers most commonly used with sweepstakes:
Single opt-in (SOI):

Visitors enter their name, email and/or other personal information for the conversion to be complete.

Double opt-in (DOI):

Similarly, visitors provide their name, email, and other personal information, but they must also confirm their email address through a verification link sent to them for the conversion to be complete.

Credit card (CC) submit:

Visitors submit their credit card information in order for the conversion to take place.

SOI and DOI offers are recommended for affiliate beginners. They tend to have a lower payout, but they're ideal to test your offers and gather data about your audience. Plus, you won't have to go over budget to set up your campaign and your testing tools.
For the more experienced affiliates, we encourage you to try CC submit offers, given that you have more experience with creating pre-lander pages and using more promo tools. A bigger budget will be needed to successfully promote CC submits, but the results will definitely be worth it.
Keep your eyes on your audience
You've been browsing offers and found something interesting for your traffic? Here are a few important points to consider before you get to work:
Do the geos on the offer match with your audience?

Would the gift item attract my target demographics (age, gender, etc.)?

Are the rules on the pre-lander page clear and concise?

Is the sweepstakes desired action obvious enough to visitors?

Is the sign-up process easy to complete?
Pick the best traffic type
Here's an exhaustive list of traffic sources that can be used with sweepstakes:
Social media

Push traffic

Pop traffic

Email

SMS
But experienced affiliates definitely recommend Facebook, email, and push, with push being the best bet for sweepstakes offers. 
Of course, each traffic source has its advantages and disadvantages. Some of them will include link cloaking while others won't. But if you're looking for a more aggressive approach to generating leads, push traffic will be your best friend.
Don't hesitate to look for traffic sources through specific advertising networks such as Zeropark, PushGround, or AdCash, not only to find traffic sources but also to track your performance.
A few extra tips
For those of you who like to fill their advice buckets, here are some extra tips when setting up your sweepstakes campaigns:
Set clear measurable goals for your campaign, including a timeline to reach them.

Browse the promo tools at your disposal: promo tools do the work for you.

Test your creatives: your landing page will only be successful if your creatives are.

A/B test at least 2 landing pages: one with a variation from the advertiser's.

Get feedback on affiliate marketing forums. Sign up on forums like STM to get advice on prizes, rules for entry, or profitable niches. 
It's official, you're all set to win!
Browse our sweepstakes offers on the CrakRevenue platform today and start promoting in minutes!