How to Drive Maximum ROI with CrakRevenue's SOI Sweepstakes Offers
Are you working with social or push traffic? If so, give this post a read to learn how sweepstakes offers can fill your bank account, especially with an SOI payout!
Don't listen to naysayers: sweepstakes aren't dead.
New opportunities emerge while others burn out, and practices evolve to the rhythm of new regulations, as it does for affiliate marketing at large.
In this blog post, we'll explain how you can make money online with our best SOI sweepstakes offers today!
What are sweepstakes in affiliate marketing?
Sweepstakes are an invitation for consumers to receive a reward or get a chance to win a prize in exchange for their contact information, answers to a survey, and one or multiple fulfilled deal(s).
So there are generally two types of sweepstakes: one where consumers are automatically entitled to a reward after they complete all the required actions within a given time frame, and another one where consumers enter a draw after they provide the required information.
Typically, a reward takes the form of a gift card or voucher, and the draw prize can be a free product, a free subscription, a bigger voucher, etc.
Affiliates get paid on a PPS or PPL basis every time a user completes the required action, whether it's a purchase to earn a reward or a submitted signup form to get a chance to win a prize.
For a more detailed explanation, read our blog post covering sweepstakes offers at large.
What makes SOI sweepstakes even better?
One great thing about sweepstakes is that virtually any product or service can be promoted through them, so opportunities are infinite.
What's more, SOI (single opt-in) sweepstakes affiliate programs do not require your traffic to complete a purchase for you to get paid but rather to complete a single signup page.
And so, compared to PPS sweepstakes affiliate programs, SOI sweepstakes offers allow a more stable EPC and make it easier for you to gauge media purchases and ensure higher profit margins.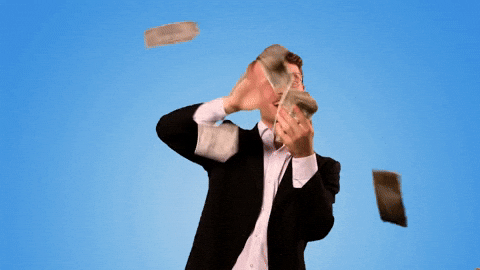 Are sweepstakes legit?
Most sweepstakes you can find online are run by legitimate sources and have a genuine intention to give out rewards and chances to win an appealing prize.
However, some advertisements may hide scammy intentions, and consumers are increasingly aware of those sweepstakes scams.
To ensure your sweepstakes meet legal compliance guidelines and aren't perceived as scammy, the messaging and terms must be truthful, clear, meaningful, and conspicuous.
In other words: no deceptive or misleading claims!
For example, if a purchase is required to receive a reward, the terms must be disclosed clearly and conspicuously.
Here are the four P's of clear and conspicuous advertising:
Prominence – Can consumers see the terms and disclosure? Font, contrast and size matter. Scrolling shouldn't be necessary (assume the user is on a mobile device).
Presentation – Can consumers understand the terms? Use plain language and syntax so that consumers understand the disclosure. Font, contrast and size should be similar to other text.
Placement – Is it where consumers are likely to look? The disclosure below a call to action (such as "click here") may not be seen.
Proximity – Are the terms close to the related claim? Do not bury the disclosure in a page footer.
Keep reading for a detailed Do's & Don'ts.
How do CrakRevenue's SOI sweepstakes work?
You can view all CrakRevenue's SOI sweepstakes offers by clicking here.
Those offers are currently available in 4 geos: USA, United Kingdom, Canada and Australia.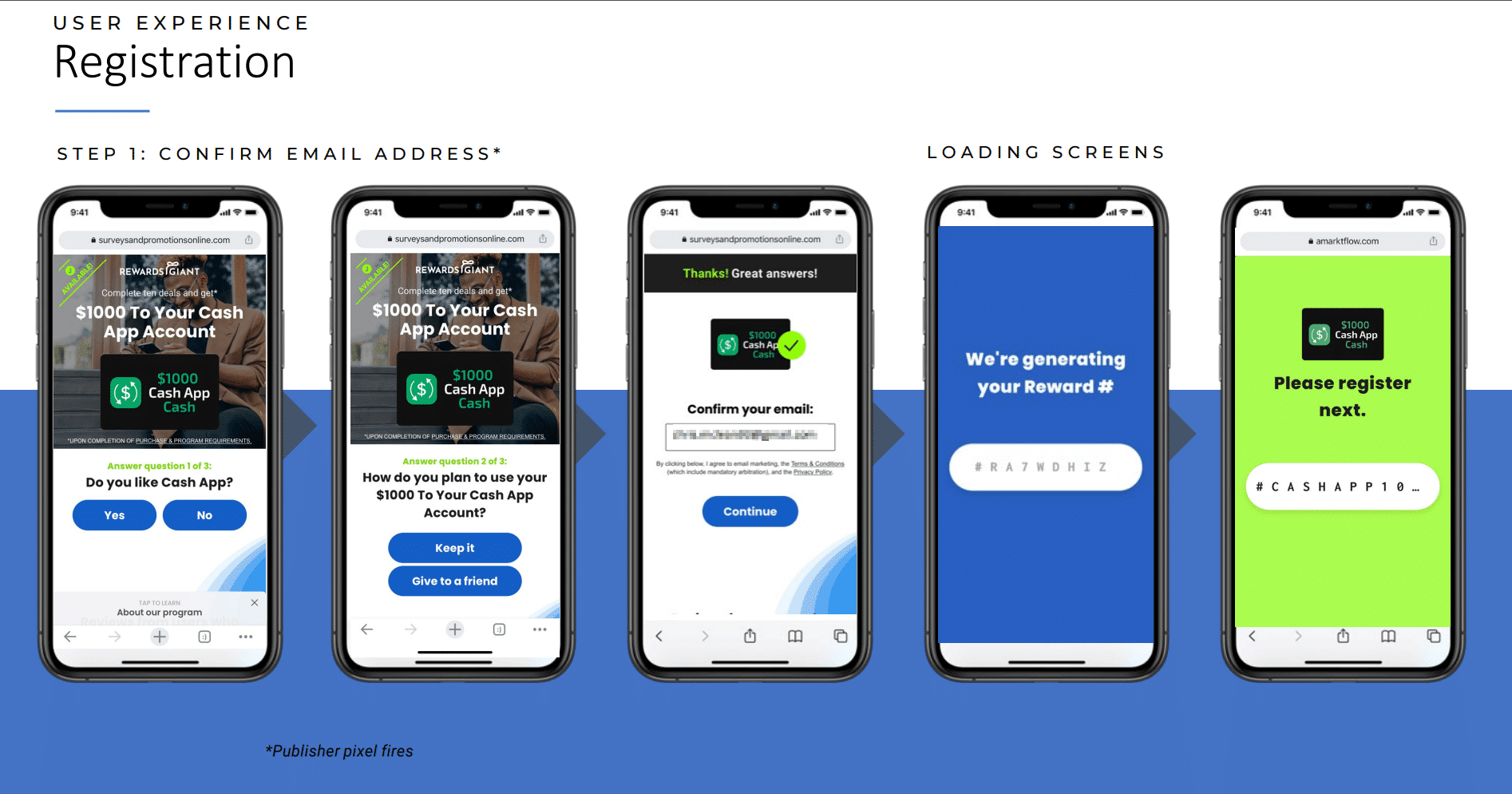 When users click on your SOI sweepstake offer, they are driven to a media site and invited to enter their email address to begin. Screening questions may be asked to ensure lead quality.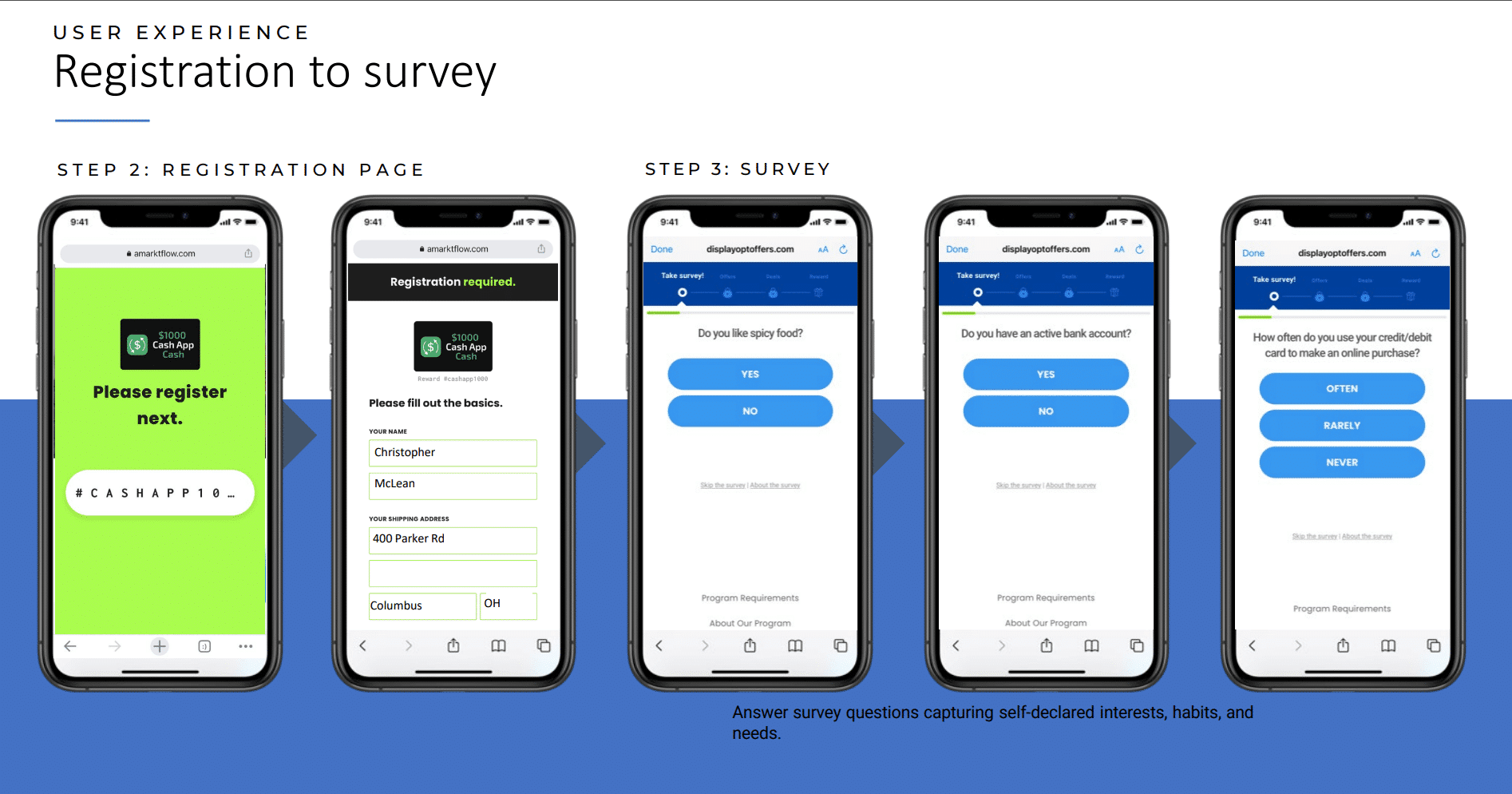 Then, users register to the survey by entering information such as their name, address, phone number, date of birth and gender. After that, they can answer the survey questions capturing their interests, habits and needs.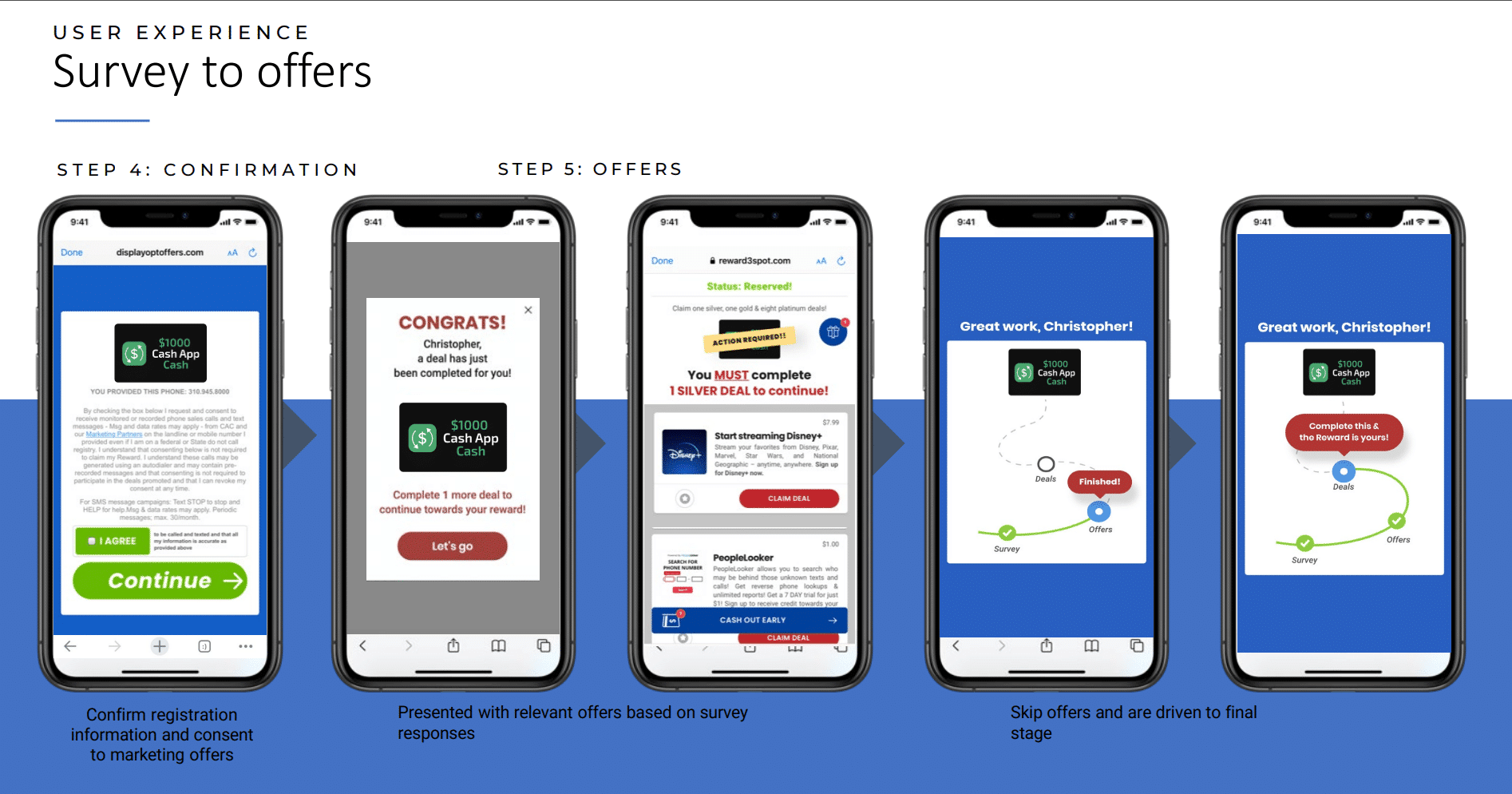 Once the survey is completed, users have to confirm their registration information and give their consent to receive relevant offers based on their answers. The chosen offer is the reward they will earn after completing the required deal(s).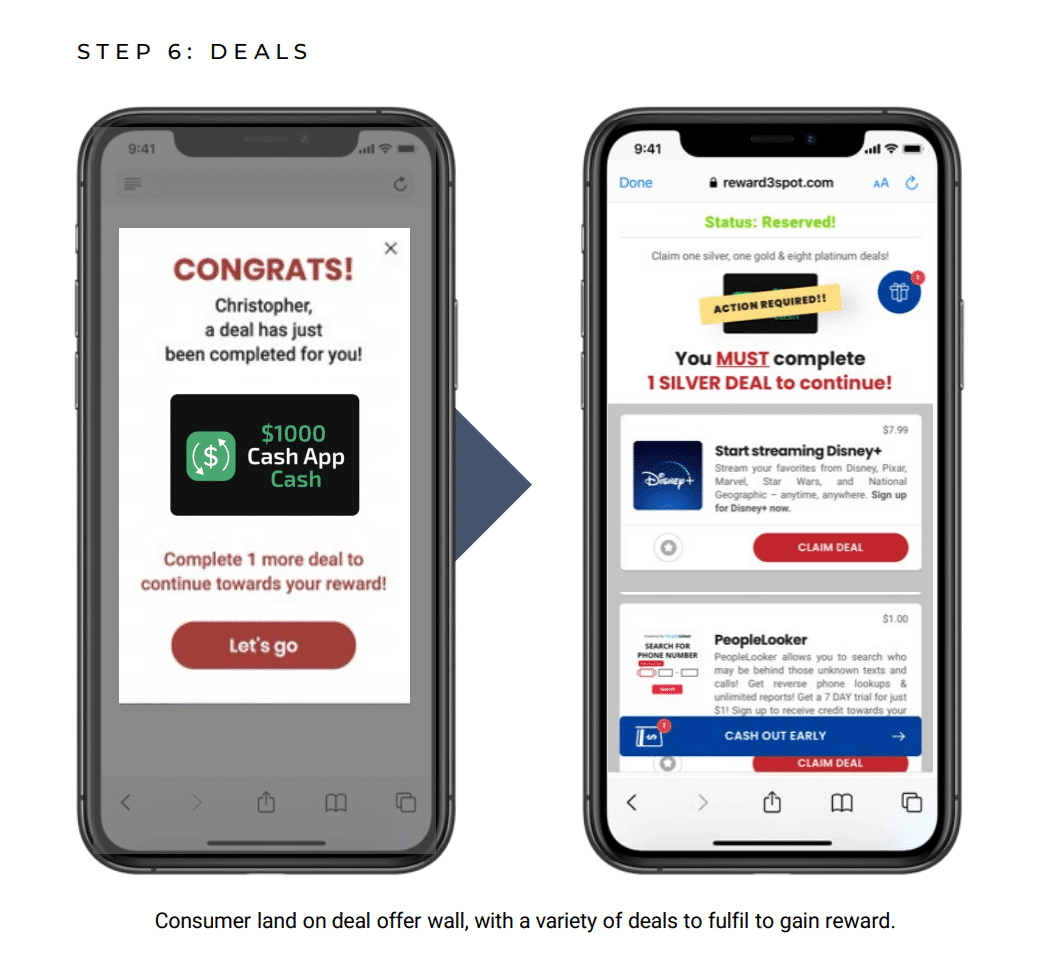 Finally, users reach the deal options they have to choose from & fulfill to receive their reward.
How to run CrakRevenue's SOI sweepstakes offers online?
The sweepstakes vertical is a big market that many people ignore.
Niched and geo-targeted offers tend to have a strong appeal that could result in big bucks for your bank account.
Nevertheless, following the advertiser's rules and advertising laws is a rule of thumb to ensure maximum ROI and avoid seeing your campaigns banned.
In that spirit, here's a list of Do's & Don'ts you can use as a checklist before launching your sweepstakes campaigns.
Do's ✔️
✔️ Write clear, truthful ad copy related to the offer being advertised;
✔️ Include a "paid participation required", "purchase required" or similar disclosure;
✔️ For SMS traffic, include the disclosure or ensure SMS language conveys that the
advertised Reward needs to be earned and requires action;
✔️ Use plain language and syntax so that consumers understand the disclosures;
✔️ Assume the user is on a mobile device and be mindful of the display size;
✔️ Use generic images and a different color scheme, font and "look & feel" rather than the
actual product logo.
Don'ts ❌
❌ Write deceptive, confusing or misleading ad copy;
❌ State or imply that rewards are available without additional requirements;
❌ Use the word "Free" or other synonyms, such as "no cost" or "complimentary";
❌ State or imply that consumers have won a prize or sweepstake or have been selected;
❌ For Rewards offers, do not state or imply there's an element of chance to get a reward;
❌ State or imply that a reward has been shipped or is ready to be shipped, or that the reward
can be claimed "today", "immediately" or any other timeframe;
❌ State or imply an artificial sense of urgency, scarcity or selectivity unless the claim can be
substantiated.
Our top SOI sweepstakes offers
Here are our top SOI offers for each of the four geos available:
U.S.A.: Amazon $1000 – $2.25 SOI
United Kingdom: PayPal £1000 – $2.10 SOI
Canada: Tim Horton's $75 – $2.10 SOI
Australia: Dan Murphy $500 – $2.10 SOI
See all SOI sweepstakes offers
And if you want some extra tips, insights and advice from a Super Affiliate who knows a massive success in the sweepstakes vertical, read this Q&A originally posted on STM Forum!
In conclusion, if you are serious about scaling your affiliate business with sweepstakes and believe there's an opportunity to build a sweepstake offer around a specific product or service, with numbers to back your claim, don't hesitate to get in touch.
Let's turn SOI sweepstakes into big cash in your pocket! 💪