Carrier Billing Smartlink
Be among the first to give our brand new carrier billing smartlink a try and see your earnings soar in a world dominated by mobile.
Back in January, we spoke a bit about carrier billing.
What exactly is carrier billing, anyway?
Without repeating ourselves too much, it's a payment alternative that is pretty popular in countries where people don't necessarily have access to bank accounts.
Carrier billing lets customers make purchases online that are then added to their monthly cellphone bill or deducted from their prepaid balances. It's hassle-free and opens up whole new markets for affiliates like you.
But now is not the time for lengthy definitions. We've already covered that part. No, what we're going to show you today is a brand new tool that you might not even know about available here at CrakRevenue.
Introducing the Carrier Billing Smartlink
Smartlinks make your affiliate life easier. Released more than one year ago on our platform, they're a huge help for getting more conversions. Simply put, Smartlinks allow you to send your traffic to the best offers we have in store. Higher conversions are achieved by delivering content with optimized landing pages according to the users' combination of GEO and device, plus your chosen vertical.
We've known for a while that carrier billing is on the rise — an industry valued at $5.9B in 2017.
So it was always our goal to one day bring this payment alternative to our Smartlink technology. Last month, we successfully launched our Carrier Billing Smartlink, opening up doors to all kinds of exciting business opportunities.
Why Should I Use the Carrier Billing Smartlink?
Glad you asked!
If the prospect of an emerging market isn't enough for you, there are other reasons to start using this tool.
Let's take a look at this pie chart: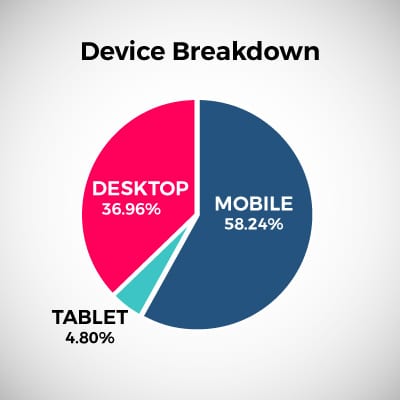 As you can see, mobile usage accounts for the majority of traffic (58.24%) on CrakRevenue, followed by desktop (36.96%) and trailing behind tablet (4.80%).
It's significant because more and more people are glued to their phones, which is a pretty important change for online marketers. One that's been coming for a long while, with Google preparing for the shift by rolling out mobile-first indexing in March of 2018.
The point being, all these cellphone users have deals with various carriers. A lot of them are warming up to the idea of letting their clients add other services (read: charges) to their bills. One such example is the recent EasyPark and Fortumo partnership that lets SMS users in Finland, Norway and Sweden pay parking fees by using their mobile phone bill.
But we digress…
Here are the clear advantages of using CrakRevenue's Carrier Billing Smartlink tool:
Reach an expanding, worldwide market of 5 billion phone users (vs. 3 billion credit cards owners)
Use a trusted, secure payment alternative
Finely tuned for mobile traffic with a laser focused sales funnel
High payouts
START USING THE CARRIER BILLING SMARTLINK NOW!
What Can I Expect?
Affiliate marketing is all about seducing potential customers with great, valuable offers or services.
To that end, Smartlinks have a big advantage over traditional affiliate links: they're an intelligent way to deliver relevant content.
Many of our affiliates have been able to boost their overall revenue anywhere between 10 to 16% since the introduction of our Carrier Billing Smartlink. The great part is how such results were achieved with an equal — or lower — number of clicks.
Expected results are always hard to predict because there are a lot of variables to take into account. What we do know are the GEOs where our Carrier Billing Smartlink have had top results.
The top ranking countries (as of now) for carrier billing are Australia, Italy and the United States … a list that might leave you wondering why India isn't on it, considering its huge mobile market.
In fact, the reason you're not seeing this country listed above is because the EPC and CTR are a bit on the lower end. As you can guess, there are a lot of mobile users in India, an astronomical number of clicks but not as many conversions.
Carrier Billing: A Trending Technology
If we didn't believe carrier billing wasn't headed to new heights, let's face it, we wouldn't bother spending time trying to convince you of its many benefits.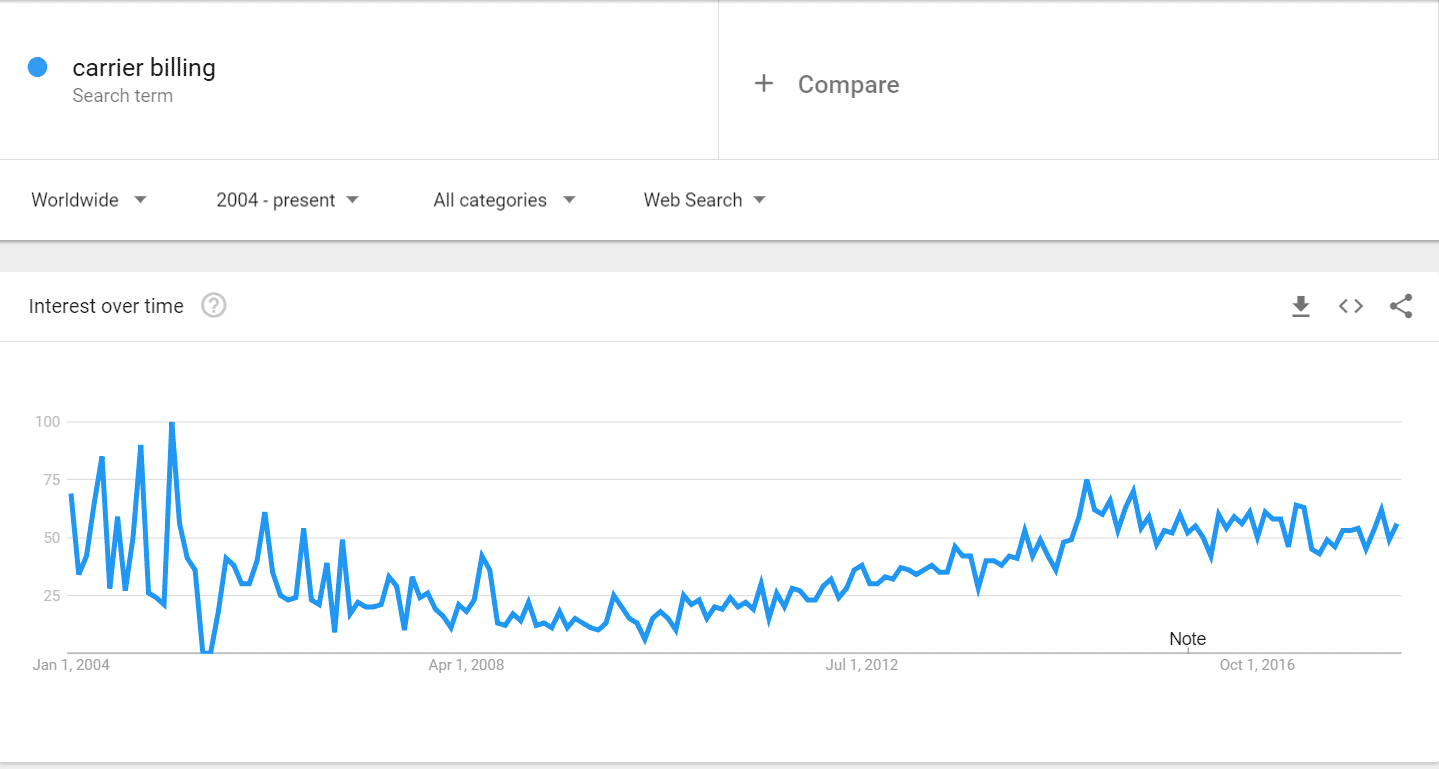 What this GA graph tells us is that carrier billing has been on a steady rise for many years.
The technology seems to be on everyone's mind, with related queries seeing huge search engine action.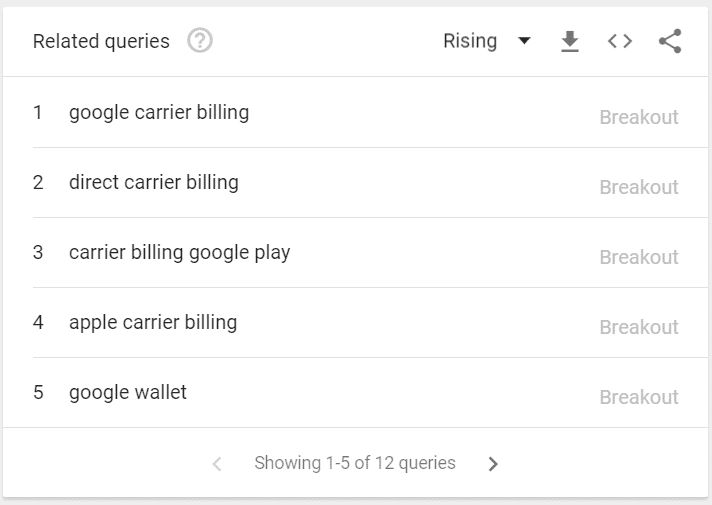 Now that major players like Apple and Google allow customers to charge purchases to their carrier bills, it comes as no surprise to see so many associated searches.
Recently available for physical goods, direct carrier billing might just be THE way we process payments in the not-so-far future. As messaging becomes a channel to fuel online sales, finding an optimized tool for the medium is paramount to your success.
And this is where carrier billing shines: it's a one click payment system that doesn't require the user to jump through hoops.
Can't beat that, eh?
There are plenty of cases where businesses chose to put their trust in this technology. Earlier, we mentioned a way to pay your parking with carrier billing. In our opinion, it's only the beginning. It's also worth noting an ongoing partnership between digital gaming marketplace Kinguin and mobile operator Play, allowing players to pay for virtual goods in a breeze.
One last example is Virgin Mobile Saudi Arabia, who launched their direct carrier billing service back in April 2018. The wireless communications brand sees a lot of potential in this technology for seamless purchases of apps, movies, games and more from the Google Play Store. CEO of Virgin Mobile Fouad Halawi described carrier billing as a "convenient and reliable payment method."
TRY OUR CARRIER BILLING SMARTLINK NOW!
Carrier Billing: A Cloudy Yet Positive Forecast
Another encouraging fact about carrier billing is how it has proven to boost sales when used alongside credit card payments. Hence why sales on Google Play rose by 300% since their inclusion on the store. Here are two key visualizations from this technology's overall growth: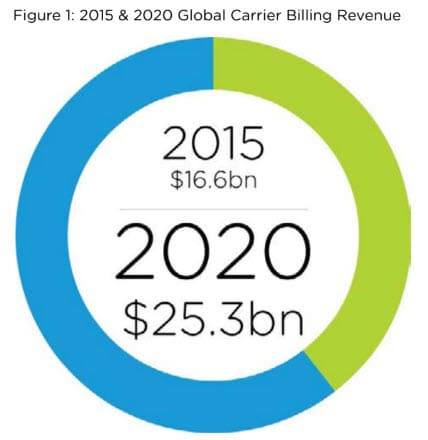 Estimated Global Carrier Billing Revenue from 2015 to 2020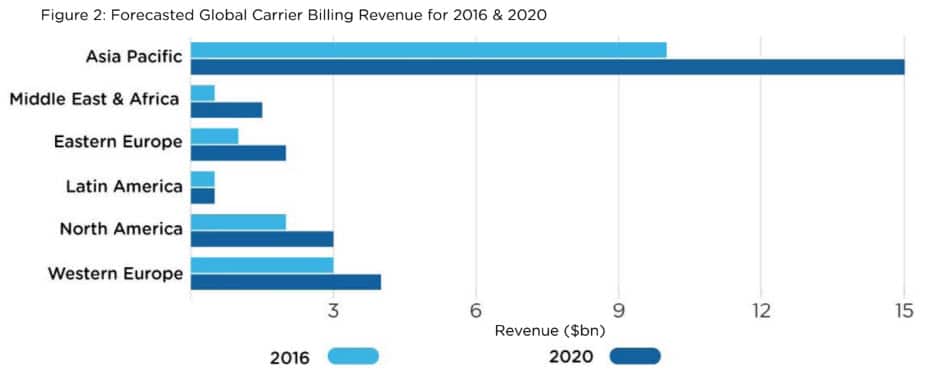 Forecasted Global Carrier Billing Revenue for 2016 to 2020
However, there are some hurdles in carrier billing's way that you should be aware of.
The Revised Payment Service Directive (PSD2) for EU has put into place a cap of €50 per transaction and a cumulative limit of €300 per month for carrier billing purchases.
Mobile operators need to fully appreciate — and include — carrier billing as a marketing strategy, keeping pace with new shopping trends.
More people need to be aware of what carrier billing actually is, especially compared to Premium SMS (PSMS) billing systems (and their relatively poor by comparison user experience).
Carrier Billing: It's Your Turn!
As you can see, carrier billing has a lot of advantages in today's booming e-commerce landscape around the world.
Give our unique smartlink tool a try to see how it can work for you!