Carrier Billing: One Year Later
Carrier billing is an extremely convenient payment method making some affiliate sales a breeze with mobile traffic. But, there's much more to this online payment method than meets the eye. Are you ready for the silent revolution?!
In 2017, we covered a promising payment technology that benefited affiliates — mobile carrier billing.
As a payment alternative, it really takes the cake. This was our stance one year ago, and it still holds true.
Now that we have a lot more field experience with carrier billing, we thought we'd take the time to analyze why this is still a valid option — and how to make the most of it.
But first, a quick refresher is in order.
What is Carrier Billing?
Also called direct operator billing or mobile content billing, carrier billing is an online payment method.
This technology lets customers add their digital purchases to their monthly phone bill.
Unlike mobile wallets like Google Wallet or PayPal which are always backed by debit or credit cards, carrier billing doesn't require users to store such information — and that's its main strength.
Carrier Billing: Where It All Began
When we talk of carrier billing, it's easy to think of it as a new technology, when in fact, it's actually been around for years.
Did you know that well before the advent of smartphones, the only way to buy wallpapers and ringtones was through carrier billing? Yup, that's right — you're getting old!
It all started more than 20 years ago in Japan with NTT DoCoMo's i-mode internet. The service allowed customers to pay for online goods and services by adding them to their mobile phone bill.
In this day and age, it's even more popular than ever.
Take for instance Amazon. Determined to gain ground in Japan, the e-commerce giant launched retail store carrier billing in June 2017. What was once a service aimed only at online purchases became handily available thanks to a partnership with UK-based mobile carrier Bango.
This was a game changer for carrier billing as NTT Docomo and Au (KDDI) account for 75% of the Japanese market.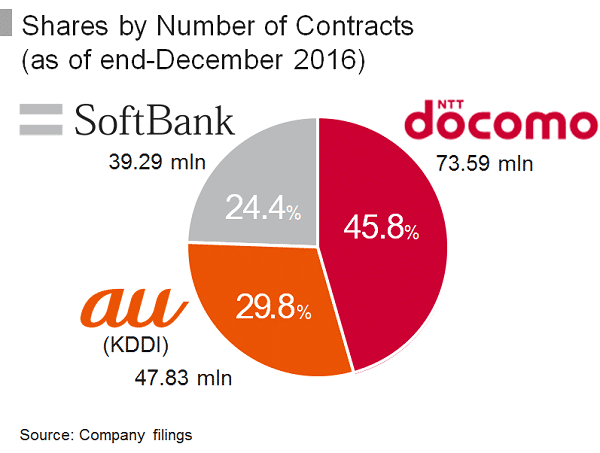 Recently, Amazon went one step further in the country by extending carrier billing to Amazon Prime and the Prime Student program.
Mobile usage is second nature in the Land of the Rising Sun. What about the rest of the world, though?
Carrier Billing: It's a Worldwide Phenomenon
We've hammered into the fact that mobile traffic is on the rise.
So much so that we've included it as part of our list of challenges affiliates have to overcome in 2018 (and beyond).
It comes as no surprise that carrier billing follows a similar, ascending path.
As users fear the worst with online transactions (hacking, phishing, etc.), this alternate payment solution shows significant growth.
India — second only to China as the world's largest home for mobile consumers — inked a deal with Google in 2017 to allow Bharti Airtel's subscribers the ability to purchase content from Google Play Store without submitting credit card information.
Apple has also been very busy with carrier billing, offering its users to add purchases made through Apple Music, iTunes and other Apple services to their mobile phone bill. There are already 17 supported countries, including new players like Denmark (Three), Hong Kong (SmarTone) and Sweden (Telenor Sverige AB).
In fact, one could say that carrier billing is the new hot.
With services like Bango, Centili and Fortumo enabling clients one-click payments worldwide, we're witnessing a silent revolution in the way we handle electronic transactions.
The Many Advantages of Carrier Billing
Still wondering why the carrier billing adoption rate is on the rise? Take a look at some of its many many advantages:
Convenient: no need for a credit card, a debit card or a bank account. People who lack basic financial services are not left out: a key factor in emerging markets where there are more cellphone users than bank card users. As much as 2 billion adults are without accounts (The World Bank).
Fast: the carrier already has the user's data, hence why there's no need to fill in credit cards details (especially tedious on mobile). Usually, transactions are completed with the simple push of a button. It's an important fact when you know that humans have a shorter attention span than goldfish! Thanks, smartphones!
Secure: since there's no sensitive information transmitted (like the user's credit card number), the risk of fraud or scam is very low. As you probably know, building trust is essential for any business. With carrier billing, you are offering a safe way to spend money
All of the above contribute to higher conversion rates on mobile offers: 8x more in emerging markets and 3x more in established markets, according to Microsoft.
Carrier Billing: A Two-Headed Challenge
If we take off our rose-tinted glasses for a minute, we can see how carrier billing still has two major challenges to overcome before widespread adoption.
For starters, carrier billing needs an improved technical infrastructure. Here's Fortumo's laundry list of recommendations as seen in their 2017 white paper:
Purely API based integration between merchant and mobile operator
Dynamic pricing
Self-service setup
Ability for the merchant to get the user's mobile phone number via any mobile data connection
Subscription payments support
No significant limitations on service types that can be launched on specific connections
Secondly, carrier billing is still based on an outdated value-added services (VAD) business that wasn't meant for large-scale operations.
As such, commercial terms for merchants are simply not worth it and in dire need of an update. What was once acceptable for Premium SMS & web payments no longer applies. The following pose a major problem for carrier billing:
Fixed pricing
User-side manual input
In Europe under the revised Payment Services Directive (PSD2) which goes into effect in 2018, direct carrier billing faces an additional challenge in the form of capped transactions: €50 per transaction up to a maximum of €300 per month!
You can draw the conclusion that carrier billing is a victim of its own success, but that's a valid complaint for any new, promising technology.
The following picture shows where most carriers are currently (and where they need to be). That is at least… if they want their slice of that $1 trillion dollar pie.
Here's how to provide a great purchasing experience, according to Fortumo:
Segmented Pricing
Reminders in case of failed payments
Retry to charge a user after a failed payment
Give users access to several platforms with one payment
Reduce required steps in the checkout process
Make it easy to unsubscribe from the service
Carrier Billing at CrakRevenue
Carrier Billing at CrakRevenue
Here at CrakRevenue, we have several carrier billing offers that convert really well.
Please note: all of the above-mentioned earnings were made through Android in 2017.
For affiliates like you, we can't stress enough the importance of segmented campaigns.
All too often, we notice affiliates put desktop and mobile traffic in the same basket. Yet, this is missing the mark by a mile.
Let's say that we've successfully convinced you that carrier billing is the way to go. The next step is to start using our home-made CR Smartlink tool. Why, you might ask?
There are dozens of offers on display with its rotator
It's been built specifically to target mobile devices (Wi-Fi/Carrier)
It offers geo-targeting for maximum conversions with a high performing iframe
Carrier Billing: Strike the Iron While It's Hot!
Here's another statistic to further fuel your love for carrier billing: it's projected to be a $14 billion industry by 2019, according to a Juniper Research report.
This is closely tied to smartphone usage which increased by leaps and bounds worldwide. In the United States alone, smartphone users are estimated to reach 237,6 million in 2018, according to Statista (up 6% year over year).
All in all, carrier billing is in full swing. There's been a few hiccups along the way, but the future looks bright for the online payment alternative. Don't forget to use our CR Smartlink tool and see the results for yourself (after careful segmentation of your traffic!).