The end of the year is a perfect time to take a step back and plan for the months ahead.
In 2017, we've witnessed the rise in popularity of evergreen offers in the adult industry such as Dating — with a twist. Indeed, taking into account how difficult and costly it can be to get results in Tier-1 GEOs, a lot of Media Buyers (affiliates) moved to emerging markets like Eastern Europe.
Meanwhile, Live Cams continue their upward trend. Over the past year, CrakRevenue has seen a 10% revenue bump in this vertical. Another promising area takes the form of Gaming. In 2017, we paid out over $80,000 to affiliates promoting gaming offers.
In order to tackle the new year efficiently, we've prepared a list of the Adult Affiliate Challenges to look out for. Many of them can be applied to the affiliate world at large, but they ring especially true in the adult industry.
Challenge #1: The Never-ending Fight Against AdBlock
The battle against AdBlock is nothing new. In January 2017, we offered our thoughts about the popular ad blocking extension. And yes, it's not going anywhere in 2018. Although, some might argue the fight will reach its breaking point.
For starters, Google is readying its own twist on AdBlock with an integrated ad "filter" for Chrome. The most popular web browser in the world (50%+ market share) will only display ads deemed acceptable by The Coalition for Better Ads. In other words, Google will curate the ads you see online, which spells trouble for online marketers. You will have to comply or risk getting filtered out.
Mark your calendar: the new built-in ad-blocker will start working February 15, 2018.
At CrakRevenue, we've set our sights on AdBlock for a while and will continue to do so in 2018. Our mission is to ensure more optimal ad delivery rates so you don't have to rack your brains over this issue.
One of the best solutions for affiliates is to use our Native Ad technology.
While not entirely bulletproof against AdBlock, they represent a promising alternative to traditional ads.
It's worth nothing that "Native-display ads, including social native and native ads in-feed on publisher websites, will make up the bulk of native ad revenue from 2016-2021." (Business Insider).
Challenge #2: The SEO Roadblock
Unless you've been living under a rock for the past two decades, you probably know a thing or two about SEO. If you don't, well, it's about time.
In 2018, affiliates will have a harder time ranking well online.
Why, you might ask?
One answer comes from Google's very own algorithm. It has evolved a lot in order to give more exposure to valuable content at the expense of advertisers/marketers.
We've said it many times before: content is king.
The viewer's experience is equally important.
To tie the game, affiliates will have to resort to more precise niches. One way to do so is by using longtail keywords instead of fighting for the "hot", generic keywords.
While "Big Boobs" might be more popular in the search engines, you might have a better shot with something along the lines of "Big Boobs Arizona." The latter gives you a very focused niche with way less competition, while the former will be a tad more difficult to really rank well for.
Big players are already spending a lot to keep their positions. Don't fight a losing battle.
Another useful tactic when it comes to SEO is being aware of the latest trends. As the saying goes, the early bird gets the worm.
Challenge #3: Big Data & EU
Tick-tock…
Get ready for a massive change.
In less than 6 months, Europe will tighten things up when it comes to collecting online data.
The EU General Data Protection Regulation (GDPR) marks a turning point in data privacy regulation. It's the most important change in 20 years, one that will have a deep impact on how information is stored online.
At its very heart, GDPR aims to do the following:
Strengthen data protection for all EU citizens & residents

Bring a new set of "

digital rights

" to EU citizens & residents
The current data protection directive is a dinosaur from 1995, hence the need to modernize. Internet was an entirely different beast back then… for those lucky enough to even have it.
GDPR is a big deal for affiliates and online business as a whole because:
You won't be able to process data from EU citizens & residents unless you have a lawful basis to do so.
You must have explicit consent to use the data collected
Better to be safe than sorry...
Even if you're not physically located within Europe, as long as you're storing Personally Identifiable Information (PII) from users of this continent, you must abide by the GDPR.
Failure to do so exposes you to a €20m fine or 4% of your gross annual turnover (whichever is greater).
Still think you're safe?
Here's another reason why the GDPR might be a thorn on affiliates' side: cookies.
One of the most powerful tracking tools available online will be that much harder to use in Europe.
Identifying an individual per device used will be considered personal data.
You will need explicit consent from the user to be lawful. Or just stop storing cookies altogether.
Explicit consent can be obtained through an opt-in box. But that's not all: subscribers must be able to opt-out as easily, which is reminiscent of email spam rules requiring a hassle-free unsubscribe process for newsletters.
The affiliation world isn't coming to a screeching halt, though — it will only need to adapt and be more transparent about its practices in Europe.
Challenge #4: The Bot Swarm
Another important challenge facing adult affiliates and advertisers in 2018 is the exponential growth of bot traffic.
A recent study by Radware has identified a major problem: bots conduct more than half (52%) of all Internet traffic flow.
This makes it harder to identify legitimate visitors … from scripted automatons.
Bots are a huge security risk. They are synonymous with rampant fraud.
It's also just plain cheating with real consequences. Ad fraud is a 7 billion ordeal. That is no pocket change.
Imagine the following: you create a new landing page and get hundreds of page views. Your excitement is quickly replaced by utter dismay as not even one lead was generated via your CTA.
Are you just bad at Internetting, or what? Probably not…
Chances are, you're a victim of bot traffic.   
One clear giveaway you've been hit by the "swarm" as we like to call it is extremely low Clickthrough Rates — ask your Affiliate Manager what the normal CTR is for any given offer. It shouldn't be 0.
The best way to overcome bot-generated traffic in 2018 is meticulous monitoring.
Monitoring should be done both in-house AND by third-party certified tools.
This is exactly how we're proceeding here at CrakRevenue. Thanks to continuous investments in manpower and technologies, we are able to reverse this malicious trend.
A word of caution: not all bots are created equal!
While we've talked about the bad bots at large, some bots are actually useful.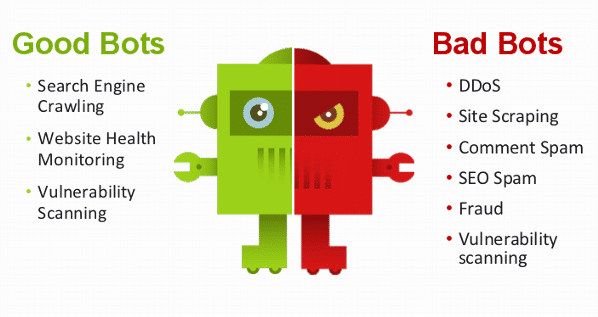 Credit: Charlesngo
Unfortunately, a lot of affiliates and advertisers use bots to disrupt services or do other evil deeds.
Even if you're not tech-savvy, our team is constantly developing new tools to beat the bots at their own game.
Challenge #5: Welcome Your New Mobile Overlords
We've heralded the domination of mobile for a while. Fast-forward to today and we now have the data to back our claims. To put it simply, mobile is taking the world by storm.
According to Statista, in 2017 there will be 188.4 million mobile shoppers in the US alone. Also, the latest Cyber Monday set a new record with $6.59 billion in online sales (Adobe Analytics). Mobile accounted for 47.4% of visits — a 22.2% increase from 2016.
Shopping and buying on smartphones and tablets is the new normal. What is true for online sales definitely applies as a whole: the craze is global.  
Unfortunately, we still see a lot of websites designed solely for desktop users.
One of the challenges adult affiliates will face in 2018 is the switch to a mobile-first philosophy. Responsive templates are not enough. Many websites claim to be mobile-friendly, but in reality they are not.
Websites should be designed from the ground up with smartphones and tablets in mind.
In 2015 — which is old by Internet standards but still relevant — Google declared "more searches take place on mobile devices than on computers."
It's no secret the Internet giant favors mobile-optimized websites in its ranking.
Always double check to make sure your pages are optimized for mobile.
Wrapping Things Up
Each year brings its own challenges and opportunities.
Even on a bumpy road, never lose sight of your goals.
From duking it out with Adblock to the creation of optimized offers on mobile, not forgetting bot traffic, SEO difficulties and new regulations, there's a lot on your plate.
We are conscious of the challenges adult affiliates will face in 2018.
That said, CrakRevenue is working very hard to bring you even more cutting-edge technologies and tools in the year to come.
Did we miss a challenge going into 2018? Feel free to share in the comments below!