As a leading CPA Network, CrakRevenue is always looking to develop new tools for affiliates.
Now that WordPress powers up 30% of all websites, it's only logical we'd create something special for the popular content management system (CMS).
Over the past few weeks, we've been hard at work on our very own WordPress plugin for adult affiliates which includes the following tools to increase conversions:
Live Cam Widget
Optimized Iframe (banners)
Native Ads
In-text ads
Popups
A select few affiliates already had the chance to give this plugin a whirl on their sites.
Since then, we've added several new features and made adjustments to ensure our plugin meets your expectations.
Continue reading for the full tour!
How to Install Our Adult Affiliate WordPress Plugin
Click here to download the latest release: beta version 0.9.0. Recommended WordPress version: 4.5.0+.
Once you've downloaded the ZIP file, upload it to your WordPress installation (Plugins > Add New) and activate it.
You should see our logo added to the left column of your dashboard, like so:
Click on CrakRevenue and you'll be presented with this screen: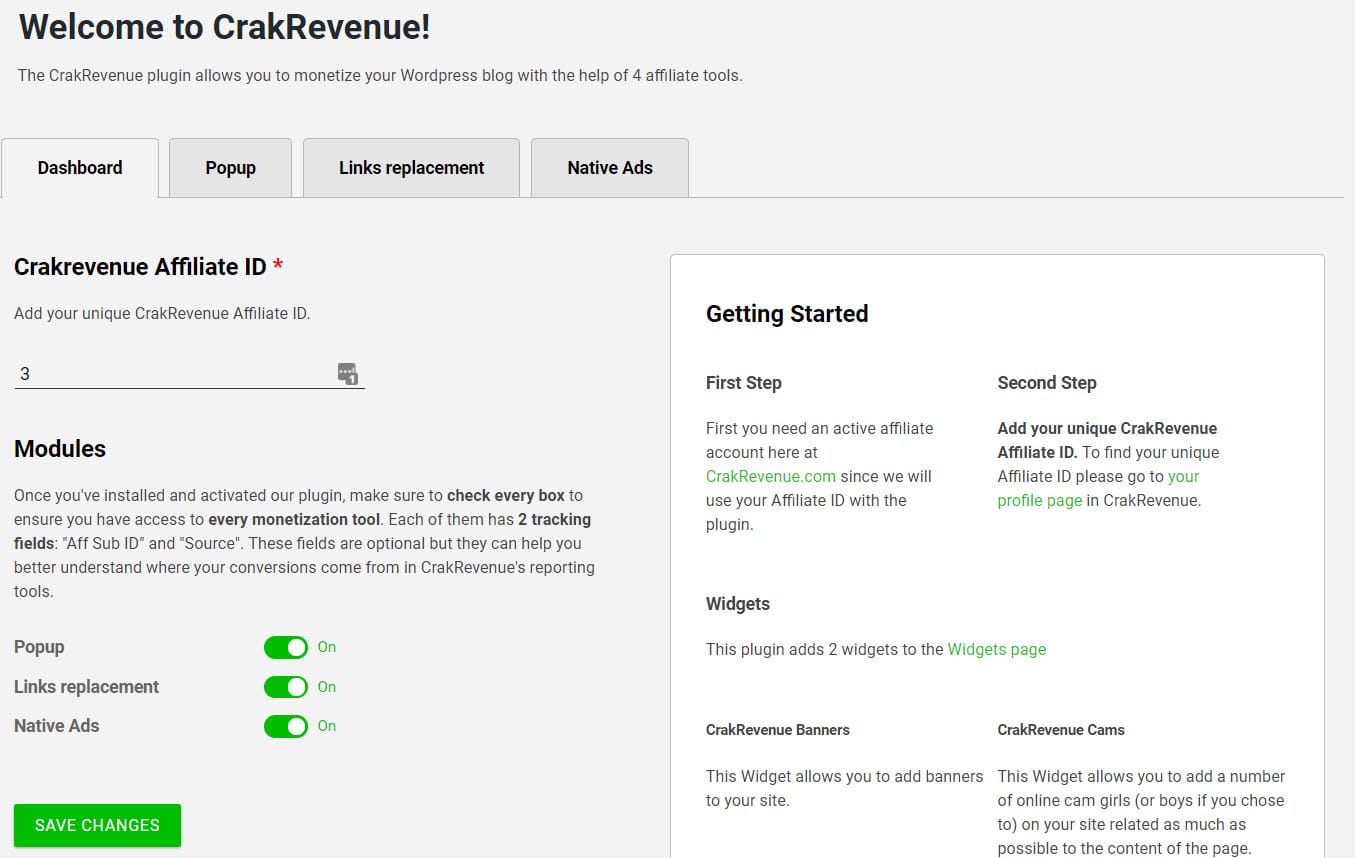 This is an overview of the plugin and its settings.
Before we go through each feature, it's important to sign up as an affiliate if you haven't already. Otherwise, you won't make any money with our WordPress plugin (duh!).
You can also join by clicking the link under "First Step" in the plugin's dashboard — all roads lead to CrakRevenue!
Once you have an account with us, simply copy & paste your aff ID*.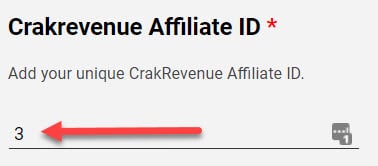 *Please note that if you already have an account with us, simply locate your ID by visiting this link.
Under the "Modules" section, you can choose the tools you want to activate on your WordPress theme. By default, all 3 options are activated to maximize your profits.
The last section, "Widgets", lets you add Banners and Cam Girls directly in your theme, for instance in the right sidebar or in the footer area.
Click & drag the widget you want to use. In our first example, we will be using CrakRevenue Cams by adding the widget to the right sidebar.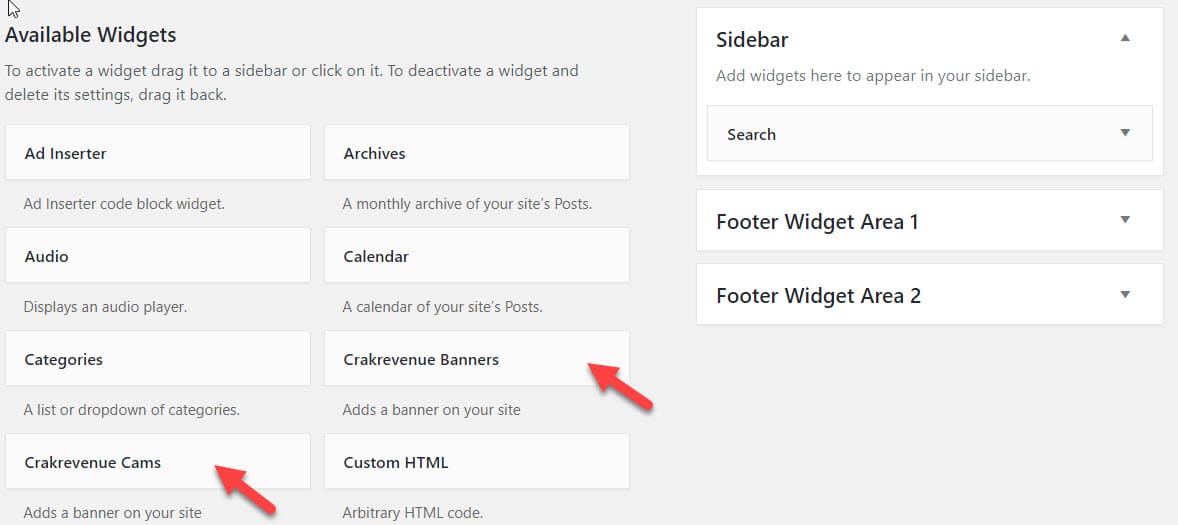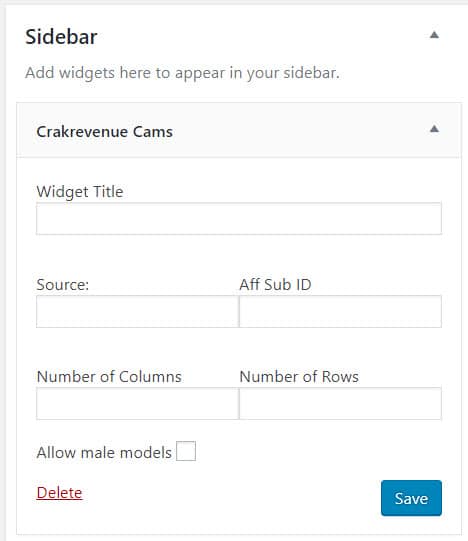 Here's your options:
Widget Title (facultative)
Source (facultative, for tracking purposes)
Aff Sub ID (facultative, for tracking purposes)
Number of columns
Number of Rows
Allow Male Models (check the box if you want to show gay material)
Once you add some values under the number of columns and rows, our widget will start to display content from our top converting offers to your visitors.
Better yet, said content will be tailored to your website's keywords. Pretty nifty!
In our second example, we will add some banners to our site. Drag & drop the CrakRevenue Banners widget where you want it to appear in your theme. The following options will be shown: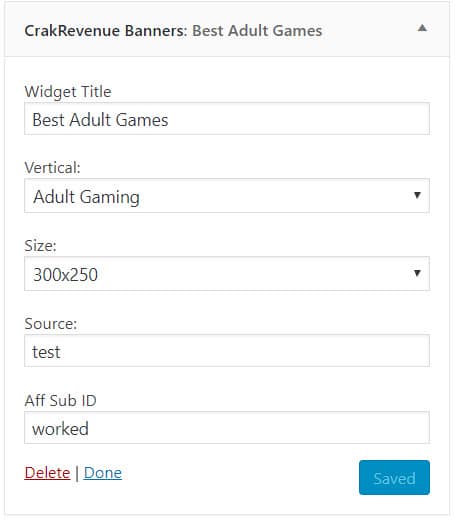 Widget title (facultative)
Niche : choose from Multiple 18+, Dating 18+, Adult Gaming 18+, Cam 18+ or VOD 18+
Source (facultative, for tracking purposes)
Aff Sub ID (facultative, for tracking purposes)
Here are the other worthwhile features included in our WordPress plugin:
Pop-ups
Show your traffic a pop-up when they visit your website. Just like with our banners widget, you can choose from various verticals: Adult, Webcams, VOD, Dating, Gay, Adult Gaming & Surveys.

Link Replacement
Choose words you wish to replace with affiliate links on every single page of your website — automatically!
You can attribute some words to specific niches to get even better conversions.
You also have the choice to open the links in a new tab or in the same browser window.
Finally, you can set the maximum number of times a specific word will be replaced by an affiliate link.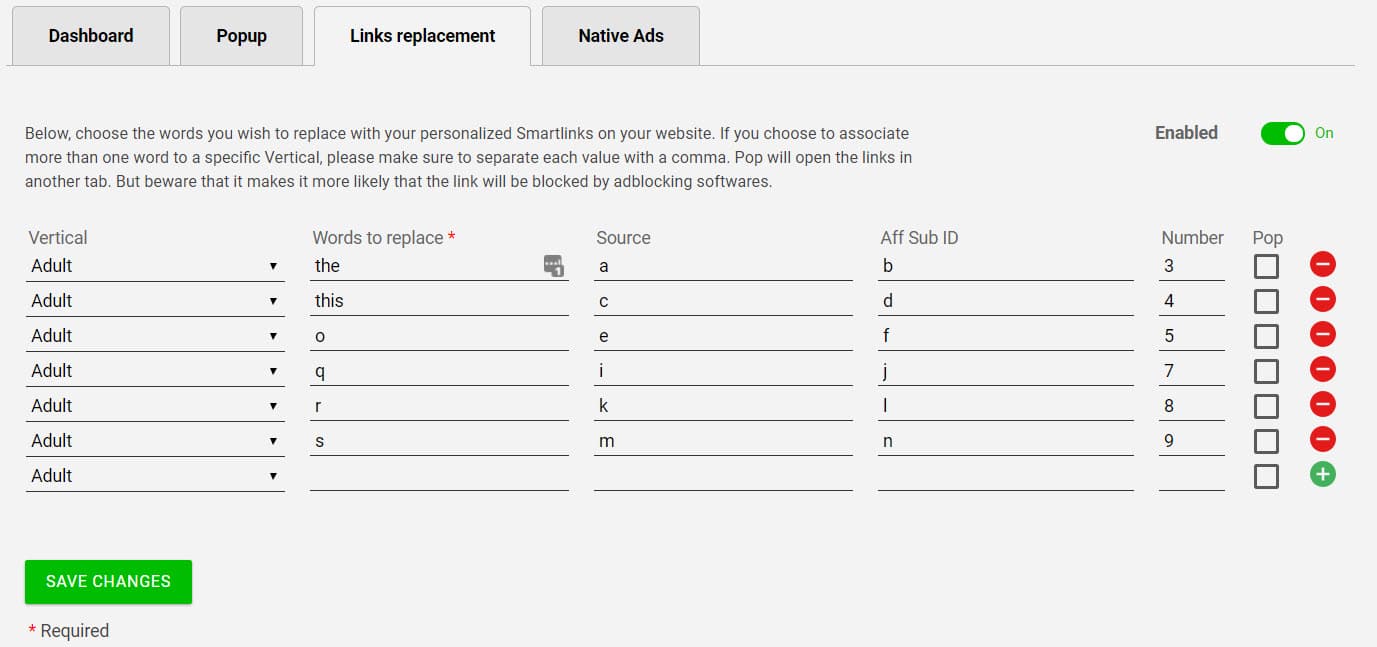 Native Ads
Native Ads blend in with your content, therefore have greater conversion rates than traditional ads.
Our WordPress plugin for adult affiliates seamlessly integrates this type of advertisement within your theme.
The offers will be shown below your main content. You can choose if you want to display nude or non-nude (or both!) offers — gay or straight. It's all up to you.
The Native Ads are entirely customizable according to your needs:
Font Type (Default: Times)
Font Size (Default: 12)
Font Weight (Default: 100)
Color (Default: 44444)
Hover Color (Default: 111111)
Description Lines (Default: 1)
Number of Thumbnails
Max Width (Default: 750)
Thumbnails Per Row
You can also opt out of displaying thumbnails by toggling off the "Show Thumbnails" option.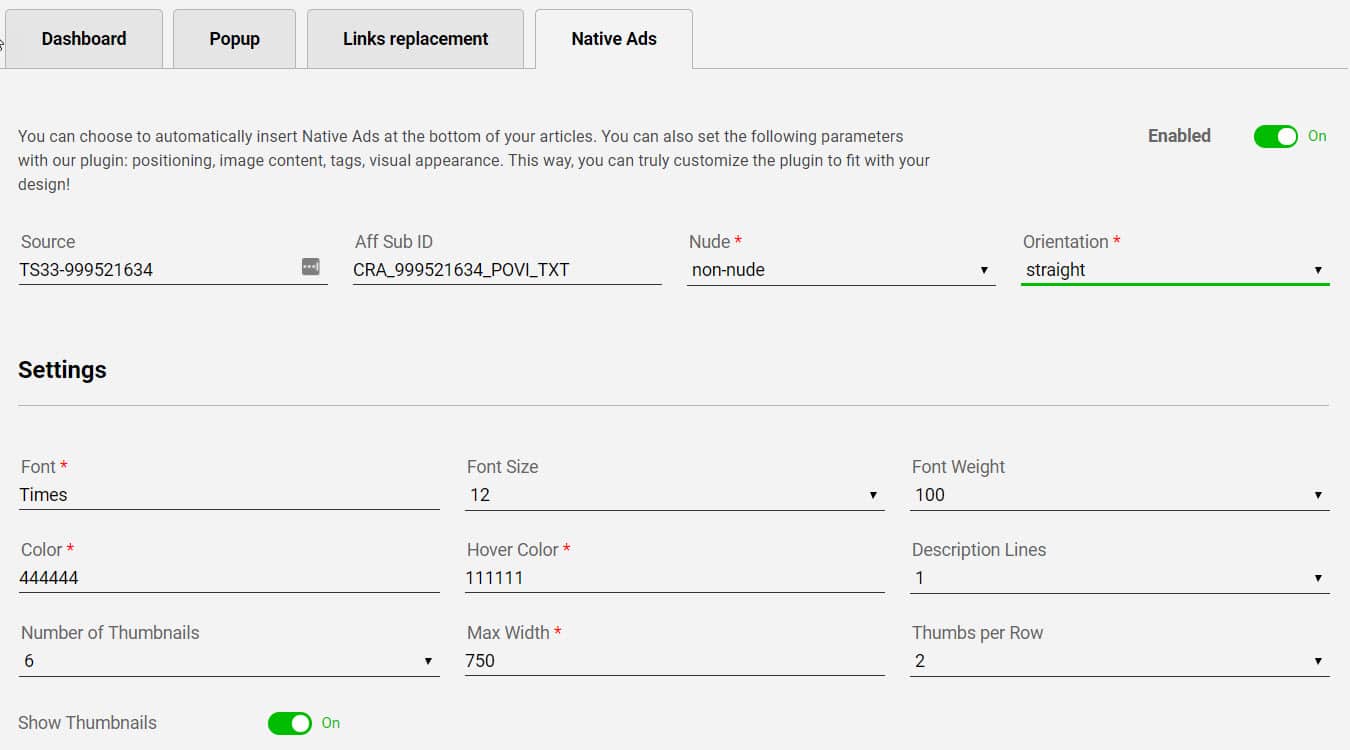 And last but least,  when it comes to niche tagging your Native Ads for greater relevance. Here's the complete list:

FAQ
Simply type a few keywords into our extensive Knowledge Base to learn more about a topic, or to find relevant articles.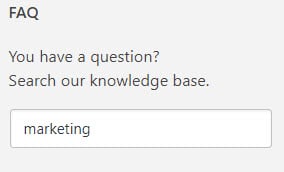 RSS Feed
At the rightmost of our WordPress plugin, you will find the latest blog posts from CrakRevenue.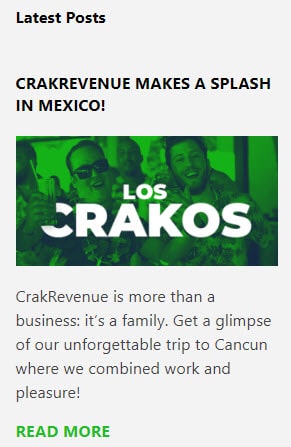 What's Next For Our Adult WordPress Plugin?
One of our missions is to get the plugin approved and listed on the official WordPress repository. This will allow us to offer an easy way to install further updates.
As to what's in store for our plugin, we have some cool ideas we'd like to implement soon.
One of them is to add a webmaster referral widget so you can enroll new affiliates and gain 5% of their earnings.
DOWNLOAD THE WORDPRESS PLUGIN NOW
Make sure your host has the cUrl extension installed and allows connection to other domains through HTTP through both port 8000 and 80. Indeed, some hosts, such as HostGator, prevent our plugin to work by not allowing such connection.