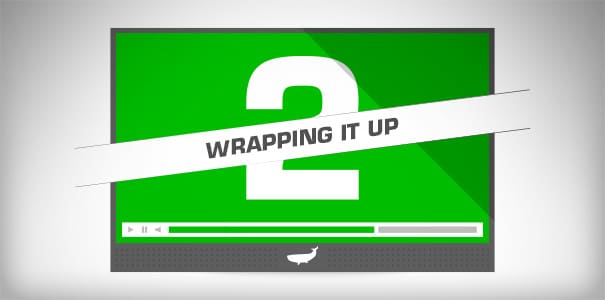 In the first part of this series, we have looked at how to organize your video by defining your goal, message and style. We have also talked a bit about storytelling. Let's now take a look and learn how to actually make a great marketing video!
Software choices
We won't dig too deeply into the pros and cons of each and every piece of video editing software. What it really comes down to is your level of comfort and experience with such software, and what kind of result you are trying to achieve.
We won't be comparing them to each other, but here's a list of some of the more popular video editing software choices:
Screencasting software
Video Editing (in ascending order of complexity)
Wrapping up
Close with the brand
The video should always close on a logo signature of some sort. The viewer should know exactly what he's just watched and where he should be going next.
Call to action
Have a clear call to action. Point out to a form, a link button or whatever else you'd need to make your video achieve your initial goal, make it clear what is next for the viewer to do.
Publishing options
When it comes to publishing you will find yourself facing a plethora of different options. If, and only if, the video doesn't contain pornographic content, you might want to consider one or many of these different options:
Although, as your video might contain some mature content, you might wanna consider a self-hosted solution. This will require a bit of coding knowledge but there are some great players out there already built for you to use.
Depending on the goal and message of your video, you might want to consider creating a landing page especially dedicated to it. See our article Landing Pages 101 to learn more.
Getting some views
Last, but surely not least:  Get it out there!   Share it wherever possible. Facebook, Twitter, Tumblr, Reddit, forums, blogs, etc. You might have some limitations if your video contains adult content, but that's a good case for a landing page! You can also refer to our Reddit and Tumblr.
We're here to help
You think video marketing could help your brand but you don't have time to do it yourself? Don't worry. We're here to help. In fact, we already have a wide variety of great turnkey video landings readily available in CrakRevenue's offers section.
With carefully designed and optimized product like LowTExposed, EasyDatingExposed,and the numerous ExposedWebcams tours, there's no reason not to hop on the video marketing bandwagon!