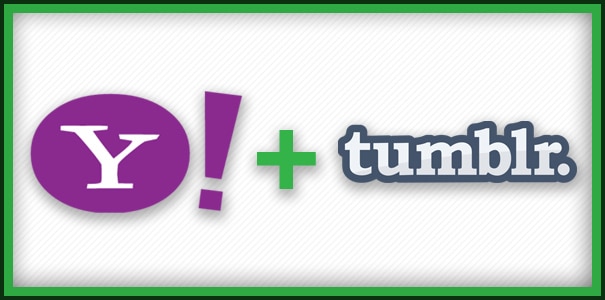 Shock and Awe!
As most of you already know, last week on May 20, Yahoo! officially announced the acquisition of popular microblogging platform and social networking website Tumblr.
The $1.1 billion transaction quickly took the business world by storm as it involves two major players of the internet business world: A big old timer and a cool newcomer.
Worried?
The news also shocked the blogging world, especially Tumblr users.
Many bloggers are concerned about the move. They are worried that the new direction could eventually decide to censor some NSFW content.
That would be bad news for some of our affiliates who use Tumblr for their blogs and as a promotion engine for their campaigns.
However…
As this Huffington Post article points out, Yahoo! has no intention of drastically changing Tumblr:
"During an investor call Monday morning announcing Yahoo's $1.1 billion acquisition of media network Tumblr, Yahoo chief executive Marissa Mayer emphasized that Yahoo wants to "let Tumblr be Tumblr," which she suggested would include allowing its numerous X-rated accounts to continue pumping out pornography undisturbed." Huffington Post

Asked by an investor how Yahoo would balance user and advertiser interests with regard to Tumblr content that is "not as brand safe as the rest of Yahoo" — content that presumably includes posts by sexually explicit Tumblrs such as "Red Hot Porn," "Porn and Weed" and "Secretary Sex" — Mayer noted that the diversity of Tumblr's content was "exciting" because it allowed Tumblr, and by extension Yahoo, to reach a far wider audience.

She explained that carefully targeting ad placement should allay the concerns of marketers who might be skittish about placing their brand alongside explicit content.

"I think the richness and breadth of content available on Tumblr — even though it may not be as brand safe as what's on our site — is what's really exciting and allows us to reach even more users," said Mayer, who did not mention pornography as such, but referred obliquely to content that was not "brand safe."

"One of the ways to start measuring our growth story here is around traffic and users, and this obviously produces a lot of that. In terms of how to address advertisers' concerns around brand safety, we need to have good tools for targeting."

-Bianca Bokker, "Tumblr's Porn Can Stay, Suggests Yahoo CEO Marissa Mayer."  Huffington post, 2013
Every little thing's gonna be alright
Now that may sound like a typical careful business answer to worried users, but Yahoo! seems consistent and even insistent on its point that it won't screw things up for Tumblr users. This official press release from Yahoo!'s Investor Relations website keeps driving the point home:
"Per the agreement and our promise not to screw it up, Tumblr will be independently operated as a separate business. David Karp will remain CEO. The product, service and brand will continue to be defined and developed separately with the same Tumblr irreverence, wit, and commitment to empower creators.

David Karp, CEO of Tumblr, addressed the Tumblr community, "Our team isn't changing. Our roadmap isn't changing. And our mission — to empower creators to make their best work and get it in front of the audience they deserve — certainly isn't changing."
Yahoo! certainly makes itself reassuring about the "leave it as it is" policy for its new acquisition.
Huffington Post blogger Steve Rosenbaum seems to agree:
"Tumblr users are pretty freaked out that Yahoo folks will come in and act like the new sheriff in town. Overall, some of the behaviors that Tumblr bloggers use might be looked at by Yahoo lawyers as copyright infringement. Users point to Tumblr Fandoms and gifs as potential IP violations.And lurking in the background is a pretty significant number of porn pages on Tumbr.

But Yahoo has already signaled that it's going to leave Karp alone, and since a pretty significant piece of his 4 year buyout is based on user growth, it would make sense that he asked for autonomy in growing the brand. Let's hope he got it.

– Steve Rosenbaum, "5 Reasons Yahoo's Tumblr Purchase Is a Good Thing", Huffington post, 2013
Ok for now
So let's not panic…Yahoo! seems sincere.
Plus, they haven't been doing very well lately and Tumblr has…so if they want to take advantage of Tumblr's success and popularity they can't overlook the fact that it got to that point thanks to the diversity of its content and the freedom enjoyed by bloggers who choose it as a platform to express themselves.
They had better leave the NSFW content in or they might screw up the users that make tumblr such a successful venture and, in the end, screw up their investment.
So it seems that for at least a few more years, Tumblr and its content are safe from yahoo's censor scissors.