Calling itself the "premium advertising network," Traffic Factory helps thousands of advertisers and publishers make more money worldwide. The company prides itself on its 6 billion daily impressions, advanced RTB platform, its international team of account managers, facilitating traffic of more than 200 million visitors daily.
The Czech Republic-based network provides publishers with massive quality traffic sources and unique tools for adult advertising campaigns, competing with notorious companies such as Traffic Junky, Traffic Stars, Clickadu, and ExoClick.
News flash: the company was nominated two years in a row in the category "traffic service of the year" by XBIZ Europa Awards! It also partnered with AdSecure to provide its clients with top security.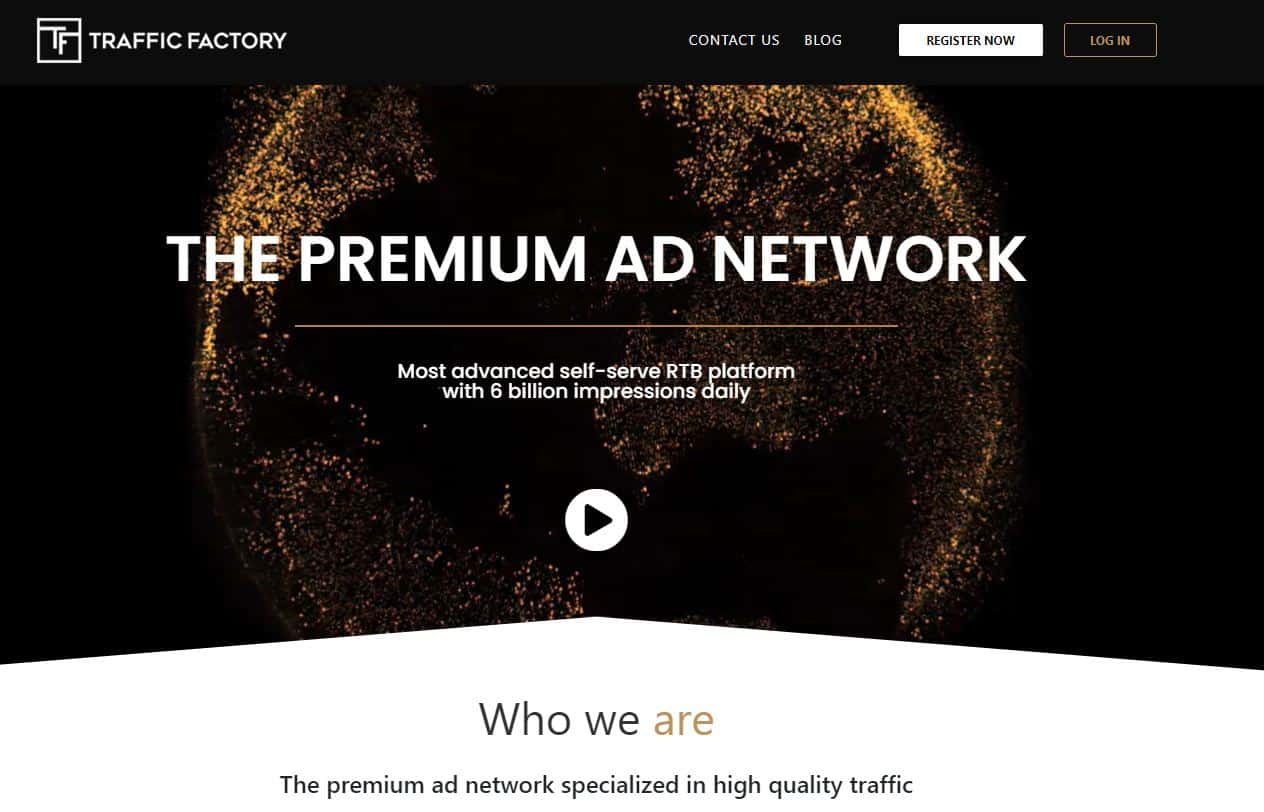 What is Traffic Factory?
Traffic Factory was born from two successful adult websites, xnxx.com and xvideos.com. Their owners joined forces to create an ad network that would sell traffic from the great number of visitors they each attract. It's one of the best networks recommended by CPA organizations, affiliate marketing experts, and advertisers worldwide.
With Traffic Factory, you can promote CPC or CPM offers using ad formats such as banner, native, and video. Each new campaign can be set based on device type (desktop or mobile), depending the audience you are aiming for.
The network's features includes dayparting,  frequency capping, daily budget limit settings, custom display rates, and reimpressions to add to your next campaigns and improve your stats.
Traffic Factory's minimum deposite amount is €300 (approximately 300 USD) for tier-1 geos, but lower for tier-2 and tier-3 locations. The site's payment methods include Wire, Paxum, Vendo, and CoinPayments.
Which targeting options are available with Traffic Factory?
Not only does it have lots of quality traffic, but the company also offers many targeting options for your sites. With Traffic Factory, publishers can target users based on the following targeting filters
Country

Language

Keyword

Device

Category

Geo-Fence
The geo-fence targeting option allows you to set a 50-km-radius circle around a specific location to maximize your conversions in an eligible country. This feature, however, is only available for certain promotions.
How to create a campaign with Traffic Factory's network?
From the buttons in the header of your dashboard, place your cursor over the Campaign button, then click Add a new campaign.
Then, you must select between mobile/tablet or desktop. Plus, you have to determine which type of campaign you want to set by selecting your ad format.
Then, once you're done entering the specs of your campaign, click Save to add it to your dashboard.
How to track your campaign's performance on Traffic Factory's dashboard?
From the main menu in the header, place your cursor over the Statistics button. Then, click on Campaign, and you'll be able to view all your ongoing campaignsmobile or desktop–, your CTR, and your number of impressions for each one. 
If you have several ongoing or past campaigns, filter the table by date to narrow it down to the time frame you want to view.
As an affiliate, always pay attention to your CTR, your most important metric. With your CTR, you can determine whether or not your ads are performing well for your target audience. 
Remember, you can A/B test your banners to predict their performance with a given demographic. You'll avoid wasting time running an ad with a bad CTR, and save some money that can be reinvested in a new campaign.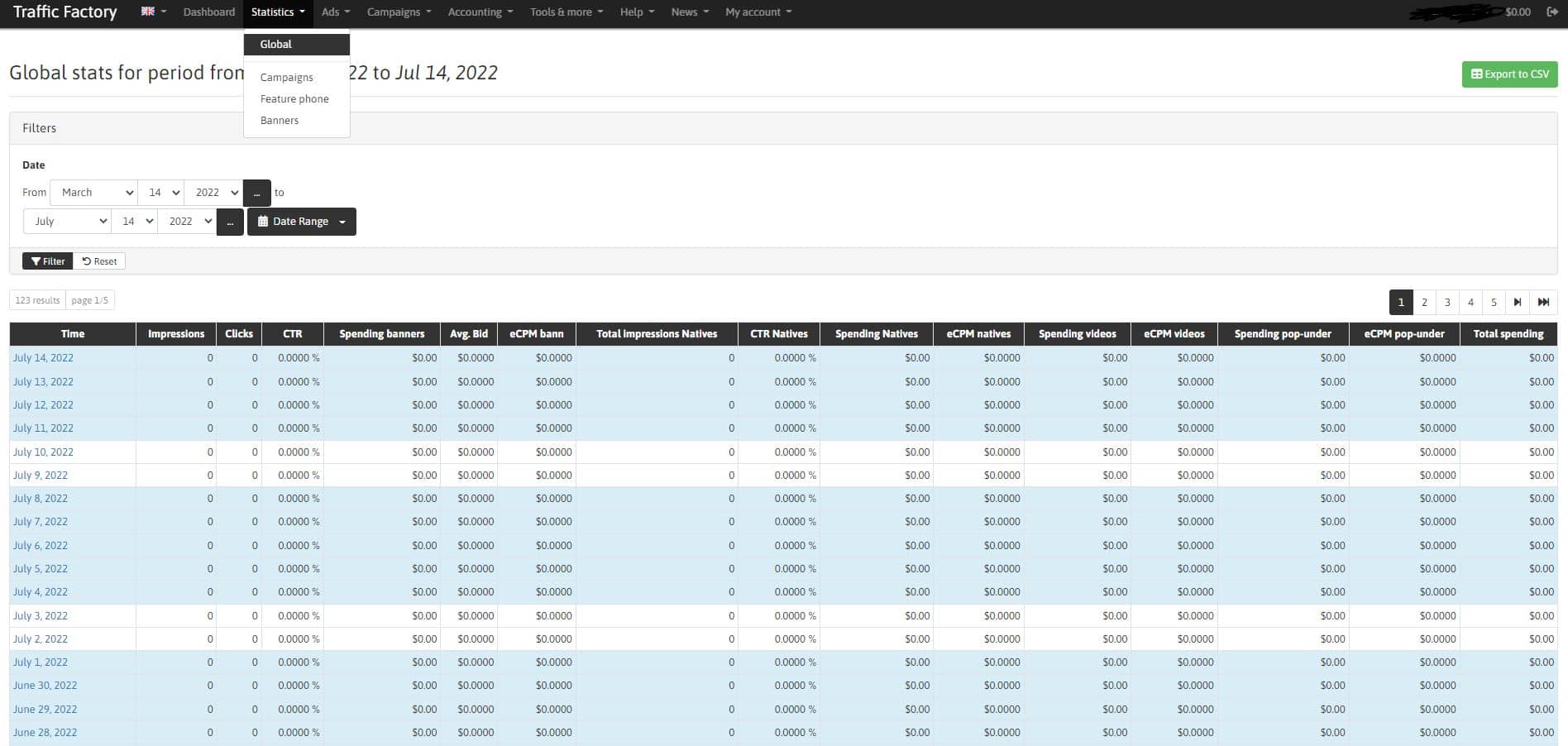 What are Traffic Factory's strengths?
What makes Traffic Factory an ad network that's worth your time, energy, and money?
Tons of options to target the right audience:

You cannot go wrong with Traffic Factory's targeting options to get high-quality traffic for the audience you have in mind. In doubt, reach out to your account manager to know which options are best for your campaign.

Accessible data analytics:

We've got to love data in affiliate marketing! That's how we know what we do well on a site. All your data is gathered in one place with preset metrics on your click rate, impressions, and conversion rate to view all your campaigns' activity during a given period. There's no better way to know if your ads are working on your visitors.

Dashboad viewable in 8 languages

: Access your dashboard in language such as French, Portuguese, Spanish, and Vietnamese.
Free PDF Tutorials
Traffic Factory made all its tutorials available online from the portal in the Help section. Here are the topics covered by some of them:
Activating your main account and sub-accounts

Adding funds by credit card

Creating various types of marketing campaigns

Linking videos to campaigns

Setting bids and budget limit options
Most tutorials are available in at least 10 languages, including English, Spanish, Vietnamese, Japanese, and Deutsch.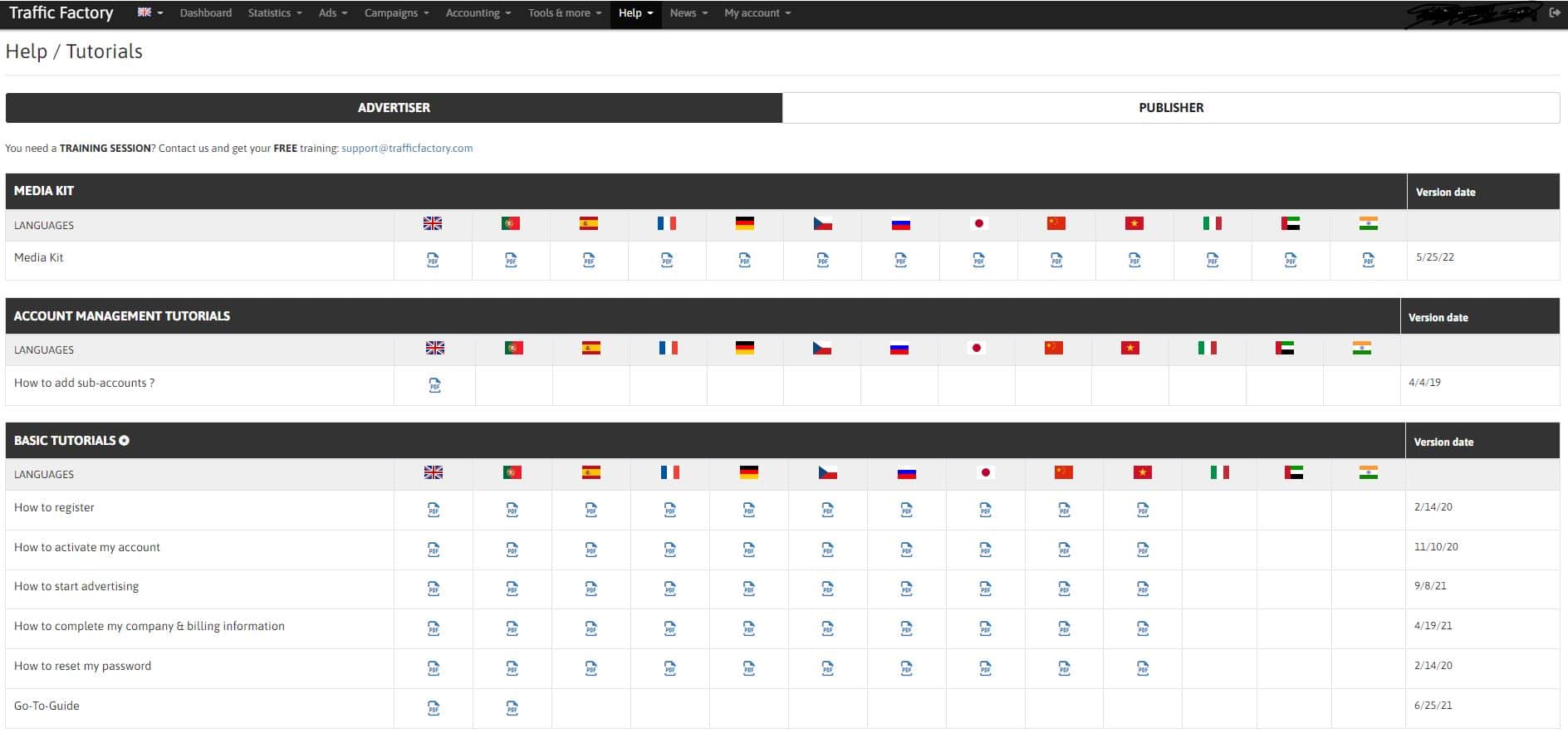 Traffic Factory also offers free training sessions to its members upon request.
What are Traffic Factory's limitations?
Of course, that ad network isn't perfect. Since we want you to choose the best ad network for your website, here are Traffic Factory's limitations:
Strict rules for ad formats:

When it comes to approving banners, Traffic Factory does not play. All banners undergo a rigorous review process, and they must comply with specs stated in Traffic Factory's

banner rules

: dimensions, placement, content, etc. Plus, all misleading ads are automatically rejected. So Traffic Factory is not exactly suited for publishers who want

carte blanche

over their ads.

Limited geo-fence targeting:

This filter can only limit to whole countries. You can't target a city or a region.

High minimum deposit amount:

  If you're new to affiliate marketing and ad networks,

$300

is a high amount to reach on your first campaigns, even for tier-1 countries. Most networks have a $100 minimum for payouts. So if you made $250 on your first campaign–which is really great for a first—too bad, you have to wait until the following month to cash in.
Is Traffic Factory
going
to be your ad network?
If you search the web for Traffic Factory Reviews, you won't find many. But the few ones on the web and on social media all  agree on that: Traffic Factory definitely helped their site make more money. 
You can join the network for free to take a look at its features and PDF tutorials. You can also access it through your CrakRevenue affiliate portal and think of offers to promote with the network's traffic sources.
So if a user-friendly ad network with high-quality traffic and lots of targeting options is what you want, then Traffic Factory is definitely the way to go! If you want more flexibility on your creatives and a lower minimum payout amount, another adult network might work better for you.
Will you join Traffic Factory and leverage its unique traffic sources?