What if we told you there's a readily available marketing strategy you probably haven't used yet and can easily be added to your operations with little to no upfront costs?
Enter push notifications, a powerful and highly effective way to reach more potential clients.
What exactly are push notifications?
You might have been prompted to opt-in to our notification system upon visiting this blog via one of these bad boys.
Push notifications were first introduced by Apple in 2009. They're messages sent from a backend server or application that pop on your desktop or mobile device of choice.
It's what app developers use by default to communicate with you on smartphones. And webmasters from all around the globe who understand it's an effective solution to garner interest into your content.
By definition, push notifications are pretty close to SMS text messages. However, they're considered less intrusive because they don't interrupt user activity, thus giving a more "natural" feel to your marketing campaigns.
Also, end users will never have to fork some money out to pay for push notifications, which is yet another reason why businesses and marketers alike tend to appreciate them over SMS.
What are the advantages of using push notifications?
There are several reasons as to why you should include push notifications in your marketing strategy.
Chief among them is without a doubt to foster engagement. In the case of an affiliate website — what you probably already own — users need to opt-in to your push notifications. Which means they already care enough to be sent updates, so if you do it with moderation you will re-engage them and be that closer to your precious conversion, whatever it might be in your case.
Apps get it easy by allowing push notifications right off the bat, meaning the user already gave his or her consent upon installation.
But that's not all. Push notifications have also shown to increase conversion rates.
Here's a recent test we've conducted using one of our flagship offers, Slut Roulette.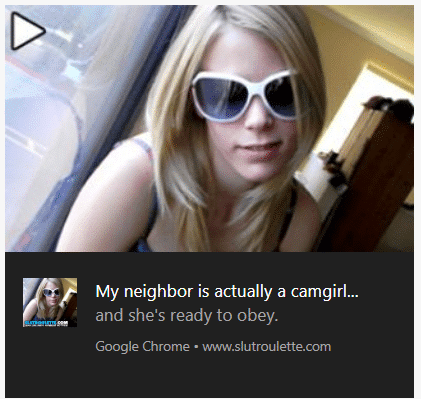 We sent this push notification to all of our subscribers (~9.3k) and managed to achieve an earnings per click (EPC) of $0.40. And I'll tell you something guys, that's a stat to be proud of!
And it made us realize that we weren't fully exploiting the power of this marketing tool until now.
Here's other preliminary tests we've conducted and their results:
We're kind of firing on all cylinders and seeing what sticks, but initial results are already really encouraging.
If you want people to convert, you'll need segmented push messages aka personalization. Here's what you should aim for:
In order from most to least requested push messages according to a research by Localytics, we have:
A special offer based on my preferences

A breaking news alert

New content personalized to my preferences

A special offer based on my location
You can see how tailor-made push notifications drive more engagement — and conversions.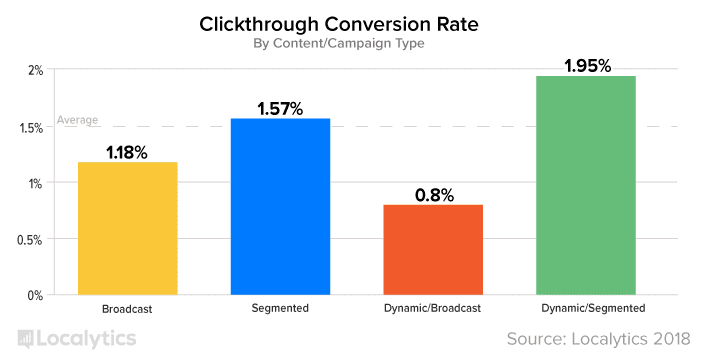 Using push notifications will also give you key insights about user behavior through tracking metrics: open rate, CTR, unsubs, revenue, etc.
This will allow you to optimize your funnels and really connect with your users by creating content that speak to them.
Other advantages of using push notifications include but are not limited to:
The possibility to reach and interact directly with your users

Cost effective way of doing marketing (basically $0)

Incredible reach for your content
Here's a few tips to write kickass push notifications that won't go unnoticed:
Be honest

: people want to trust you as a brand/ambassador/authority/etc.

Create value

: why should I click on your ad? Give an incentive, answer a problem, offer a solution

Cut down the fat

: you need to be straight and to the point

Tell a joke

: people love to have fun, so don't hesitate to add funny twists to your messages because humor works great

Be proactive

: this one might sound a bit cliché but it's nonetheless true. You need to be on top of things and ride current trends so you can offer something current to your subscribers.

End of.
Push your marketing to the next level
Push notifications is something you should focus on as an affiliate or anyone who aims to build a strong fellowship.
As long as you don't overdo messages (start with one per week) and add personalization, you're golden.
Remember to have a nice and short copy that will grab the attention of your users. And once you get the hand of OneSignal or any other program, try A/B testing your messages to see what works and what needs change.