If you're reading this, you probably already have an affiliate website or dabbled into creating content at some point.
You might even have spent varying amounts of money on online advertising platforms such as Google AdWords.
Today, we're going to see how we can be better at keyword targeting using simple yet effective tools & strategies with a proven track record.
But first, a definition.
What the heck is "
keyword targeting
," anyway?
Basically, it's what you focus your content around so you can achieve better rankings on search engine results pages (SERPs).
It's one of the most common Search Engine Optimization (SEO) strategies out there.
Focus keywords help you have a vision and clear strategy for your content. It's what you want to be associated with, so it's crucial you don't skip this step.
How Do I Get Started?
The good news is that you can start keyword targeting right now.
Google Keyword Planner (FREE)
In order to be able to use the keyword planner tool, you will need a Google AdWords account.
If you're not sure how to proceed, simply click this link and register for your free account.
Once logged in, click on the wrench icon at the top of the page.

You will then be presented with lots of options.
In this case, what we want to use is the keyword planner tool.
On the next page, you will need to choose between two options:
Find new keywords

Get search volume and forecasts
Both are really valuable for your keyword targeting and SEO efforts. Here's how to use them.
Find new keywords
When you click on the first option, you'll be presented with the following screen:
Google's algorithm is pretty powerful, so don't hesitate to go for longtail keywords — very specific phrases related to your business and made up of 3 to 4 words.
For the sake of this tutorial, we've selected the "watch adult cam" keywords. You want to strike a balance between too broad (adult cam) and too narrow (watch adult cams while taking a shower).
The next screen displays keyword ideas based on your input.
There are lots of important metrics to take into account. Here's a breakdown of the main ones:
Average monthly searches

: pretty self-self-explanatory. You will only see an estimated range unless you actually run an AdWords campaign. Like so: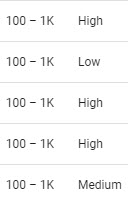 Competition

: this is only related to Adwords' spending and not how hard it'll be to rank for a particular keyword. Still, it gives you a glimpse of the challenge you'll be facing down the road.

Ad impression share

: same as competition, ignore as it only applies to Adwords. You need to run an active ad campaign to see the numbers.

Top of page bid: shows how much advertisers have historically paid for a keyword to appear on top of page results with Google. Low range + high range gives you a pretty good estimate of what to expect in terms of costs, should you ever buy ads.
This data will be useful for our next step: actually choosing a keyword.
Google gives you plenty of options to choose from, but most of them will be useless to you. How so?
Well, first you need to cull what we call "bad keywords." This includes anything related to trademarks (like MyFreeCams in our example), keywords that have no potential for commercial intent (i.e. that won't convert or have poor marketability) and keywords that make little to no sense like typos.
This will narrow down your choices to a select few. For our "watch adult cam" example, we thought the "adult live cam" keyword had potential with a range of 1-10k monthly searches.  
However it was hard to tell just with a rough estimate, so what you can do in this case is use a nice "hack" by clicking on "Add to plan" to have more precise data without running ads on Google:

This is where Google's keyword planner second option, search volume and forecasts, comes in handy.
Here's the result we got for "adult live cam":
What we want you to notice is the number of impressions: this is how many times people search for that particular keyword every month. So now you have the real data to work with instead of an estimate!
Another neat trick you can do with Google's keyword planner is inputting the URL of a competitor in your niche instead of keywords or phrases.
This will give you a big list of keywords to glance over — keywords the website currently uses or ranks for, which is invaluable for your own SEO.
You can even try adding blog posts, press releases or really anything with text to give you ideas of keywords to explore and add to your content.
Keyword.io
Not everyone wants to use Google and we respect that.
Thankfully, there are other options out there to help you with keyword targeting.
One of them is Keyword.io, a free online tool that hands out keyword suggestions in a flash.
We like being able to select specific platforms like Google, YouTube or Amazon — something you won't get with a keyword planner.
But it's not that different either since the data is pulled from the most relevant searches done by users on the Google search. It's a small world out there!
Let's put our sights on even more quality keywords for our campaigns by using this website.
In this example, we used the keywords "healthy food recipes" — remember to choose a niche without being too narrow.
Keyword.io lets you choose between many different countries. We used United States (default).
Bam!
You get a nice list of longtail keywords (remember them?) to consider: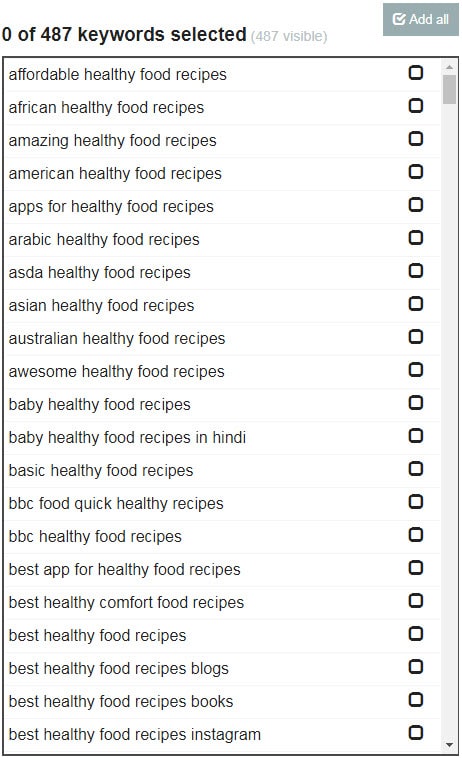 You might be wondering why the heck you should aim for longtail keywords instead of, you know, the most popular terms.
There are many benefits, including more targeted searches, less competition and higher conversion rates due to their very focused nature.
That's how Keyword.io can help you with your keyword targeting. If you need to export your data, simply sign up (free!) here.
There are other useful tools you can try on the website, like a common questions idea generator or the topical search exploration tool.
Answer the public
Another great option if you're in the market for longtail keywords.
Answer the public displays auto suggest results provided by Google & Bing.
Here's an example using the query "halloween costumes":
It can be a bit hard to read without inflicting yourself a stiff neck, but the potential is there.
You can also download the results as a CSV file for easier browsing.
This is more a bonus tool than anything else, but there are keywords in there you might not have thought of. Especially now that 20% of searches are done by voice on the Google app — and guess what, people tend to ask questions when they do.
AHREFs
So far, we've only included free keyword research tools.
AHREFs might be a paid solution ($99 USD/month for Lite), but it's probably the best one out there for this job.
For example, you have access to crucial data you won't get anywhere else (like how many searches translate into actual visits to your pages).
Here's a quick overview of the Keywords Explorer tool.
First select the option on the header:
Then type your keywords in the box below, like this:
Choose a country and click on the magnifying glass to get your results!
This page alone gives you lots of decisive data to work with.
Keyword difficulty

: how hard it's going

to be to

rank

for the keywords you want

on search engines.

(

Note:

AHREFs gives you an estimate of how many [quality] backlinks you'll need to achieve this objective

.)
Search volume

: how many people actually type these keywords

into

search engines (per month

/ by country

).
Global volume + top countries

: it's useful to know where the bulk of the traffic is coming from so you can target keywords accordingly
Keyword ideas: what you could rank for … and further food for thought!
If you scroll down the page you get even more in the form of search engine result pages (SERPs) top players.
You can click on your competitors' backlinks or main keywords to get even more ideas.
AHREFs also has questions related to your keywords — this is a huge trend you need to be aware of when planning for keyword targeting.
If we go back to the screen above, you can see that the first result on SERPs is a featured snippet, followed by shopping and results and — you guessed it — related questions (people also ask)!
Answering what people are searching for is a tremendous way to boost your traffic!
Not saying it'll be easy to rank up there though. You'll need quality content that already ranks well to be featured in a snippet. Summarize and experiment for the best results!
Keyword Targeting: Not for the Faint of Heart
Choosing the right keywords for your business can be really tricky.
The tools and strategies we shared today can sure help you get started.
You'll need to put in a lot of work to really understand what your competitors are doing and — more importantly — why.
Sometimes you'll get a lucky break with a nice keyword no one bothered with. Other times, you'll be wondering why you don't rank well under a specific keyword even with great content.
Really, it's all about choosing which battles you want to take part in. Remember though that keywords will only get you so far: the real deal comes from what you have to offer — your value proposition.
Make sure to share your keyword targeting experience in the comments below! Meanwhile, have fun hunting down words that will boost your rankings!