Traffic is the lifeblood of affiliates. 
Truth is, if no one reaches your pages, you won't make any money—simple as that. 
You can say affiliate marketing is a complex ecosystem that sort of feeds upon itself. 
Advertisers need networks to help promote their offers ? Networks need affiliates to spread the word and give offers maximum exposure ? Affiliates need quality offers to make money online ? offers need customers to justify their own existence so the cycle can continue. 
Each cog in the wheel plays an essential role to keep going forward. Remove one and your entire operation comes to a screeching halt.
If we were a betting man, the biggest roadblock you will inevitably face is about finding ways to increase traffic to your website.  
Luckily, there are valid options to get more traffic without selling your soul to the marketing gods. 
Without further do, here's 10 ways to boost your traffic… and convert more! 
1- Create Quality, Actionable Content for Your Audience
It goes without saying that great content helps with ranking on different search engines like Google and Bing. Almost anyone can write a blog post, but few of us put effort into cornerstone content: your Magnum Opus … pure, unmatched content both in terms of knowledge and presentation. 
The likelihood of someone finding your article, reading it whole and sharing it depends on a few factors including brand notoriety and choice of topic. Even if you happen to be the greatest writer the world has ever seen, if you tell a story no one cares about, it will be a wasted effort. 
The opposite is also true: less proficient writers who cover a hot trend may rank better because people are already typing in relevant keywords. 
Quality comes at a cost: time. But we rather see it as a great investment for long term organic traffic. 
We know what you're thinking: "I can't create great articles if I'm promoting adult offers!" 
Wrong!  There's ALWAYS room for interesting articles!
Don't believe us? Take it from us:
Have a cam website?

Write about the most popular models of the year. 

Deep into dating?

Search engine optimization (SEO) content works amazingly well in this vertical, so keep up on blogging with topics like:





"

10 Trends in Dating Right Now!

" or even "

15 Dating Secrets That Work

"  if you want more clickbait!
The moral of the story is that you shouldn't have any excuse when it comes to creating quality content, which is sure to increase traffic to your site.
2- Get the word out with social media
Generating traffic with social media is one of the most acknowledged forms of marketing in 2019. There's an estimated 3.2 billion social media users in the world according to Emarsys. That's almost half of the global population!
If you own a website, it's imperative that you create handles for social media. At a minimum, you should be looking to create accounts on Twitter, Facebook, Instagram and Snapchat so you can reach users where they're actually subscribed.
Marketers from all around the world leverage the immense power of social networks to their advantage because it works. Among other things, these platforms provide:
Increased exposure
Improved lead generation
Growing fan loyalty
Better communication
Yet, the best thing about social media is increased traffic to your content. The massive pool of users makes it easier to get noticed. 
If you happen to go viral, then your stats truly take off!
A Quick Note About Adult Content on Social Media…
Of course, sharing adult content on social platforms is a big no-no. Yes, even IF you published the most extensive guide on dildo usage in American history. 
It's a fact of life.. there's a REASON there's no facebook share button on your favorite X tubes.  
Unfortunately, NSFW content is rapidly going extinct with the major players. 
Back in December 2018, Tumblr banned nudity from its service. Facebook community standards are pretty strict, automatically deleting sexual content. Instagram is more of the same. Even Twitter has updated its sensitive media policy and now guts accounts that share adult content. 
Does that mean you're out of luck? Nope. There are some nice alternatives to getting juicy traffic from sweet, sweet social traffic. You may just have to dig a little deeper to find them. 
And, yes — we're talking about adult social communities! Here's two to get started, with many more popping up by the day: 
Sex.com
Over its long and controversial history, Sex.com transitioned from a plain XXX offering to a full-fledged social community where users can "pin" their favorite content. Pictures, videos, stories and GIFs are shared in droves, with some of the most popular content getting a lot of exposure—several thousands likes and pins! 
If you want to promote your website and get a new traffic source, this is one way to do so. Create a free account and come up with a plan. Will you be posting exciting watermarked GIFs with your domain URL? Videos? These can all work, as long as you respect copyright and individual offers' rules. For instance, some of them don't allow social traffic.
Sharesome
Sharesome.com is a newer adult social community where you can share explicit content with impunity… as long as you don't break any rules. We've seen all kinds of self-promotion, including obvious Snapchat usernames to discreet watermarks. If you're looking to increase your traffic, it works. We recommend trying to build a following instead of being driven by the desire to make a profit.
3- Take care of On-Page SEO
Search Engine Optimization (SEO) is far from obsolete. In fact, if you don't spend any time making sure your website is optimized in an SEO sense, this might explain why your site doesn't get as many hits as you would hope. 
If you're not sure how to audit your website for on-page (or on-site) SEO, give our comprehensive guide a read.  
Here's a few points you need to take into consideration:
Meta title and description

HTML headings (H1, H2, H3, etc.)

Text formatting

Internal links and anchors

Image alts and filenames

URL structure

Text length and content
4- Consider Guest Blogging
A great link building strategy to increase traffic on your website can be achieved faster than you think. One option is to start Guest blogging on authority websites in your niche. 
If you provide an irresistible piece of content to a potential partner, you could wind up earning a small piece of "real estate" on a site you don't own. 
People on your radar already get qualified traffic, so if there's a link to your own website, it quickly turns into a situation where both involved parties benefit. 
Allowing guest blogging on your website also opens room to more diverse content. It's important to mix it up so your audience feels the need to come back often. Guest posts do exactly that by bringing new voices to the table. 
5- Set your sights on Long-Tail Keywords
Keywords are not all made equal. If you try to rank for the "adult cams" string, you're going to have a hard time (as demonstrated by SemRUSH):

This is a combination of highly generic and competitive keywords some advertisers are willing to pay a small fortune just for a chance to appear at the top of search engine result pages (SERPs). 
However, there are similar yet often overlooked keyword strings that can increase your traffic. Instead of targeting super hard terms to rank for, you'll be looking at specific multi-word phrases.
Let's see why with 3 good reasons:
They're

easier to rank for

They bring in

more targeted traffic

They're linked to

lower advertising costs
The most difficult part about long-tail keywords is to actually find them. They must have have good enough traffic but low competition, right? One way to tackle this problem once and for all is to use Google's autocomplete search suggestions.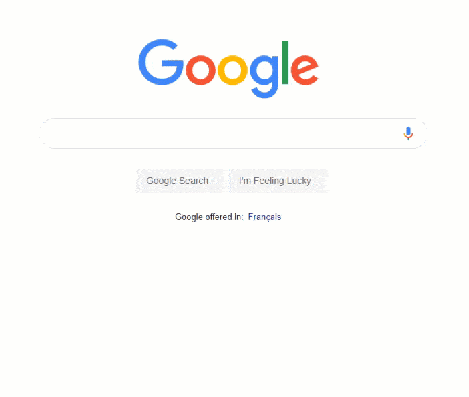 Though if you don't want to mindlessly type words into a search engine, you can use online resources like Keyword Tool or WordStream's Free Keyword Tool. The speed at which results can be obtained makes them worth your while, plus they provide a more convenient interface with additional data. 
Another surprisingly effective option to find great long-tail keywords is Answerthepublic. Self-described as a free visual keyword research & content ideas tool, it scrapes search suggestion keywords from Google and Bing. 
Answerthepublic displays data organized in what looks like trippy rings at first glance: questions, prepositions, comparisons and similar terms. Plus, you also get alphabeticals related to your query.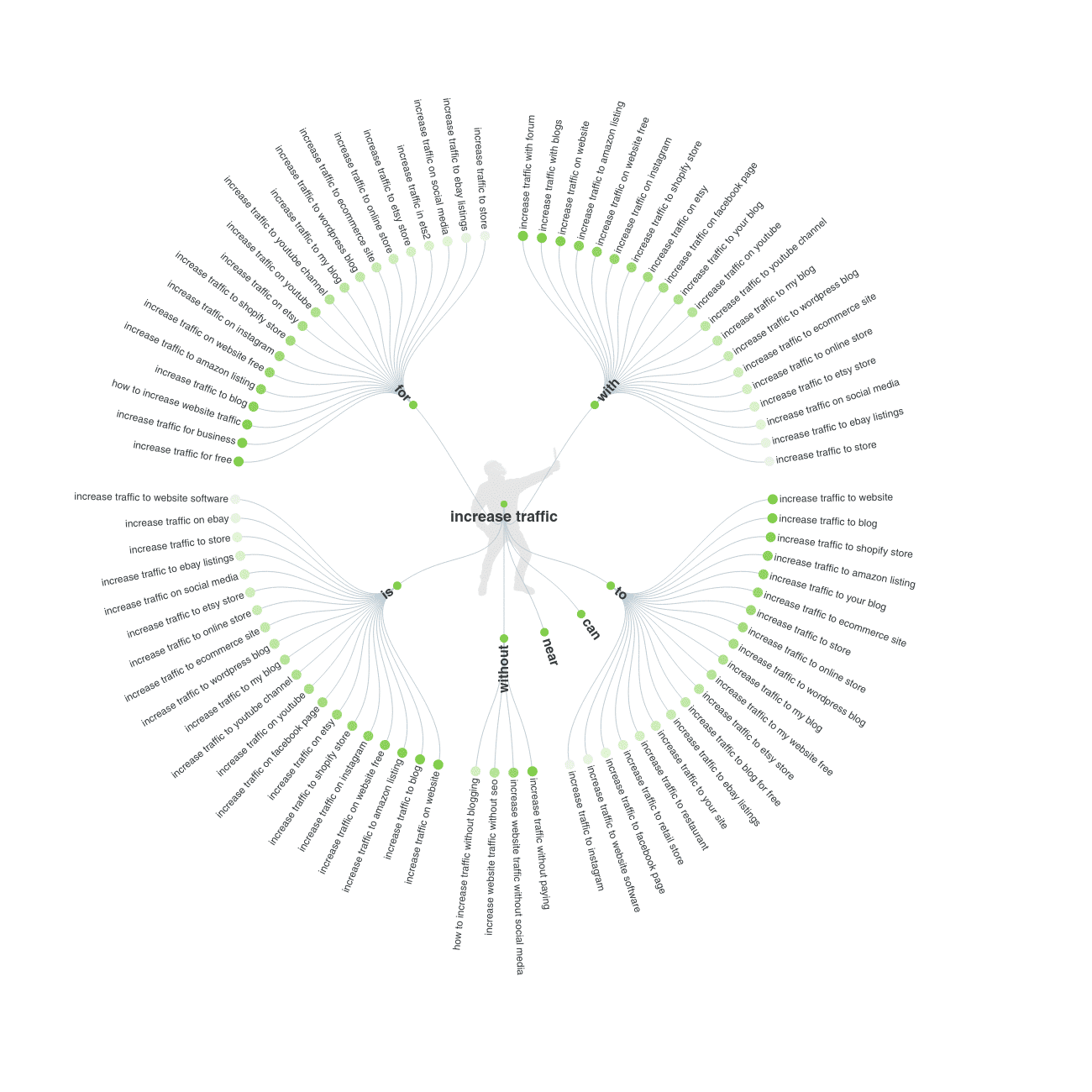 These are all questions people are seeking answers to. You can articulate your content around such queries to open your path to more organic traffic.
6- Reach more people with email marketing
Another way to increase traffic to your site is to send emails to your subscribers: newsletters and promotions, etc. 
Not only is it inexpensive, it's also considered as the best return on investment (ROI) for a majority of marketers. 
Start by building a healthy subscriber list, then segment your audience before sending any info their way. Unless you want to break unsub records, that is.
You can stay up-to-date and read more about email marketing trends here.  
7- Analyze what your competitors are doing
Learning why your competitors rank for certain keywords and how they attract more traffic than you is key to developing your own sites. 
What works right now in my industry? How should I prioritize my tasks? If you don't know the answers, find them. One way to investigate is by using premium SEO tools such as AHREFs or SemRUSH.  
Most paid solutions have a dedicated tab for competitor analysis. With AHREFs, it's called Competing Domains and Competing Pages.
Here's what an example using Google.com and AHREFs: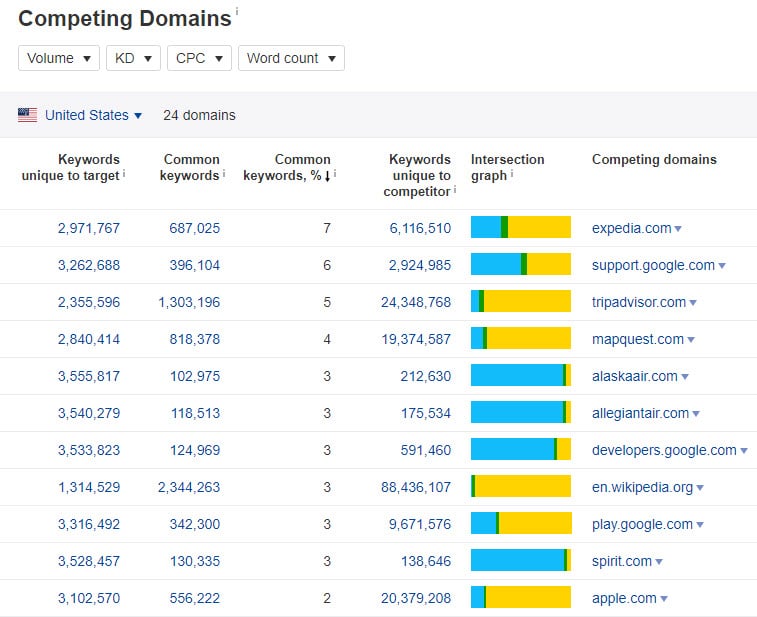 Now, the figures are a bit skewed because Google has billions of backlinks and uses tons of keywords, so you would have a hard time determining how to beat your competition. 
Still, you can click on any competing domain and see where they have backlinks—and try to piggyback on their success or create new opportunities for your website. 
AHREFs even shares a Google Sheets (spreadsheet) template to add your competitors and compare crucial stats—Domain Rating (DR), AHREFs Rank (AR), referring domains, estimated organic search traffic and estimated number of keywords ranking. 
8- Interact with your audience
There are a number of ways you can foster a community. One of them is to encourage comments and take the time to participate in online discussions with your audience. 
While you won't see an immediate bump in traffic, if people know they can interact with your content in a meaningful way, they'll keep coming back… and even be more inclined to share your stuff or spread the news through word of mouth.
Views are great and all, but ultimately engagement is what you want to bring more referral traffic to your website. 
If you post content and don't care about building a relationship with your users, don't expect much in terms of social traffic. Post a question, surf on current trends, add polls… the potential for interactive content is ENORMOUS! 
9- Have a responsive website
According to StatCounter, the worldwide traffic market share for mobile is 50.71%, slightly above desktop at 45.53% followed in the distance by tablet at 3.76%.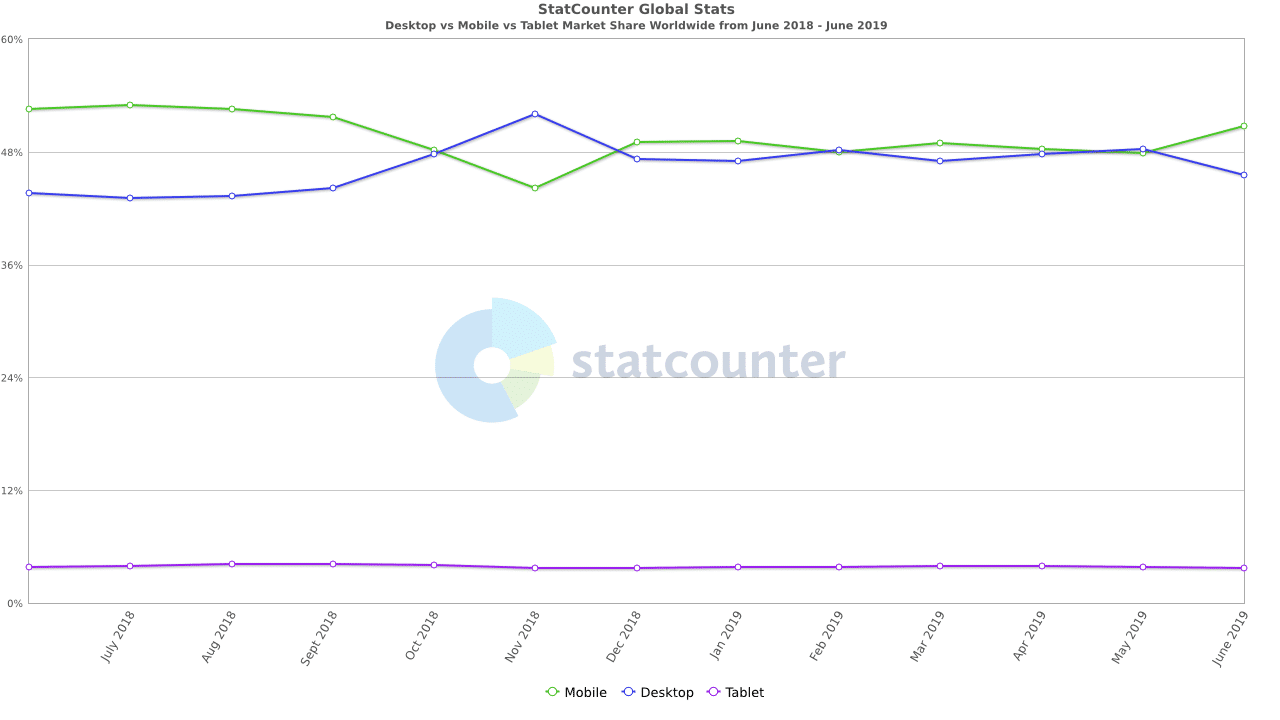 This is pretty telling: you NEED to be responsive on all devices as about half of all Internet users surf with their phones. 
And to be frank, responsive design should be an automatic reflex if it isn't already. As we move forward, mobile-first design will be the new default design mantra to adhere to. 
It's easily explained: as more people choose to browse the Internet on the go, having a website designed around portable devices makes a lot more sense. 
It's doubly important because as of March 2018, Google rolled out its mobile-first indexing. Instead of crawling, indexing and ranking the desktop version of your website was the case for a long time, except now Google bots are deployed to the mobile version of your website first. 
So if your pages are still not yet ready for the smaller screen, you're likely to lose out on tons of traffic. 
Here's a few guidelines from the big G itself:
Both versions of your website should serve the same content

Structured data

must be available on both versions of your website

Metadata

(titles+meta descriptions) should be identical across the board
You can find more best practices here.
10- Advertise
Sometimes, the best way to get noticed and increase traffic to your website is by spending money through advertising. 
We recommend trying to boost your visits with free options first: backlink creation, link directories, social media marketing, link exchanges, etc. 
You can also buy links from reputable websites or simply use display ads. Most platforms now give you access to incredible targeting options, so even affiliates on a budget can achieve great results. 
Pay-per-click (PPC) campaigns using AdWords for example do have the potential to bring in more users who might have never heard about you otherwise, kind of like adding a big, flashing arrow pointing towards your business.  
Here are some advantages of paid PPC advertising to consider:
Faster results

: getting organic traffic is more often than not slow—we're talking anywhere between 3 to 6 months to see some traction. Paid ads get attention immediately, so you can skip GO

and

collect your money.



Hijacking SERPs

: while organic traffic is considered more valuable, ads still appear before them on search engine results pages. 



Increased traffic

: more brand awareness means more traffic. Did you know that Google Ads is known to generate a 200% return on investment (ROI) on average for its clients? Also, about two-thirds of people can't differentiate sponsored content from organic search results, drawing in more clicks for the top (paid) positions. 
And a few disadvantages of PPC advertising thrown in for good measure…
Higher costs

: you can easily spend hundreds, therefore a proper budget is required. Costs can quickly pile up, especially if you don't know what you're doing. 

Campaign management: PPC ads are not set & forget. You will spend a lot of time optimizing and tweaking your ads so they are more effective. If you go with an agency, then you'll face even higher costs.
Your turn
If you consistently follow these guidelines, you can be sure you'll be able to increase traffic to your website. Remember that no matter how much time and money you spend, the #1 most important thing is to deliver something valuable and unique (but preferably both) to your audience. 
What are YOUR methods to getting noticed online?? Share your experience in the comments below!