CrakRevenue gives you some compelling reasons to grow the whale family. Learn how to set sail with our Affiliate Referral program and follow the whales to your next treasure chest!
Do you want to make more money? Of course, you do!
You see, CrakRevenue is always looking for new whales: motivated Webmasters, Media Buyers, and Marketers who are hungry for cash, just like you. Why not become a whale hunter today and get rewarded with gold in the bank for helping us finding the next Moby Dick?
Benefit the most from our rewarding affiliate referral program! It's a win-win-win situation: you help your friends work with the best CPA Network, you get rewarded for each one recruited, and you help us find new affiliates.
Our referral program is pretty simple. Get your referral link, find a friend who's got some traffic to monetize, get him to sign up with CrakRevenue using your link, and earn 5% of his income in commissions, for life!
You enjoy doing business with us? Here's something to make it even more enjoyable. Share your referral link with your friends and let them boost your income by working with us! Making extra money has never been so easy.
Easy money
That's right! You automatically receive a 5% commission for every affiliate signing up under your referral link, and you'll keep making that extra income for as long as your referred affiliates work with CrakRevenue.
Let's have a look at what that could mean in terms of $$$:
If the affiliate you referred makes $11 per day for a year, you earn $200 
Refer 4 affiliates with similar revenues = extra $1000 a year
Find a Whale, someone who ends up making $500 per day for a year    = your referral earnings will go over $9k for the year!
Now, finding a whale doesn't happen every day. But if you come up with a creative strategy and recruit a bunch of motivated individuals — you can seriously boost your earnings!
Get your link out there!
First and foremost, you'll need to locate your CrakRevenue referral link!
If you are already a CrakRevenue affiliate, find your link in the Referrals section of your Dashboard. Otherwise, sign up here first.
The section will also show you an overview of your referred affiliates and your commissions earned over time.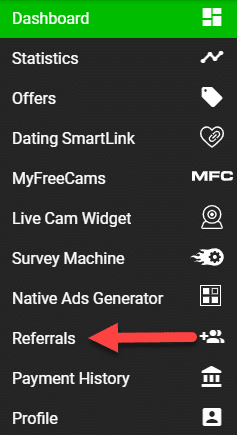 So go ahead, get your referral link out there and watch the $$$ roll-in!
We've already paid +$500K in commissions with our referral program.
It's time to get your share and increase your income today!
Please be careful not to engage in spam.