Take a tour of our Live Cam Widget and unleash this powerful revenue stream on your website today! You'll learn how to optimize the tool to fit your website's design and ensure a smooth user experience. In a few clicks, you can set the widget to best suit your needs before your user clicks on his chosen performer and lands directly in her live show.
Keep reading to become a Live Cam Widget Master and make money online with the best converting Adult Cam Sites! Log into CrakRevenue's platform and click on the Live Cam Widget tab to get started.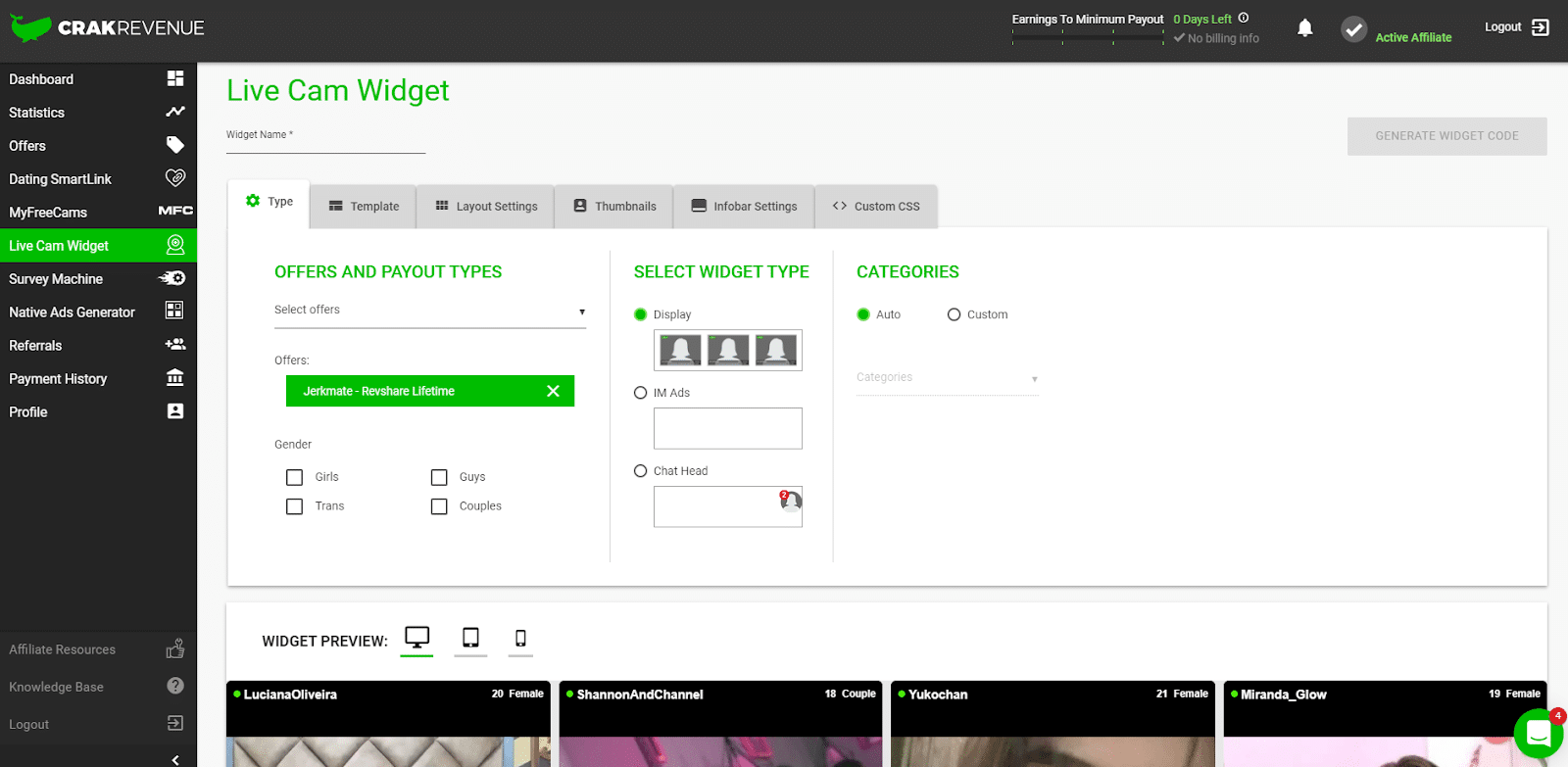 There, you'll be able to quickly generate a widget that fits nicely with the appearance of your website. Start by choosing a name for your widget.
At the bottom of the screen, you'll see a live preview of your widget. And by live, we mean it! The performers displayed are online at that very moment. You can toggle between desktop, tablet, and mobile view.
The following 5 steps will help you set up the perfect Live Cam Widget and convert your traffic like never before.
1- Select your preferred widget type
Select the offer(s) you wish to promote under OFFERS AND PAYOUT TYPES (some may require approval), then narrow the widget's content to your niche. You'll be able to choose one or multiple performer genders (female, male, trans, and couples), but also various categories, including Asian, Ebony, and MILF to name a few.
You can also leave it to the widget to find the best content with its auto-detect feature!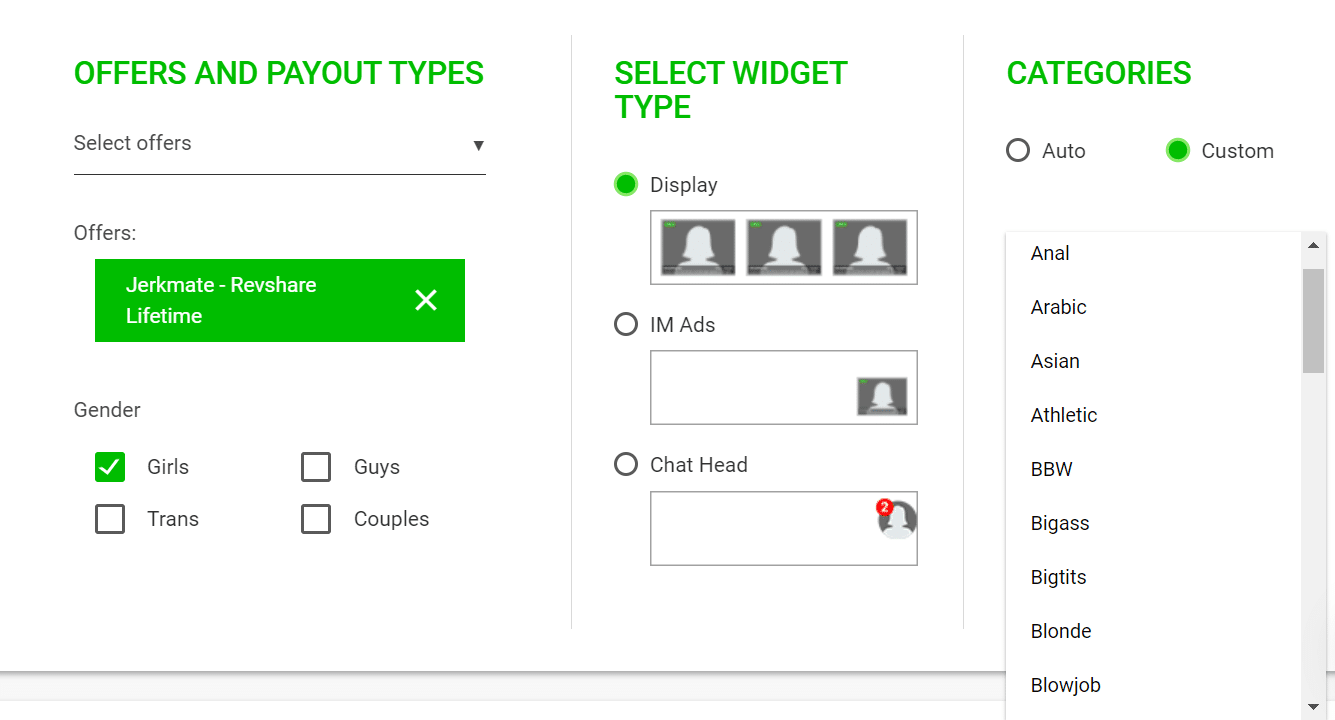 Decide which type of widget you want to use on your website:
Display: Shows top-converting live models directly on-screen, based on your chosen niche/categories.
IM Ads: When a user opens your page, the discreet preview of a top-converting room appears as an instant message. Users can click to reach the room or close the widget easily.
Chat Head: A chat bubble appears, showing a live preview of a top-converting performer. Users can click to open the notification and join the performer's chat room.
Select one of the four predefined templates for Display and IM Ads widgets before going further in your layout settings. You can already preview the widget's appearance to help you choose.

2- Set your optimal layout
Here's where you need to decide how you want to display the Live Cam Widget on your website.
You can try different configurations, toying with the widget size and the number of columns/rows to display more or fewer performers. You can also set a custom background color or leave it transparent by default.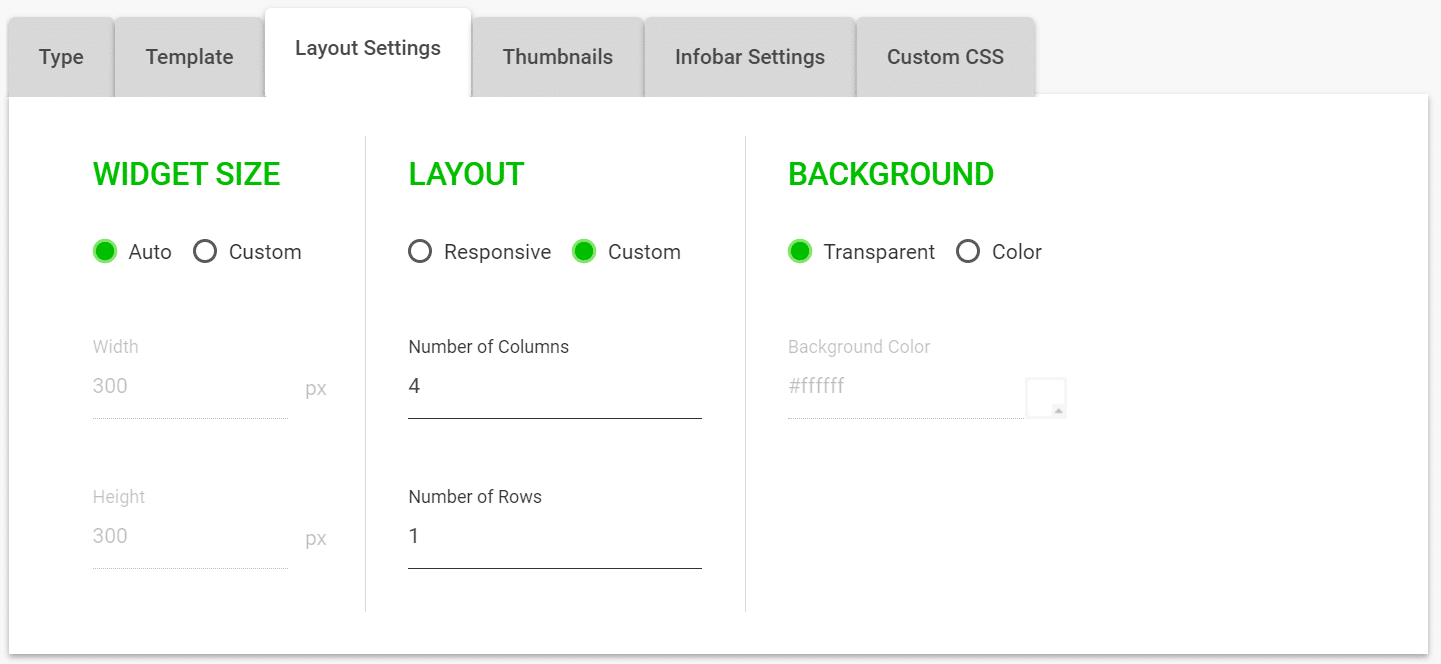 3- Craft the perfect thumbnails
Choose whether you want to display your performers' live stream or static profile picture, and set your thumbnails' display ratio for a better user experience. You can even edit the spacing between each thumbnail by the pixel!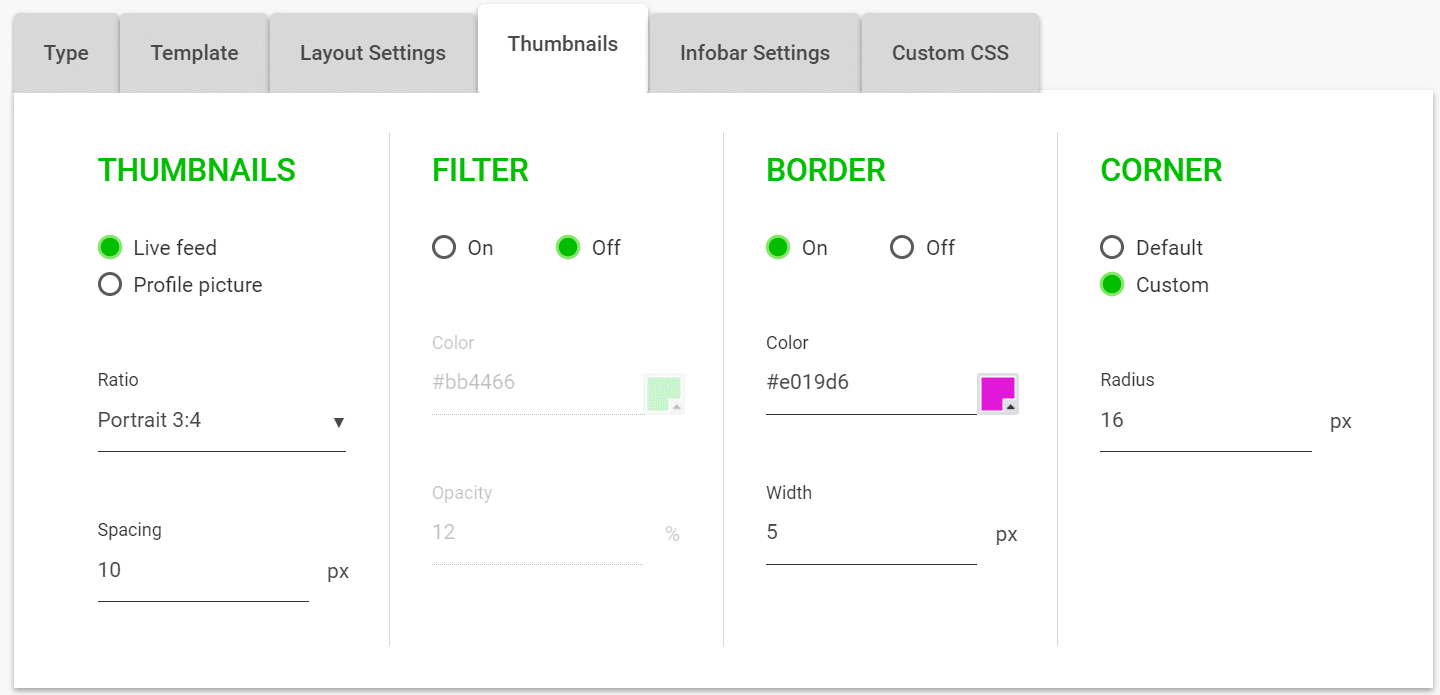 If your website has a specific branding design, you can apply a color filter to your thumbnails to make them fit with your page's appearance. You can also customize borders with color and width settings and polish the corners at will. For example, increasing the radius will give your thumbnails a rounder shape.
Here's an example of how cool your thumbnails will look like after a few clicks:

4- Unleash your creativity with our CSS tool
Affiliates with coding skills who want even more control over their Live Cam Widget can head on over to the Custom CSS tab to directly edit the widget's style. It is the ultimate customization tool with which you can extend the info bar, enlarge text, add blur filters, gradient backgrounds, and much more. Sky's the limit!
5- Convert like crazy
Once you're done customizing your Live Cam Widget, click on the GENERATE WIDGET CODE button in the top-right corner. A new window will appear with tracking options for your campaign and a script you need to place on your website. Simply click on COPY, head on over to your website, and place the content where you want to display your Live Cam Widget. And that's it!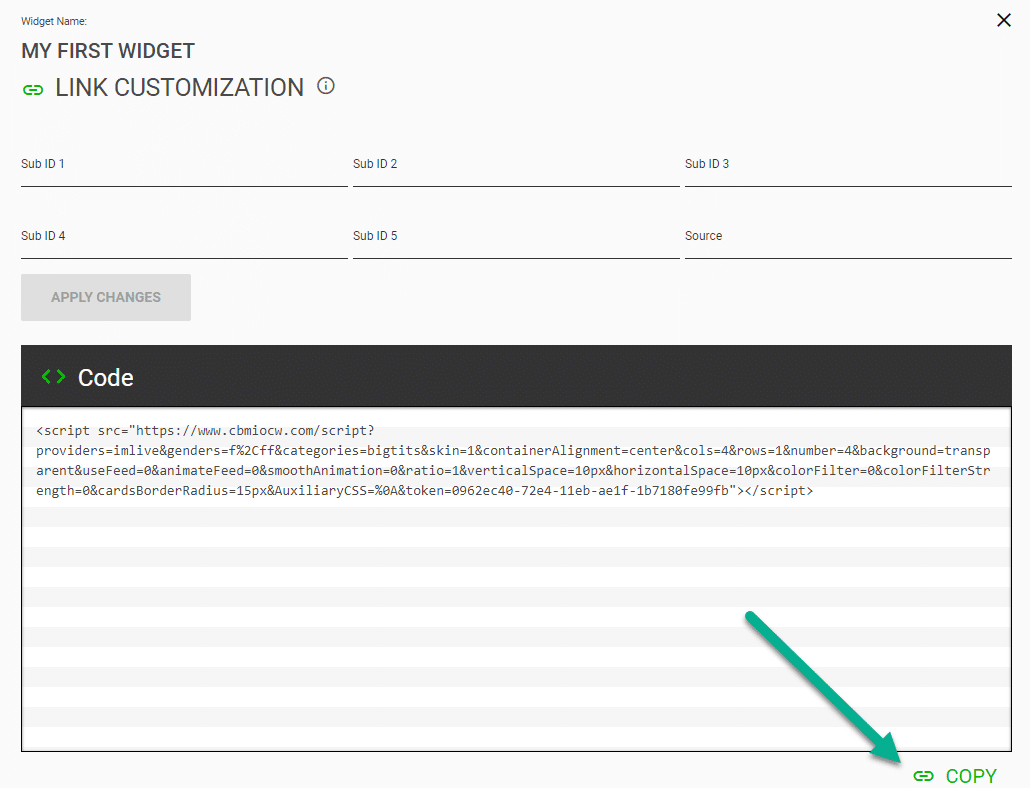 With your newly created widget, you'll soon start to see more conversions rolling your way with your hard-earned traffic!
Take advantage of our powerful and exclusive algorithm.
Use CrakRevenue's Live Cam Widget on your website today!